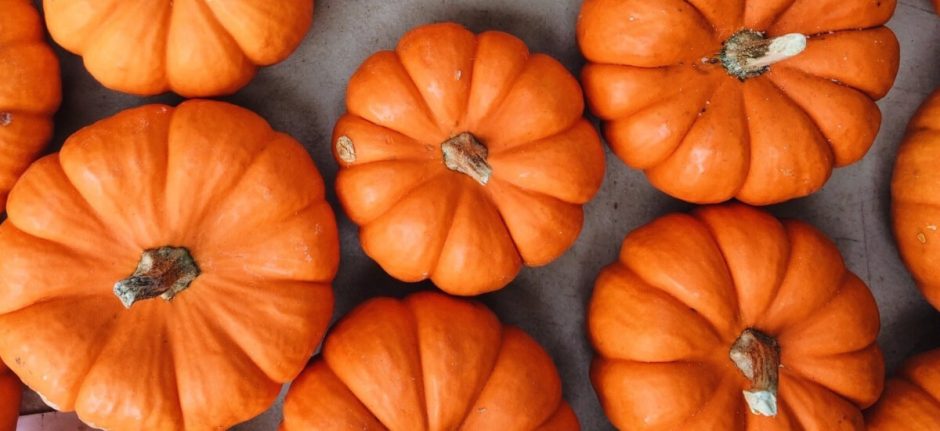 Social Media News You Need to Know: October 2016 Roundup
Candy and pumpkins and costumes—oh my!
October's known for being spooky, but this month the most 'frightening' social update was Facebook's addition of Halloween-themed Reactions and Live masks (though the social network also announced a myriad of other updates).
Meanwhile, Twitter shuttered Vine and pumped up Periscope, Instagram celebrated six years, Pinterest delved further into ads, and LinkedIn added new tools for job seekers.
Lots happened on social in October. That's why we've done the hard work of rounding up all the updates—big and small—from all the major networks so you don't miss a thing.
Table of contents
Twitter
Link Periscope to Twitter profile
On October 4, Twitter added the ability for users to link Periscope to their Twitter web profile, so that a link displays below a user's bio.
You can now link Periscope to your Twitter web profile, making it easier for followers to discover and watch your live videos! pic.twitter.com/WlIt9PkPuT

— Periscope (@PeriscopeCo) October 4, 2016
Periscope Producer
On October 13, Twitter-owned Periscope introduced Periscope Producer, a way for broadcasters to live-stream high-quality video from devices other than a phone or tablet. Using Producer, brands, media organizations, and other video creators can stream from external sources, such as streaming software, hardware encoders, and professional cameras. Below, a broadcast from high-end fashion brand Louis Vuitton streamed using Producer.
The #LouisVuitton #LVSS17 Show by @TWNGhesquiere is live from Place Vendôme in Paris with #Periscope #PFW https://t.co/LRnukM3aPj

— Louis Vuitton (@LouisVuitton) October 5, 2016
Twitter shutters Vine
On October 27, Twitter announced that it would be shutting down Vine in the coming months. The announcement post explained: "We'll be keeping the [Vine] website online because we think it's important to still be able to watch all the incredible Vines that have been made." Vine, which was known for short, six-second looping video clips, debuted in June 2012 and was purchased by Twitter later that same year, in October. Users can still access and download their Vines.

https://twitter.com/vine/status/791693541172969476
Facebook
Messenger Lite
On October 2, Facebook introduced Messenger Lite, a slimmed down, standalone version of Messenger for Android. Messenger Lite offers the core features of the main app for markets with slower than average internet speeds and a prevalence of basic Android smartphones.
Facebook explained in their announcement post: "With Messenger Lite, more people can stay in contact, regardless of network conditions or storage limitations on their Android devices. Messenger Lite was built to give people a great Messenger experience, no matter what technology they use or have access to." Facebook initially rolled out Messenger Lite to people in Kenya, Tunisia, Malaysia, Sri Lanka, and Venezuela, but plans to make it available in other countries in the coming months.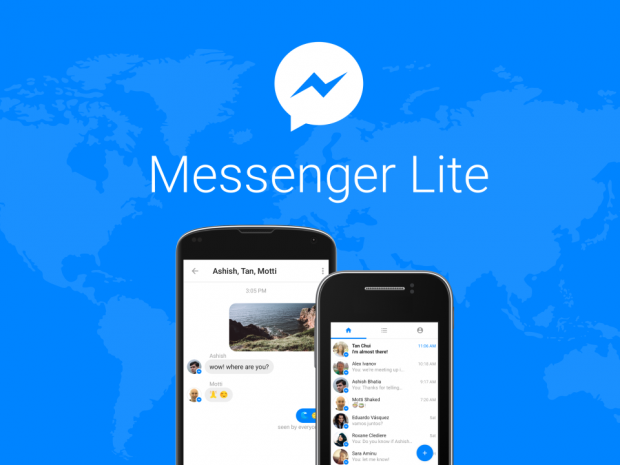 Marketplace
On October 3, Facebook launched Marketplace, a place for users to buy and sell among their local community. Marketplace—which can be accessed from the shop icon on the bottom of the Facebook app—opens to photos of items that people near the user have listed for sale. Users can filter results by location, category, or price as well as browse items in a variety of categories. Interested buyers can contact sellers via direct message.
Marketplace is available to users over 18 years old in the U.S., U.K., Australia, and New Zealand, though Facebook plans to expand it to additional companies.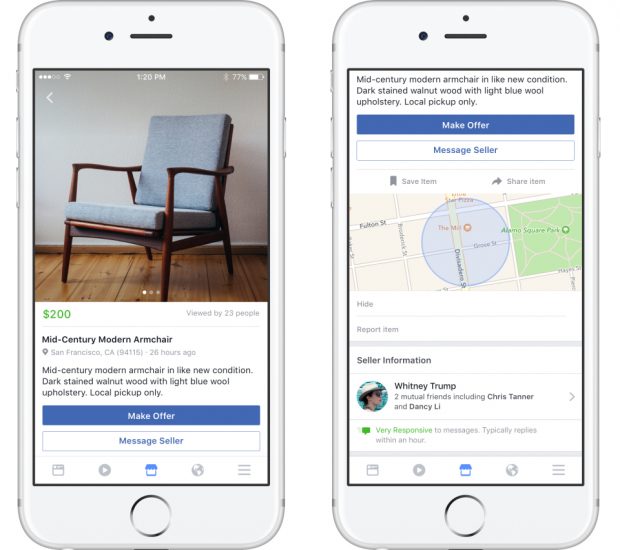 Events from Facebook app
On October 7, Facebook introduced the Events from Facebook App, which provides information about events that are nearby, that a user or their Facebook friends are interested in, and recently-announced events based on the Pages a user likes.
Users can also browse event recommendations based on time, location, and interests, then explore options on an interactive map. Events from Facebook also includes a calendar feature, which can sync with other calendars on the user's phone, so they can see when they're free. Events was released on the App Store for iPhone users in the U.S. Facebook plans to release an Android version soon.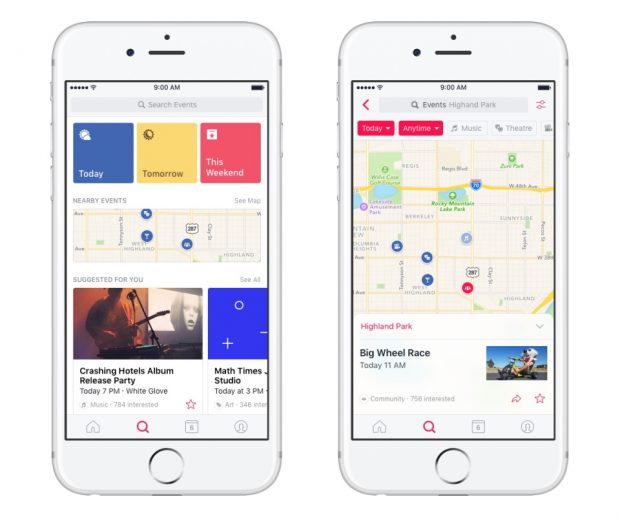 Spatial audio for 360 videos
On October 7, Facebook announced spatial audio for 360 videos. Facebook explained the feature in an announcement post: "Think of spatial audio as 3D sound for 360 videos. It's an immersive sphere of audio meant to replicate how humans hear sound in real life, but delivered over headphones. As audiences move around in a 360 video, the sound moves around with them, helping to place them in the context of the scene."
Spatial audio will be available for 360 videos that appear in News Feed on iOS, Android, Chrome on desktop (coming soon), and Samsung Gear VR, powered by Oculus. For creators, spatial audio can be recorded using an ambisonic microphone (which records directional audio), or existing monoscopic and stereoscopic audio tracks can be edited using Facebook's free 360 Spatial Workstation tools in post-production.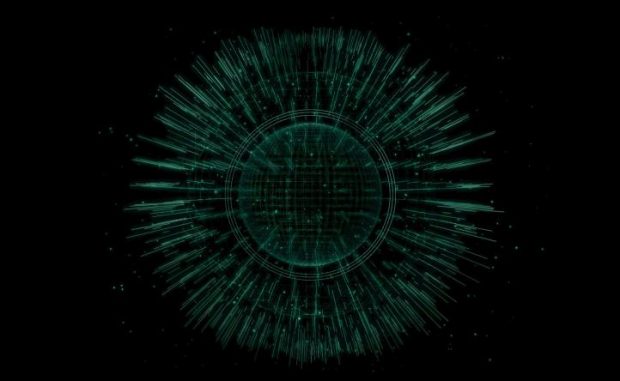 Workplace by Facebook
On October 10, Facebook introduced Workplace, a new version of the network for enterprise organizations. Formerly called Facebook at Work, Workplace includes many of Facebook's core features, such as News Feed, groups, Reactions, and chat. It also includes several Workplace-only features intended for companies, such as a dashboard with analytics and integrations with single sign-on.
Along with the public launch of the offering, Facebook also announced new Multi-Company Groups for cross-organization collaboration. Workplace is now open to "any company or organization that wants to use it." It is priced based on active users.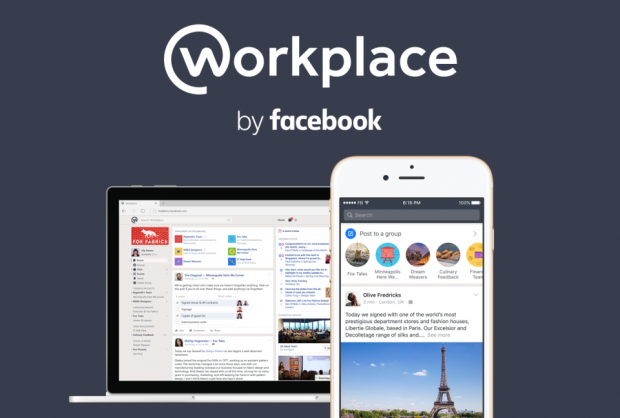 Watch Facebook videos on TV
On October 13, Facebook rolled out the ability to stream videos from Facebook to a TV using devices like Apple TV or Google Chromecast. Users can already stream Facebook videos to Apple TV (and other AirPlay-enabled devices) or Chromecast (and other Google Cast-enabled devices) from an iOS device or a web browser. Soon users will also be able to cast from Android devices to Chromecast.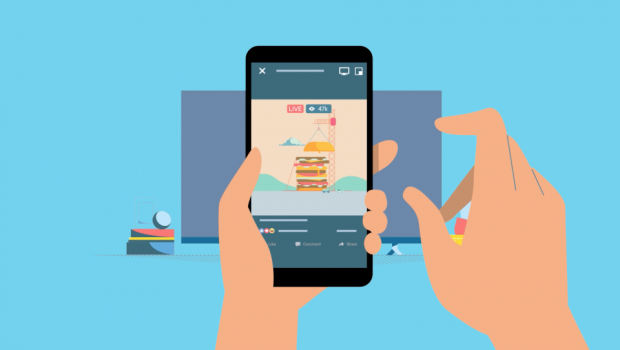 Messenger conversation topics
On October 17, TechCrunch reported that Facebook had begun testing a 'Conversation Topics' feature, which offers suggestions about what to talk about with friends.
Suggested conversation topics appear to include things like songs a person has just listened to, places they've recently visited, or events they've indicated they're interested in.
Clever: @messenger now suggests conversation starters based on things your friends have done recently. pic.twitter.com/9MfOwu3n11

— Chris Messina (@chrismessina) October 16, 2016
Push campaigns
On October 18, Facebook rolled out push campaigns to all business. The feature, which was previously in open beta, gives brands a new tool to keep people coming back to their apps through targeted notifications.
Facebook for Developers explained: "In fact, apps can see up to 180 percent higher retention when the people using them opt into receiving push notifications." Push campaigns is part of Facebook's Analytics for Apps mobile analytics solution.
Push campaigns also includes in-app notifications, which can be used to let users know about new features, send limited-time offers, or remind shoppers that they have something left in their cart.
Facebook Live scheduling, pre-stream lobby
On October 18, Facebook rolled out scheduling for Live broadcasts along with a pre-stream lobby.
Content creators can schedule a Live broadcast up to one week in advance and users can choose to receive a one-time reminder notification to alert them shortly before the start of the broadcast. Audiences can then join the pre-stream lobby three minutes before a broadcast begins.
Scheduling Live videos also gives publishers the option to share a link to the stream before it begins, allowing for better promotion. Both new features are part of the Facebook Live API and are available to Verified Pages.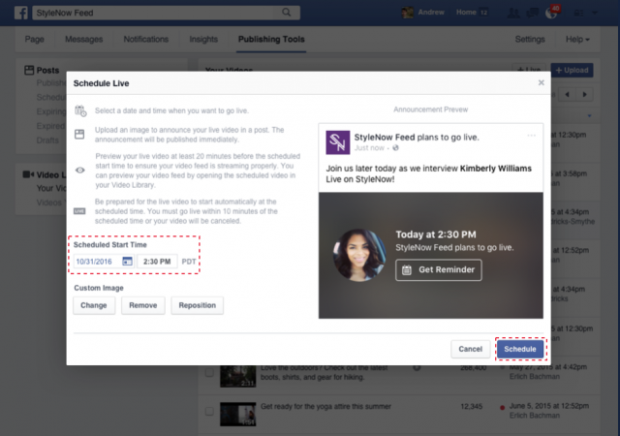 Recommendations and revamped Events
On October 19, Facebook rolled out Recommendations and a revamped Events bookmark.
When users turn on Recommendations on a post soliciting suggestions, their friends' responses are mapped out and saved in one place.
The revamped Events bookmark lets users catch up on the latest event activity from friends and hosts as well as browse recommendations based on what's popular with friends or events the user has connected with in the past.
The new features are available in the U.S. and Facebook says that they'll be launching even more new features t in the coming months.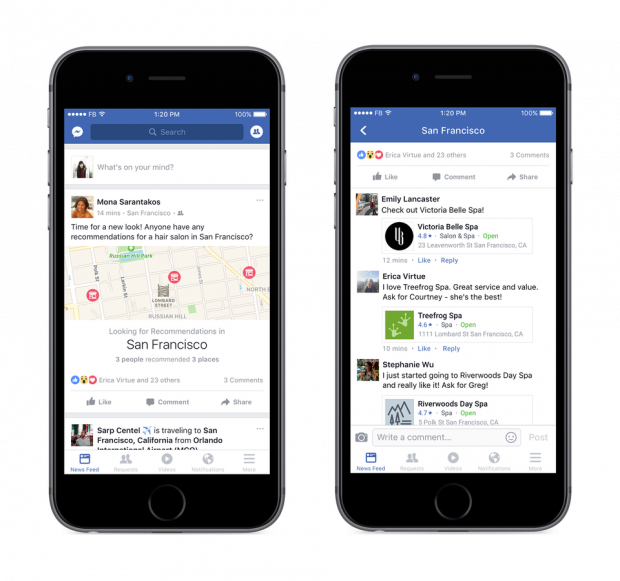 Local business CTAs
On October 18, Facebook rolled out new CTAs for local business Pages, making it easier for Pages to interact with customers. The new CTAs give users the opportunity to order food, request an appointment, get a quote, or buy tickets to movies and events—directly from the business' Facebook Page. They integrate with outside services and tools, such as delivery.com, HomeAdvisor, and MyTime.
The new CTA options are: Start Order, Book Now, Buy Tickets, Get Showtimes, Get Quote, Request Time, and Shop Now. They're currently available to businesses in the U.S. Facebook plans to add more third-party services in the coming months.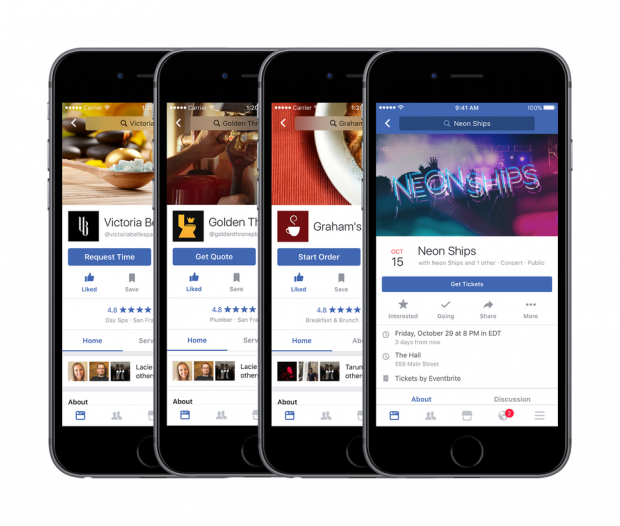 Facebook Live masks
On October 27, Facebook introduced masks for Facebook Live video, giving users the opportunity to add a fun augmented reality filter while they broadcast. The feature launched with Halloween-themed masks, such as a skull, evil queen, pumpkin, and witch.
It is available for people using Facebook Live on iOS in the U.S., U.K., and New Zealand and will be expanded to Android devices and more countries in the coming months.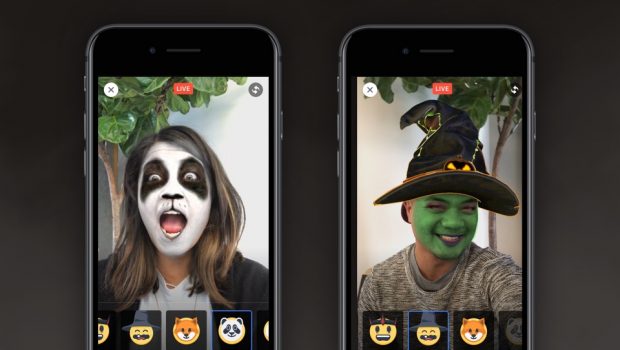 Halloween Reactions
Also on October 27, Facebook announced a set of limited-edition Halloween-themed Reactions. Users had the chance to respond to a post using a skeletal thumbs-up, candy heart, laughing witch, surprised ghost, sad Frankenstein, or angry pumpkin.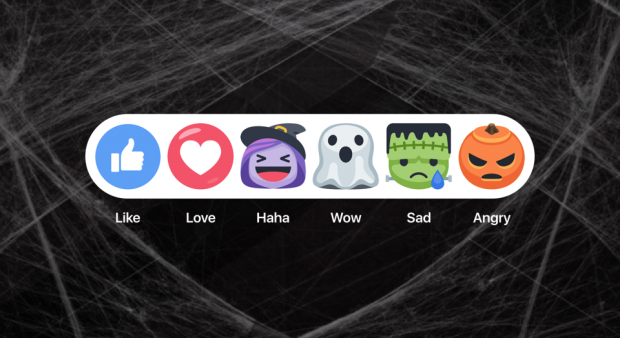 Instagram
Sixth birthday
On October 6, Instagram celebrated its sixth birthday with photos featuring designs inspired by its new logo.

Instagram for Windows 10 tablets
On October 13, Instagram rolled an app for tablets running Windows 10. The app includes core features such as Stories, Direct and Explore. Users can also capture, share, and edit posts directly from their Windows 10 tablets.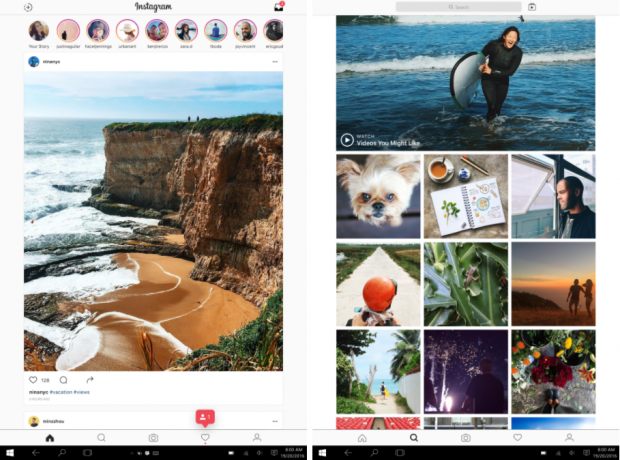 Stories on Explore
On October 18, Instagram introduced Stories on Explore, making it easier for users to discover accounts creating Stories they want to watch.
Instagram explained: "The new suggested stories section highlights the most interesting Stories from across Instagram's vast global community—and like the rest of Explore, the Stories you'll see are personalized to your interests."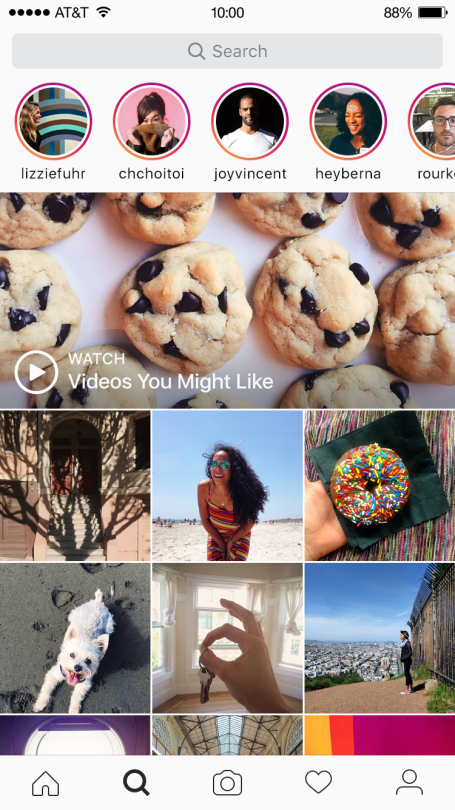 Pinterest
Promoted Video available in U.K.
On October 3, Pinterest rolled out Promoted Video in the U.K. with fashion brand Hunter. Pinterest explained in an announcement post: "Now, people on Pinterest can experience a brand through the video—and then click to learn more or buy from that brand."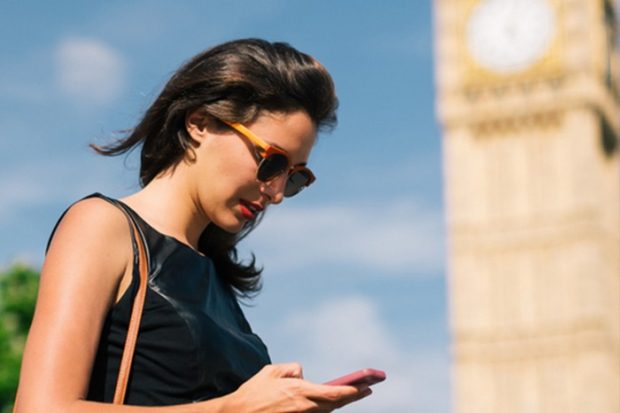 Retargeting enhancements
On October 11, Pinterest added new retargeting options for brands. Using Ads Manager, brands can now create an audience and retarget five specific actions: clicks, comments, saves, likes, and closeups. Businesses can also create an audience based on people's interest in a specific Pin that links to the brand's website.
Pinterest explained: "By identifying people who've interacted with your campaigns in the past, you can reach them in the future with content personalized just for them."
The new updates also allow businesses to add a Pinterest tag to their site, create audience segments, and retarget based on actions people have taken on the site, such as browsing a category, adding an item to their cart, or signing up for the business' services.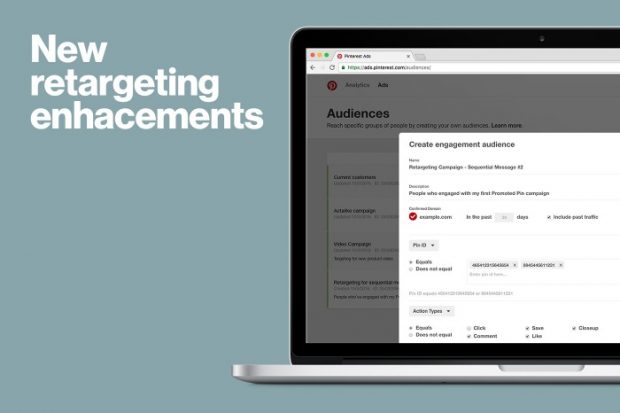 150 million active monthly users
On October 13, Pinterest hit a big milestone: 150 million active monthly users. The network thanked its users and released a graphic with a few impressive stats about the platform, including the fact that 75 percent of new signups are from outside the U.S. and 40 percent of new users are men.
Pinterest explained in an announcement post: "Growing the number of people on Pinterest by 50 percent over the last year is pretty impressive especially when you consider that Pinterest is more a personal tool than a social one."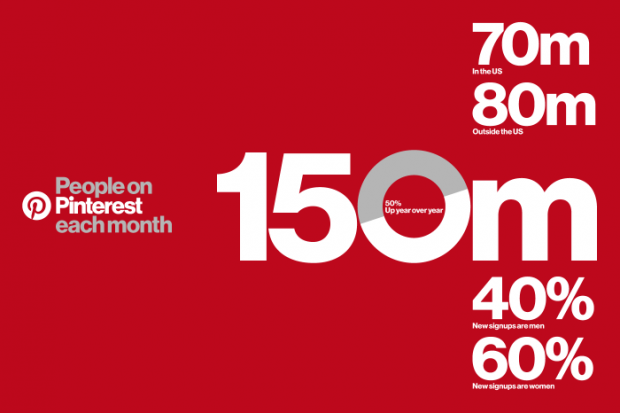 New types of Promoted Pins
On October 28, Pinterest announced three new types of Promoted Pins: one-tap, video, and app:
One-tap Pins take users directly to the site the Pin came from
Video Pins play right on Pinterest, rather than making users visit a separate site in order to watch
App Pins link directly to the store so users can download the app and start using it right away
With this announcement, Pinterest also expanded Promoted Pins from businesses in the U.S. to those in the U.K. as well. The platform plans to make them available in more countries soon.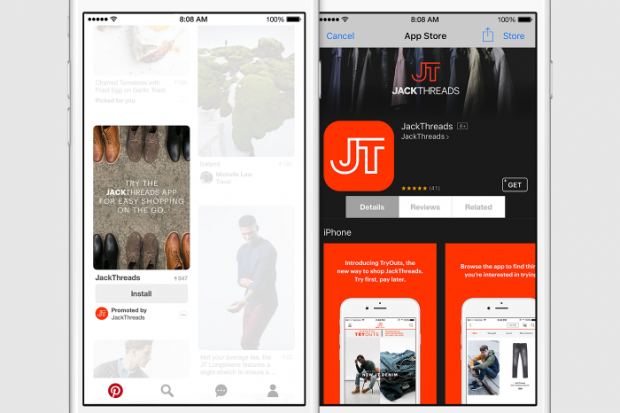 LinkedIn
Open Candidates
On October 6, LinkedIn rolled out Open Candidates, a new feature that lets users privately signal recruiters that they're open to new job opportunities. Users can specify the types of companies and roles they're interested in. The feature will hide the Open Candidates signal for recruiters at a user's company as well as affiliated company recruiters.
New mobile app features
On October 12, LinkedIn announced several new mobile app features, including News Feed controls, a 'Save for Later' option, and a new search box.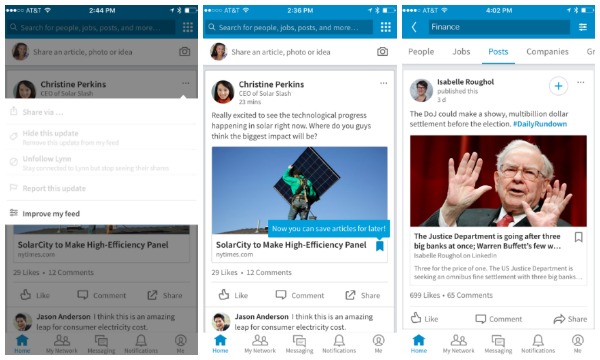 Endorsements
On October 19, LinkedIn redesigned the Endorsements feature. Now called 'Skills and Endorsements,' the feature highlights endorsements that matter to the person viewing the profile, showing those made by mutual connections, colleagues, and people who are knowledgeable about the skill.
LinkedIn has also improved targeting to suggest endorsements to connections who are most familiar with the user's skills. The platform explained: "This means the right connections are much more likely to validate you for the skills that you want to be recognized for."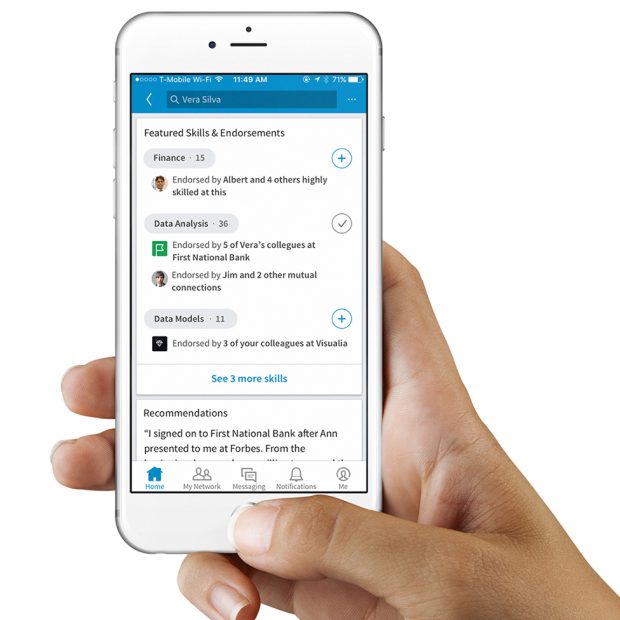 Snapchat
Story playlist
On October 7, Snapchat announced Story Playlist. The new feature replaces Auto Advance and gives Snapchatters the ability to select which Stories they want to watch. Users simply need to tap on a Story thumbnail to the left of a friend's name to add the Story to their playlist, then hit the play button at the bottom of the screen to view in the order in which they were selected.
Snapchat explained in an announcement post: "Sometimes we just want to see what our close friends or family are up to—not all of our friends—and Auto Advance prevented that."
Story Playlist was made available to select Android users at first, and will roll out across Android and iOS soon.

You can still watch all your Stories in a row! Just tap the Stories icon at the bottom of the screen & tap play! ???? pic.twitter.com/EV8fGR8u6W

— Snapchat Support (@snapchatsupport) October 13, 2016
Hootsuite
Social ads
On October 25, Hootsuite launched social ads integrations with six leading social media advertising platforms, including Kenshoo, AdEspresso, and Nanigans.
Hootsuite users can now manage, optimize, and measure social ad campaigns across multiple networks, including Facebook, Instagram, Twitter, and Pinterest. Users can also boost top-performing organic posts to deliver them to a larger and targeted audience.
We're bringing you new ways to manage both your organic & paid ads! https://t.co/R6InhUj9Zj Partnering with 6 social platforms ???? pic.twitter.com/rfZQ3EZC9W

— Hootsuite (@hootsuite) October 25, 2016
Keep up with all the latest social news by using Hootsuite to keep track of all the accounts you follow. Sign up for free today!