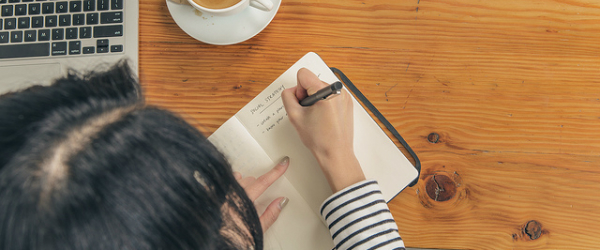 A Competitive Analysis Template To Help You Outsmart The Competition
In the past, we have discussed how your company can use social media to stay in the know about other players in your industry. While social media allows you to keep tabs on your competition without leaving your office, these techniques can still take up a lot of time. Monitoring tools like Twitter lists are a great way to stay informed of your competitors' current social media strategy, but those tactics alone don't give you much of a historical perspective on follower growth or positioning pivots. To collect that kind of information, you need to be able to conduct a comprehensive comparison of your company to others, and keep it in a single place.
This is why we've decided to create a competitive analysis template, a tool to help you capture the state of your industry on social media. If you get into the habit of filling out a competitive analysis template such as the one below, your business can be the first to figure out gaps in your competition's strategy and adjust your own to take advantage of new opportunities for expansion. Here's how you can do it.
Social media competitive analysis template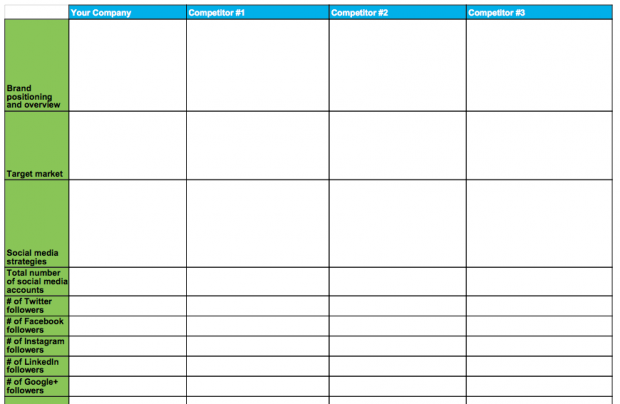 Download the competitive analysis template in Excel
Competitive analysis template explained
Overview & profile 
This section can contain any general knowledge about the competitor's business that you deem relevant. Some useful details can include the location of their head office, approximate staff size, main value proposition, recent acquisitions or acquihires, names of key staff members, and so on. The main piece of competitive intelligence you should have in this section is a description of the company's business in relation to your own.
Competitive advantage
Why would customers prefer this brand's products or services over yours? What makes them stand out among other major players in the field? This section is worth leaving to the end of your analysis, once you have already explored the competitor's target market, strategy, as well as strengths and weaknesses. A good way of determining another brand's competitive advantage is by seeking out customer testimony. You can research this by using social media channels and monitoring for mentions of the brand or their key products.
Target market
Evaluate the company's social media messaging and paid advertising to determine what kind of customer groups they actively target. If time allows for it, use the information you have gathered to create at least one or two customer persona profiles. You need to determine whether your brand and the competitor are going after the same client base, and which characteristics of these target audiences may be intersecting. By creating a sketch of the competitor's target market and comparing it with your own, you can prepare for any potential loss in clientele or seek out opportunities to convince your competitor's customers to switch to your services.
Social media strategy
This is a summary section that can be filled out after you have mapped out all of the competition's social media accounts and recorded the follower numbers on all networks. Highlight any network that sees a lot of activity: for example, if the competitor brand posts and engages with followers a lot more often on Instagram than any other network, you can assume that this social media channel takes priority over others. This, in turn, can speak to the competitor's target market, since Instagram is popular among younger users.
Get a feel of the competitor's overall tone in social messaging: are they being playful or business-like? How are people responding to their messaging? Creating a brand voice that stands out among other businesses in your field can be highly advantageous for your company's bottom line and maintain customer loyalty, so it's important to see how you stack up against the competition in that area. Analyze the percentage of the social media share of voice your competitors have in comparison to your own brand, as well as the dominant sentiment of that messaging.
Strengths and weaknesses
Compare the company's official positioning to user feedback and sentiment on social media. Does it look like the business is accomplishing what it's set out to do? If yes, explain what is contributing to that success. If no, see if there are any opportunities for your business to take over (more on this in the section below).
Opportunities and threats
Once you have created profiles and determined the rough social media strategy for your competitors, see which ones are the closest to the niche that your company occupies. How many offer products and services that would appeal to the same audience that you're targeting? When you narrow it down to the biggest competitors, evaluate their weaknesses and see if there's an existing value proposition you can offer to their customers instead. You can also see what their customers' most common concerns appear to be in social media interactions, and see if you can create an opportunity to reach out to those customers and start a conversation.
This analysis presents you with a good chance to catch any potential threats from your competition. If another business is offering a similar product or service at a lower price to the same target market, how can you ensure that the customer chooses yours instead? Evaluate the level of threat and use that benchmark to prioritize which potential risks you want to address first. Consider factors such as overall positioning and target market to figure out the threat level of different companies.