Who to Follow on Twitter for Crisis News, Part 2: Venezuela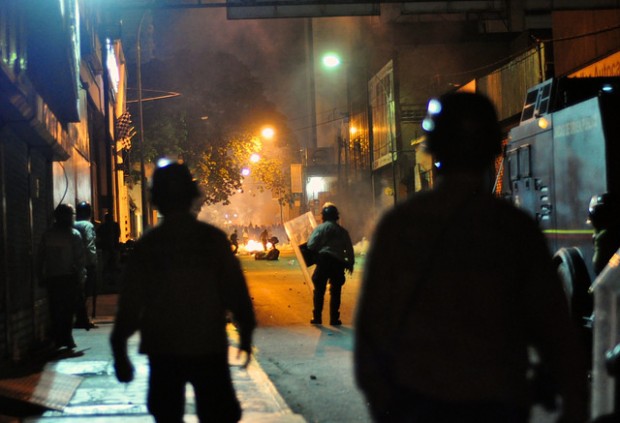 With political strife dominating so much of our news cycle these past months, and events from Ukraine to Venezuela rapidly unfolding, Twitter is one of the best ways to stay informed in real time. But when social media turns everyone into an information source, it can be a challenge to sort the signal from the noise and figure out who to trust.
To help you find reliable sources for some of the most timely geopolitical news stories, we've created a series of Twitter lists compiling trusted journalists, activists and citizens on the ground in the conflict regions. These are the people sharing the most up-to-date information, often from their own first hand experiences. In Part 1 of this series, we talked about sources of news from Ukraine.
Yesterday tens of thousands of Venezuelans took to the streets to mark one-year since socialist revolutionary Hugo Chavez succumbed to cancer. Thousands more continued the weeks rolling protests against his successor, President Nicolas Maduro, setting up barricades and hurling stones at police.
After Iran's 2010 Green Movement, the Arab Spring, and most recently Ukraine's Maidan, Twitter has gained a reputation as the medium of revolution. But as Lorenzo Franceschi-Bicchierai recently observed in Mashable, "contrary to other popular uprisings, where social media was the domain of just one side of the story, no one side controls the narrative on Twitter in Venezuela." Both sides (leaders included) contribute equally to the cacophony of insults, innuendo, accusations, and spin. Here are the ten Twitterers who will keep you informed:
1: @danieljwallis: Reuters correspondent based in Caracas.
He is one of a few Reuters reporters on the ground in Venezuela whose work is aggregated by the @ReutersVzla account.
MT @ReutersAgency: A woman and child during anti-government protest. San Cristobal, #Venezuela, by @carlosrawlins pic.twitter.com/rJ8n8jBSbl

— Dan Wallis (@danieljwallis) February 28, 2014
[clear]
2: @jimwyss: covers politics in the Andean region from Bogota for the Miami Herald.
In November he was detained by the Venezuelan government in city of San Cristobal while covering the election and released two days later. Understandably, he has taken an interest in the uprising since.
#Venezuela border town San Cristobal is going on 17 hours without Internet. Protests ongoing.

— jim Wyss (@jimwyss) February 20, 2014
He is a freelance journalist who contributes work to a number of American news outlets, including the New York Times. His photos from the front lines are impressive.
More images from protests yesterday in # Venezuela. Filming with @photolarte in Caracas pic.twitter.com/XAsVUFfy3m

— Andy Rosati (@andrewrosati) February 28, 2014
4: @jammastergirish: Journalist working in Latin America and occasionally the Middle East.
Contributes to  Reuters, BBC, Al Jazeera, New York Times, USA Today, TIME, NPR, RFI and others.
People setting up a barricade in Caracas, Venezuela, this morning on first anniversary of the death of Hugo Chávez pic.twitter.com/BodlsCvspk

— Girish Gupta (@jammastergirish) March 5, 2014
Anchor on @ThisIsfusion. Peabody winner.@ColumbiaJourn graduate. @Univision reporter
#Venezuela: Tear gas today in upper middle class neighborhood Las Mercedes during student rally via @GerardoBlyde pic.twitter.com/JSeC0aFLHC

— Mariana_Atencio (@marianaatencio) February 27, 2014
Also be sure to follow Citizen Journalism Network @ReporteYa, the Spanish and English language Tweets coming from The Hands Off Venezuela Campaign, and how El presidente, Nicholas Maduro often takes to Twitter to denounce the opposition, Leopoldo López and Henrique Capriles Radonski.