Just like all the other social platforms, YouTube has been leaning hard into short-form video content, with a Shorts tab on the main menu and a prominent Shorts feature on the watch page. So, it's no surprise that YouTube Shorts reached two billion monthly logged-in users as of July 2023.
In this post, we talk specifically about YouTube Shorts monetization, a.k.a. how to make money from your YouTube Shorts. If you're looking for a more general primer on this format, check out our blog post on how to make YouTube Shorts.
Get your free pack of 5 customizable YouTube banner templates now. Save time and look professional while promoting your brand in style.
Can you monetize YouTube Shorts?
Yes!
It's been possible to monetize regular long-form YouTube videos for more than 15 years now. In that time, creators, artists, and media companies have earned more than $50 billion from their YouTube content.
But Shorts are a much newer format, and they weren't originally part of the YouTube Partner Program (YPP). Fortunately for all those who found themselves wondering, "When will YouTube Shorts be monetized?," the platform announced YouTube Shorts monetization options in late 2022. Since then, creators who focus on YouTube's short video format have been able to earn money from their work.
How does YouTube Shorts monetization work?
YouTube Shorts monetization is, well, a little complicated. The sources of monetization are:
YouTube Shorts ad revenue sharing
YouTube Premium subscription revenue sharing for Shorts
YouTube Shopping
YouTube fan funding
YouTube first launched Shorts monetization through the YouTube Shorts fund in 2021. It was a $100 million fund intended to encourage the adoption of the new format by rewarding Shorts creators who made the most engaging content. It was always meant to be a stopgap measure while YouTube worked on a long-term model for monetizing Shorts. This fund was discontinued when the Shorts ad revenue sharing model launched in February 2023.
YouTube Shorts ad revenue sharing
In this method of seeing your YouTube Shorts monetized, you get a share of the revenue generated from ads between videos in the Shorts feed. Your share is based on a four-step formula.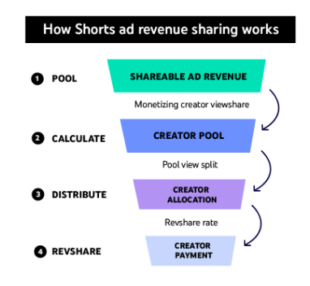 Source: YouTube Help
YouTube adds together all the revenue from ads shown between videos in the Shorts feed.
YouTube calculates how much of the revenue associated with Shorts is needed to cover music licensing for tracks used in Shorts. That money is paid directly to music partners. The rest of the ad revenue goes into the Creator Pool
YouTube allocates a percentage of the total Creator Pool to each monetizing creator based on their share of total views in each country.
YouTube applies the revenue share formula: They take 55% of the allocated revenue and you get 45%.
YouTube Premium subscription revenue sharing for Shorts
Like ad revenue sharing, this method of seeing your YouTube Shorts monetized allocates payments based on your share of views within your country. In this case, the formula only applies to subscription Shorts views.
Here's how YouTube describes the formula:
"YouTube will pay 45% of the net revenue from YouTube Premium that is allocated to monetizing creators for Shorts. A portion of YouTube Premium revenues are allocated to help cover costs of music licensing."
You can see your estimated daily Shorts Feed ad revenue in YouTube Analytics.
YouTube Shopping features
In addition to revenue sharing from ads and Premium subscriptions, you can monetize your YouTube Shorts using YouTube Shopping to promote your products.
If your Short features products, you can tag them during the upload flow. A product overlay will then show on your content, which allows users to browse and purchase your products without leaving YouTube while continuing to watch your Short.
YouTube Fan Funding
Once you turn on YouTube monetization, you're eligible for all YouTube fan funding options, including:
Super Thanks
Super Chat
Super Stickers, and
Channel Memberships
The most relevant to creators focused on YouTube Shorts are Super Thanks and Channel Memberships.
Formerly known as Viewer Applause, Super Thanks is a way for your biggest fans to show appreciation for your content. Through Super Thanks, a viewer purchases a one-time animation that only they see over the top of your Short. They also get to post a customizable and colorful comment in the comments section of the Short.
Super Thanks is available at four price points, ranging from $2 to $50. You get 70% of the Super Thanks revenue after taxes and fees.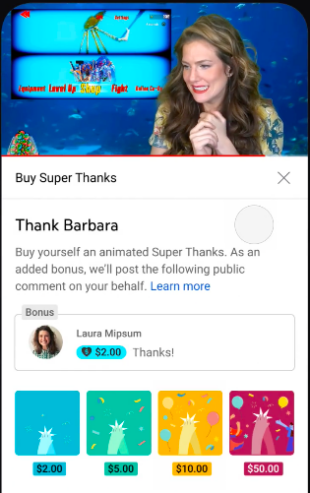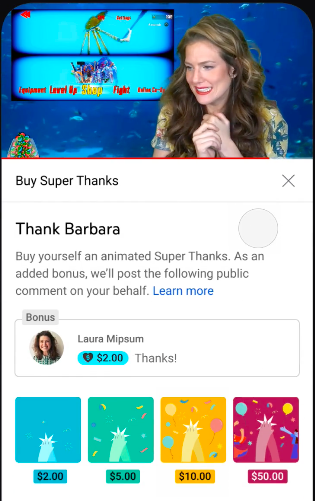 Source: YouTube Official Blog
Meanwhile, channel memberships is a fan funding program that allows you to reward paid members with perks like badges, emojis, exclusive content, and live streams.
You can set your membership tiers as low as $0.99 and as high as $499. You can have up to five tiers with different monthly price points and perks. Creators keep 70% of that amount, while YouTube takes a 30% commission.
Who is eligible for YouTube Shorts monetization?
To be eligible for full YouTube Shorts monetization, you need to have a minimum of 1,000 subscribers. You also need to have either 10 million valid public Shorts views in the last 90 days or 4,000 valid public watch hours of long-form videos in the last 12 months.
Public watch hours from Shorts in the Shorts Feed don't count towards the watch hour threshold, so the Shorts views requirement is the better target if you focus primarily on Shorts.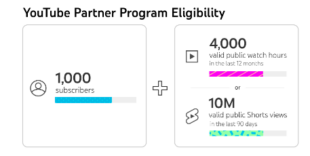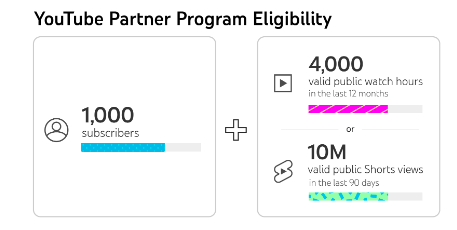 Source: YouTube Help
Can you monetize YouTube Shorts before you hit these thresholds? Yes, but in a limited way. In June 2023, YouTube launched an expanded program to allow newer creators and those with a smaller following to monetize through YouTube Shopping and fan funding.
However, you will not have access to Shorts ad revenue sharing or YouTube Premium subscription revenue sharing.
To apply for this expanded program, you need to have 500 subscribers. You also need three valid public uploads in the last 90 days and three million valid public Shorts views in the last 90 days. (Or 3,000 valid public watch hours of long-form videos in the past year.)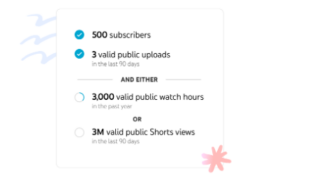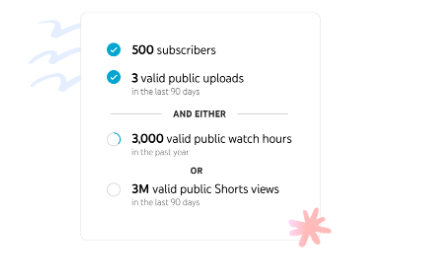 Source: YouTube Help
For both programs, you must also:
Understand and comply with the YouTube Channel Monetization policies.
Live in a region where the program is available. (The expanded program is for now only available in these countries.)
Ensure your channel doesn't have any active Community Guidelines Strikes.
Turn on 2-step verification for your Google account.
Have access to advanced features on YouTube based on your channel history or by verifying your identity (not applicable for the expanded program).
Have an active AdSense account.
You can log into YouTube Studio at any time to see how close you are to eligibility, and request notification when you're eligible.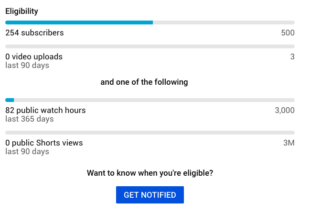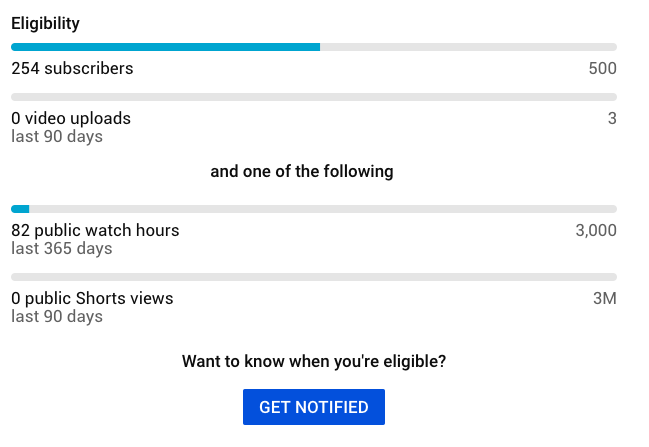 Source: YouTube Studio
How to start monetizing YouTube Shorts
Here's how to become part of the YouTube Partner Program and start monetizing your YouTube Shorts.
Sign in to YouTube.
Click your profile picture in the top right and then click YouTube Studio.
Click Earn in the left menu.
If you're eligible, you'll see an Apply button. Go ahead and click it. If you're not yet eligible, click the Get Notified button to come back and finish the process once you meet the requirements.
Click Start to review and Accept the Base terms.
Link your existing AdSense account, or click Start to set up a new one if you need to.
Wait for YouTube to review your application. (This usually takes about a month, so be patient.)
Once you are approved, go back to the Earn section of YouTube Studio and accept the Shorts Monetization Module.
Note: These are the instructions for applying from your computer. The specific instructions are slightly different for Android and iOS, but in both cases, you start by opening the YouTube Studio app and tapping Earn in the bottom menu.
To start monetizing with Super Thanks fan funding, go to the Earn tab in YouTube Studio and click Supers. Click Get Started and follow the prompts.
For Channel Memberships, go to the Earn tab, then click Memberships and Get Started.
How much can you earn through YouTube Shorts monetization?
Unfortunately, the earnings from YouTube Shorts are – at least so far – not spectacular. The consensus among YouTube Shorts creators is that revenue per thousand views (RPM) is coming in around $0.05 to $0.07. That's about $50 to $70 for a million views.
For those of you curious about YouTube Shorts monetization updates, here is Feb2-Feb 8th earnings from approx 35 Million views. pic.twitter.com/kMyjW6KB0b

— Zach King (@zachking) February 10, 2023
YouTube Shopping revenue will depend entirely on how well you promote your products and the price point of those products. Keep an eye on Revenue in your YouTube Analytics to see how much you earn through your YouTube Shopping tags in Shorts.
Likewise, Super Thanks will depend on how much your fans value your content, and how close a connection you form with them. Super Thanks is, after all, like a digital tip.
So: Are YouTube Shorts monetized? Yes. But, the earnings are not going to replace what a creator would typically earn from long-form YouTube videos.
However, as you'll see below, the YouTube Shorts monetization features are not the only way to earn money with your short-form content on YouTube.
4 other ways to make money with YouTube Shorts
1. Join an affiliate program
There are two ways to make money on YouTube Shorts with an affiliate program, depending on how big your channel is and where you live
YouTube Shopping Affiliate Program
If you have more than 20,000 subscribers and are based in the United States, you may be eligible for the official YouTube Shopping Affiliate Program. This program allows you to use YouTube Shopping to promote products from other brands in your Shorts and earn a commission.
Just like regular YouTube Shopping, you can tag the products directly in your content and use a call to action to let viewers know where to shop. You can also request product samples from select brands to help you plan and develop future YouTube Shorts.
External affiliate programs
You can also use YouTube Shorts to promote affiliate programs that you join directly. There's no set number of subscribers for this, or any required amount of watch time.
You simply find an affiliate program that relates to products you mention in your Shorts, and then earn an affiliate commission for sales you refer to that retailer. In this case, you get paid by the retailer that runs the affiliate program (or their affiliate network), rather than by YouTube itself. So how do you actually direct viewers to your affiliate link?
This YouTube creator uses a pinned comment on his Shorts to direct viewers to his profile for links to specific products. Think of it as the YouTube Shorts equivalent to an Instagram link in bio.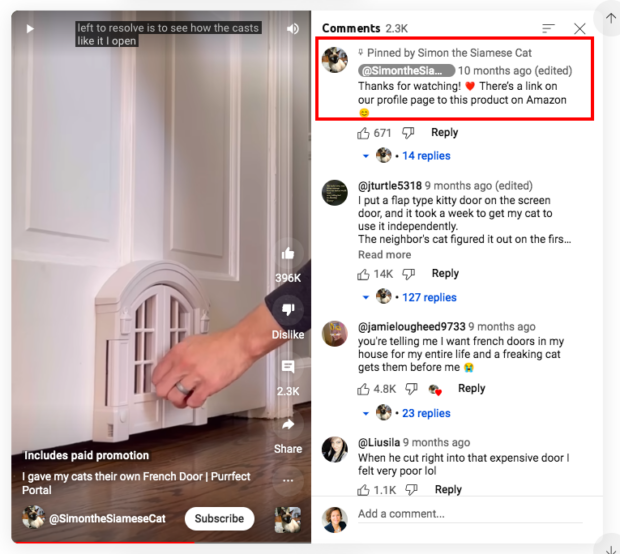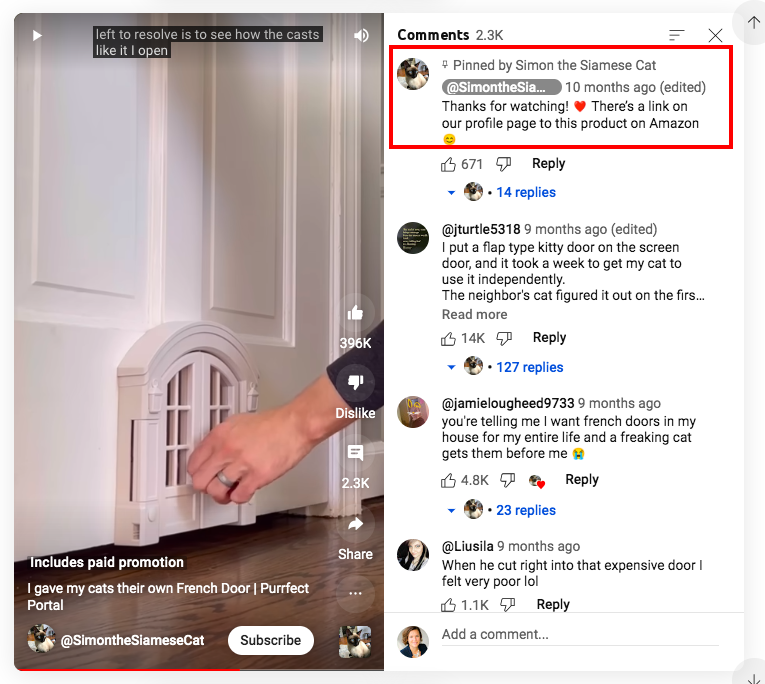 Source: @SimontheSiameseCat
He is promoting products using the Amazon Associates program. Since this is one of the largest affiliate programs out there, we've got a whole blog post on everything you need to know about Amazon Associates.
Shorts that include affiliate content must follow Google's Ad Policies and Community Guidelines. You also need to disclose that there is paid promotion in the Short. During the upload workflow, tap Yes, it includes paid promotion, then tap Yes.
Your Short will then show a label to let viewers know that the video includes paid promotion.
If you're interested in this approach to YouTube Shorts monetization, check out our post on how to use affiliate marketing.
2. Work with brands
Rather than applying for affiliate programs, you can reach out to brands to work with them directly. If you have a large enough following, brands may even start to reach out to you.
Working with a brand as a YouTube Shorts influencer could mean anything from free products to getting paid a fee to create and post brand-specific content.
As with affiliate marketing in YouTube Shorts, you need to disclose the brand relationship using the paid promotion disclosure option in the upload workflow.
3. Patreon
If you were an artist living in Renaissance Europe, you'd likely have a patron to fund your work. Patreon brings this concept into modern times by allowing content creators to monetize their content through paid subscriptions.
Video is the top content format on Patreon, so it's a good fit for monetizing YouTube Shorts. You could use Shorts to share an excerpt of a deep-dive video and let viewers know the full story is available through one of your Patreon membership tiers.
Or, you could use the Community tab on Patreon to chat with your patrons and develop a community.
So, what's the advantage of using Patreon over YouTube channel memberships? First off, you can create a Patreon with no minimum subscriber or watchtime threshold.
Beyond that, you'll need to explore each program to see which makes more sense for your specific situation and the perks you want to provide.
For more ideas, check out our full blog post on how to earn money with Patreon.
4. Use Shorts to grow viewership for long-form videos
While this is not strictly speaking a direct form of YouTube Shorts monetization, it's an important thing to think about when calculating ROI for your YouTube Shorts.
Sure, the YouTube Partner Program payouts for YouTube Shorts are not spectacular. But, especially for new YouTube creators, Shorts can be the one of fastest ways to build your audience. You can then create and monetize regular long-form YouTube videos, which earn ad revenue at a much higher RPM.
Stay ahead of the social media game with Hootsuite. Schedule posts, analyze results, build your audience, and grow your business. Sign up today for free.
Grow your YouTube channel faster with Hootsuite. Easily moderate comments, schedule video, and publish to Facebook, Instagram, and Twitter.
Free 30-Day Trial