#HootTip: Change your Re-Tweet Style on the Fly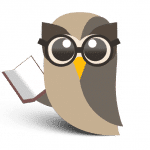 With so many features in the HootSuite dashboard, even experienced users can have a tough time staying up to date with all the ways to monitor and engage on the social web.
Each #HootTip will help you explore the handy tools and powerful features in HootSuite to help you along the path to Owl-hood.
Change Re-Tweet Style on the Fly
Re-Tweets are a great way to share the messages you enjoy and build your network by amplifying the best things you see on Twitter. But with 2 types of Re-Tweets, how do you choose which one fits your message best?
The answer is both thanks to HootSuite's new hybrid Re-Tweet function.
HootSuite allows you to set a RT preference between "old-school" RTs — which allow you to edit and add your thoughts — and automatic "web native" RTs as seen on Twitter web.
Now, we've gone even further with an on-the-fly choice of Re-Tweet styles for each message.
Here's how:
Click the Re-Tweet option at the top right of any Twitter message to see a small dialog box asking "Re-Tweet to your followers?"
Click "Yes" – to use the automatic Twitter-style Re-Tweet

Or click "Edit" to copy to the compose window and add some thoughts of your own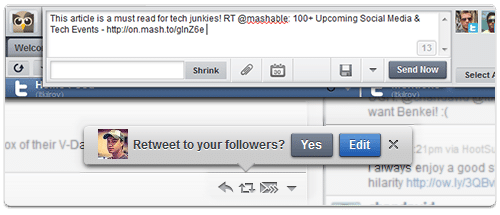 Try adding a note of your own using the old school RTs, or go for the new style and automatically re-broadcast to your followers. Either way, you'll quickly see how RTs of any kind can help you participate in the social conversation.
Like many updates, we've added this industry-unique feature based on your helpful feedback. What's your next idea?
Keep an eye out for a new #HootTip each week – they're short, sweet and Re-Tweetable so you can share your HootSuite expertise with your friends and followers. Some lucky RTers may just find themselves with a #HootKit… it's our way of saying "thanks for spreading the word."