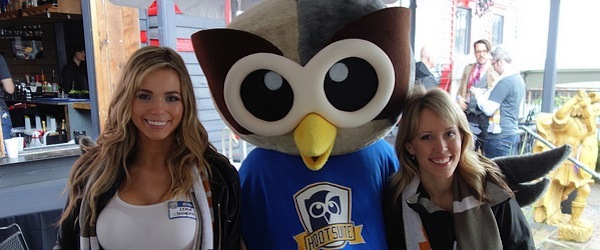 10 million Users, 10 million Stories
Hootsuite recently reached the 10 million user milestone. That's a significant number, and one we're extremely proud of. So a big 'Thank You' goes out to all 10 million of you!
As a freemium company, we've worked hard to cater to all social media users, instead of focusing on any specific audience. Every day we try and incorporate features and resources that serve the casual social media user as well as the big enterprise. This approach has paid off and all 10 million of you have shaped the growth of Hootsuite since our humble beginnings almost six years ago.
From Vancouver to the world
Hootsuite was built and is still based in Vancouver, British Columbia. Like most startups, our early user base was composed largely of locals, friends, and followers who helped the product spread and grow.
Rebecca Bollwitt, known locally by her blog and social handle Miss604, was the 10th Hootsuite user ever—the definition of early adoption! We're happy to say that Rebecca has stuck with us ever since. As we've grew as a company, Miss604 grew into an award-winning blog, one we're very happy uses Hootsuite for its social media promotion.
Less than a year later we hit the 10,000 milestone, crossing several borders along the way. It was Kate Smith, a color expert from Virginia, that took us into a 5-digit user base. Following her profile today you'll see a variety of tips and posts about color, and business in general. Kate is a great example of an individual user growing their audience by sharing relevant content every single day.
The jump from 10,000 to 10 million users was a big one. Along the way, 744 of the Fortune 1,000 companies started using Hootsuite to manage their social media efforts, many with thousands of employees on corporate accounts in hundreds of offices around the world. Our Enterprise product has set the bar for social media security, analytics and overall account management, and that evolution is driving Hootsuite into new global markets every day.
And yet, our 10 millionth user is a perfect reminder of our roots. It was @Coffeenews, a small business from Michigan, that took us across this big line. Coffee news is a printing business that produces newspapers for restaurants and diners that contain news, facts, jokes and advertising. It's the kind of business many people would say is threatened by social media. Instead, they're using Hootsuite to promote their company, and we couldn't be happier.
Whether you were one of our first 100 users or you just signed up this week, you have had an impact in the development of Hootsuite, and for that we'd like to say thanks.
Share your story of why you joined Hootsuite in the comments below.