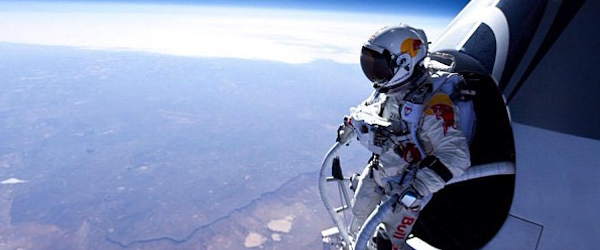 100 Weeks of Trends: A Look Back at the Most Trending Trends, Part 1
This is the first of a three part series: A Look Back at the Most Trending Trends. Part one discusses four events that were viral sensations: the Harlem Shake, Gangam Style, Kony2012 and  Red Bull Stratos. 
Twitter moves pretty fast. It's a world that measures time in seconds versus hours. There are over 500 million tweets sent from around the world every day. Because Twitter has become such a major source for global news and conversation, we have gathered weekly Twitter trends for the past 100 weeks to discover what the world is talking about. These trends highlight the top terms and hashtags from the previous week, and reveal topics that people all over the world are interested in.
100 weeks of trends means a lot of news. We figured what better way to celebrate this occasion than by finding the most popular trends of all 100 weeks. While doing the research behind this project, I found that so many amazing things (both good and bad) happened over the past two years. We've realized that social media has become an archive of the most impactful moments of our lives.
In the first part of this series, we're going to highlight the most trending viral hits of our 100 Weeks of Trends. When something makes it to viral status, it is viewed an extremely high number of times in a really short period of time, as it is rapidly shared. Of course, the number of views can vary widely—from having a few thousand views to being shared by millions, or even, in some of these cases billions.
So let's highlight some of these with our most trending viral trends since 2011:
Red Bull Stratos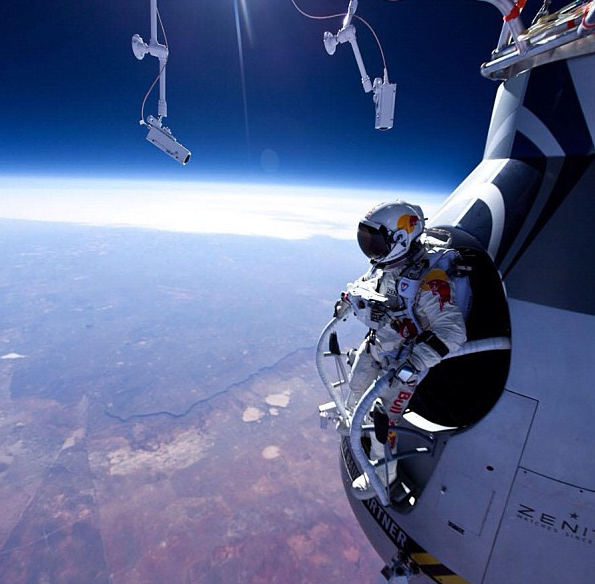 What happens when a man freefalls from 24 miles above the Earth? The jump breaks records on social media, that's what. If you missed the action, Red Bull Stratos was a space diving project, in which skydiver Felix Baumgartner fell approximately 39km into the stratosphere over New Mexico. The total jump, from leaving the capsule to landing on the ground, lasted around ten minutes. During freefall, Baumgartner reached speeds of up to 830mph, becoming the first man to break the speed of sound in freefall. He also broke the record for both the highest jump in a freefall and the record for the highest manned balloon flight.
Never accept your limitations – because there are NO limitations. Viva Felix! #spacejump

— Paulo Coelho (@paulocoelho) October 14, 2012
The records were not only being broken in the stratosphere, but also on social media. Social networks saw a record-setting number of responses to the space jump. More than 8 million viewers watched YouTube's live video stream of Baumgartner's free fall, and a number of Stratos-related topics trended on Twitter. Hashtags such as #SpaceJump, #RedBull and #FelixBaumgartner were among the most used.
Analysis company Taykey took a look at the numbers revolving around Red Bull Stratos, Mashable reported, and found that approximately 1% of online conversations mentioned the jump. "The Internet's activity went hand in hand almost with Baumgartner's jump, almost silencing when he jumped and then peaking when he landed safely on the ground. People were literally holding their breaths," Taykey said.
Gangam Style
I just about fell off my chair looking at these Gangnam Style metrics: pic.twitter.com/OGMXaXIz

— Marques Brownlee (@MKBHD) September 7, 2012
How could you call a YouTube video with nearly 2 BILLION views anything less than a social sensation? The video comes out of Seoul, South Korea and was done by PSY, a rapper/singer. On Twitter there have been millions of mentions of the video of of PSY himself, during his rise to one billion views- especially in the final hours before. If you aren't one of the 2 billion who have seen it (really?!!), this fast paced song has a catchy rhythm that will stay put in your head for hours.
Kony 2012
Kony 2012: A 30-minute nonprofit made video transformed into a social media phenomenon. 'Invisible Children' created a documentary on the notorious Ugandan guerilla leader of the LRA, Joseph Kony. The film demanded that the global community attempt to capture and try Kony in the International Criminal Court for crimes such as enlisting child soldiers, sacking villages and raping women. The video, viewed nearly 100 million times, sparked an array of trending Twitter hashtags, including #Kony2012, #StopKony and #CoverTheNight.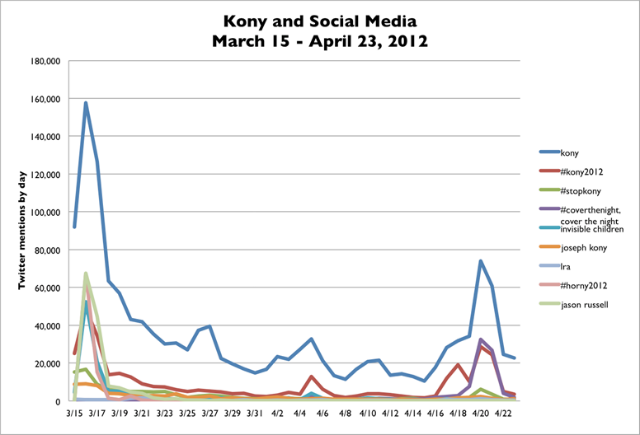 A Pew Research study suggested that there were over 5 million Tweets mentioned the campaign within the first week of the video's release. While the video campaign didn't successfully do what it intended to, it did make Kony a household name. Recently, 'Invisible Children' released an article detailing their accomplishments over the past two years. They went on to say,
"We're less proud of the fact that we made a hugely successful viral video than we are of all the tangible results we've seen in countering the violence of the LRA. Together, we have proven that when we raise our voices and take collective action, justice is possible. Powerful collaborative efforts have made us closer to ever to seeing a permanent end to LRA violence. But we're not done yet."
Harlem Shake
Almost as if it was a reply to Gangam Style, 2013 was taken over by the Harlem Shake: a video which follows one person (usually in a helmet), dancing alone in a room full of other non-dancing people. Then the beat drops on Baauer's "Harlem Shake," the video cuts to the entire room full of people dancing their hearts out in the most ridiculous ways possible.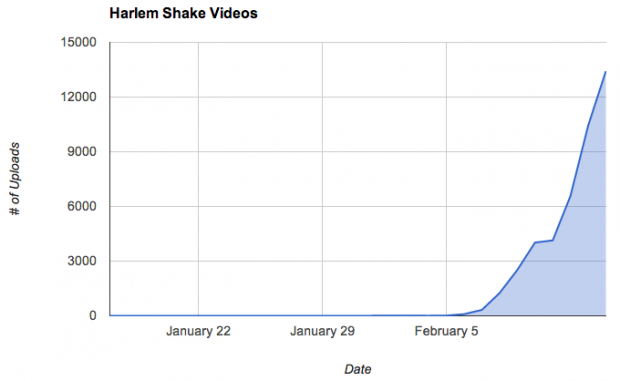 Within the first week that the original video (which has close to 52 million views) was uploaded to YouTube, 40,000 other people had uploaded their own versions of the "Harlem Shake." After 10 days of 4,000 Harlem Shake video uploads a day, the videos had a combined 175 million views. So how did this silly 30-second video create such a massive internet fad? It could simply be that these videos were so short that it was easy to go through a dozen of them in only a few minutes.
The video's popularity may have also came from the fact that absolutely anyone can create and upload one. Musicians Matt & Kim uploaded a video, US armed forces uploaded multiple videos, even swim teams and tech companies; check ours out:

Keep an eye out next week, when we will be releasing Part 2 of our 100 Weeks of Trends. In part two we'll discuss some of the biggest tragedies that have happened since 2011, and how the world responded via social media.