12 Days of Content, Day 9: Nine Mike Allton Guides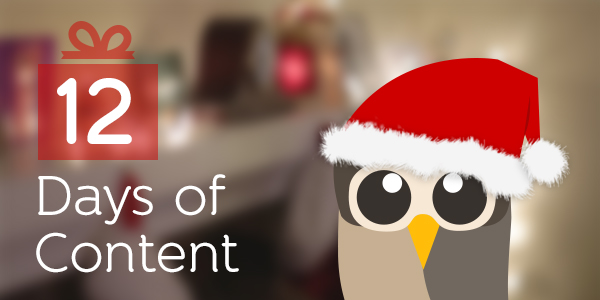 On the ninth day of content, HootSuite shares with you…
9 Mike Allton Guides!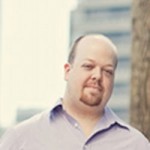 Very few people outside of HootSuite know more about the product than Mike Allton. An Internet Marketing Consultant and certified HootSuite Solution Partner, Mike has captivated a Google+ following of over 100,000 people with his social media insight, including an extensive series on HootSuite.
Mike takes individual HootSuite features like scheduling or Teams and dives into them, offering detailed guides to help users learn how to set-up and utilize each one. He has also let us share his HootSuite guides on our blog to the delight of many of our readers. Here are 9 of his guides, with an excerpt from each, to help you make the most of your dashboard:
"Companies can use a Business Development Team that is assigned sales leads that come in as comments and responses to social network status updates, and the Team can be given access to the networks and profiles most appropriate for lead generation and business development. For instance, such a Team may need access to LinkedIn profiles, company pages and groups, but not a branded Facebook Page."
"If your business is restricted to a specific geographic area, say, only the Greater St. Louis Area, then you have the option of geo-locating your search results and only seeing messages posted by people within your area. This will obviously filter out updates from people whom you're not interested in targeting as a potential customer."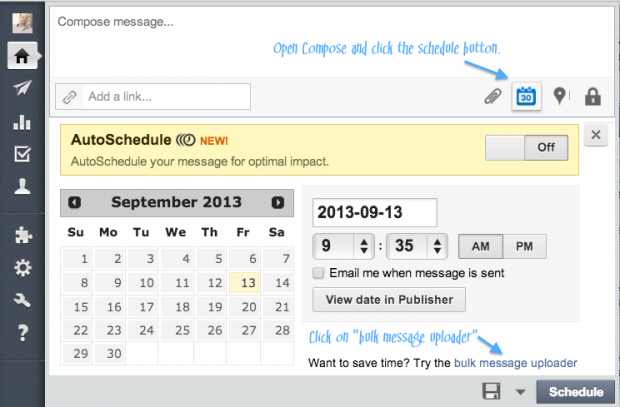 "Do you find yourself regularly sharing the same messages or reminders? Perhaps you're hosting or attending a weekly Twitter chat, or maybe at the end of every month it's helpful for you to remind your followers and customers to send in their information or files. Plug that into a Bulk Schedule so that you can be assured that it will go every time you need it to, leaving you free to concentrate on more important things."
"What makes HootSuite particularly valuable for this purpose is that not only will have you have a single place to go to check out updates from all your networks, if you find an update on one network, you can share it to any of your other networks! If you've just hopped into Twitter, all you can do is retweet to the account you're logged into. But when I call up my Technology News list within HootSuite and see an interesting tweet from someone, I can send it to either my personal or my branded Twitter account, as well as any of my other social media accounts, and I can also choose to AutoSchedule it and space out my posts, rather than sharing a bunch of posts all at once."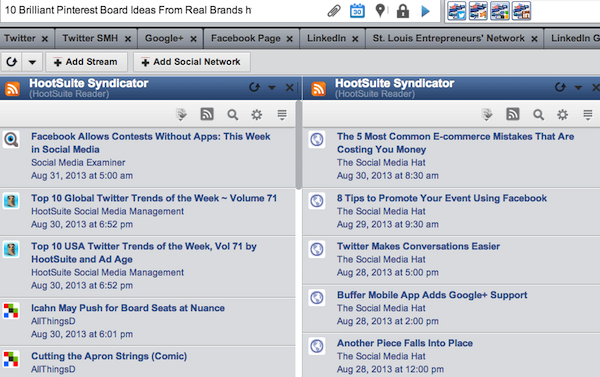 "One of the keys to a successful social media presence is consistency. Businesses need to be consistently active on their social networks. But not every business owner has the time to post every day, and smaller businesses will really struggle during weekends, evenings, holidays and vacations. Scheduling posts and using an RSS feed for selective automated activity can help a business remain active, even when the business owner or social media manager is off."
"What makes HootSuite better than Twitter web is that you can save a chat as a stream in your HootSuite dashboard. This will let you monitor the chat easily, as well as jump into it at any time without having to remember the right hashtag or do a search."
"Statistics have shown that when posting updates and content to social networks, use of an image will improve your engagement significantly. That's partly due to the fact that 90% of information transmitted to the brain is visual, and visuals are processed 60,000x faster in the brain than text.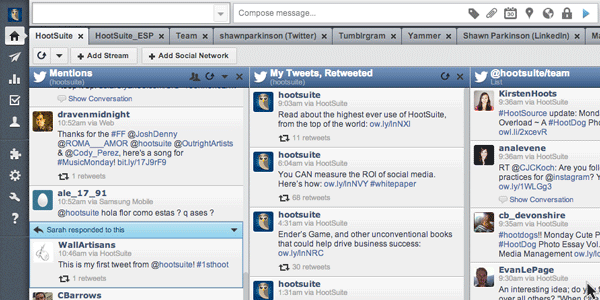 "When you've created a post and selected one or more social networks, you can either send it immediately, or schedule it to be shared later. When scheduling, you have three options: Select Date, Auto Schedule and Bulk Schedule."
"First and foremost, HootSuite supports brand and company pages for your business on Facebook, Twitter, LinkedIn and Google+ (while Twitter doesn't have a separate business account type, it's common to create a company account along with personal accounts to represent CEOs, business owners and employees). That makes HootSuite the ideal tool for an active business who has a presence on all of the major networks."
Now, ready to sing? On the ninth day of content, HootSuite shares with you…
9 Mike Allton Posts,
Stay tuned for the rest of our 12 days of content series!