The 2014 Paris Mayoral Election Tracker ~ A Social Media Command Center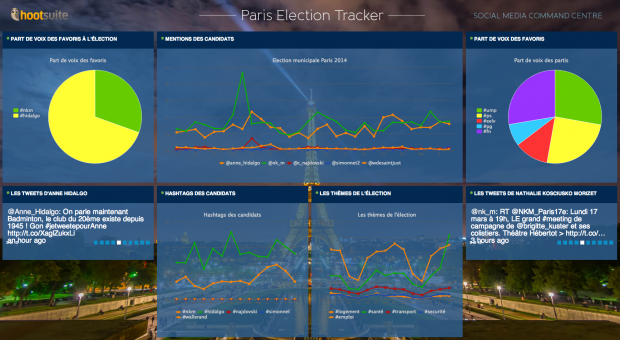 On March 23rd and March 30th Parisians will head to the polls to elect the famed French capital's new mayor. With less than a month until the elections, leading candidates are garnering thousands of Twitter mentions every day.
Clearly these elections will play out on social media, as voters voice their opinions and concerns about each of the candidates. With that in mind, we've built the 2014 Paris Mayoral Election Tracker, a social media command centre to help you follow the action as it unfolds.
Paris will likely elect its first ever female mayor, if social media is any indication. The leading mayoral candidates, Socialist Party (PS) leader Anne Hidalgo and Union for a Popular Movement (UMP) candidate Nathalie Kosciusko Morizet, are earning far and away the most mentions on Twitter. They also both have over 35,000 Likes on Facebook, while the third closes candidate has just over 2,000.
As the election dates approach, trends and stories may help shift the tide in support of one candidate or another. To help you keep up, the 2014 Paris Mayoral Election Tracker monitors:
The Twitter mentions of candidates and their hashtags
The share of voice of all the parties and the leading candidates
The Twitter mentions of electoral issues like employment and healthcare
The latest Tweets from frontrunners Anne Hidalgo and Nathalie Kosciusko Morizet
Second screens aren't just for sports and entertainment. Gain political insight through social media statistics with the 2014 Paris Mayoral Election Tracker.
HootSuite's command centers are available to all businesses and organizations.
Click here for more information.