#3MillionOwls and Higher Education ~ News Roundup

On January 17th 2012, HootSuite reached its three million user milestone – a mere three years after the company hatched! HootSuite would like to extend a big Thank You to all of our #3MillionOwls for their congratulations and well wishes.
In today's News Roundup, we've compiled a collection of blogs, articles, and stories covering the latest HootSuite news – including our three million user announcement with accompanying infographic, HootSuite University's Higher Education Program, and a great interview with Ryan Holmes.
Millions of Owls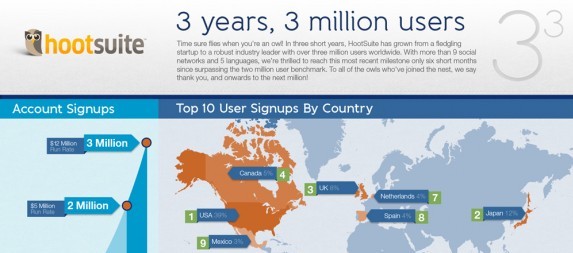 Mashable – HootSuite Reaches 3 Million Users, 700 Million Sent Messages [INFOGRAPHIC]
A new HootSuite user in Brazil has just become the social media management dashboard's 3 millionth user. The tool, which launched in December 2008, previously hit 2 million users in July 2011 and signed up another million individuals and brands in six months.
The Next Web – HootSuite hits 3 million signups, sees 1m new accounts in 6 months
It's interesting to note that in terms of 'Networks Added', Facebook and Twitter constitute almost 90% of all social profiles on HootSuite. This is, of course, representative of the popularity of these networks in themselves, with Facebook closing in on one billion accounts, whilst Twitter should hit 500m accounts next month. But despite Facebook being around double the size of Twitter in terms of users, they are very closely matched on HootSuite, which is indicative of the way that information constantly flows through Twitter, requiring an external client to mange and make sense of the data stream.
Mobile Syrup – HootSuite reaches the 3 million user mark
HootSuite has just passed another milestone as they've announced their 3 millionth user. The Vancouver-based company Invoke media launched their social media dashboard in 2008, but stated it only took 6 months to reach the last million users. It previously took them 24 months to reach the first million, then another 8 months to reach the two million mark.
Social Times – The Owl Rises — HootSuite Achieves 3 Millionth Signup [Infographic]
At Social Times, one of our favorite tools of choice for managing our social media presence is HootSuite.  The service is an essential time-saver with an attractive user interface and an even more attractive owl icon.  What can be said about that owl that hasn't been said before — big brown eyes, beautiful plumage and he even speaks Japanese.

But certainly it's not all the owl over at the company.  The impressive service has racked up 3 million signups, one million of those coming in the last 6 months.
Appitive – Three Million Smiles by HootSuite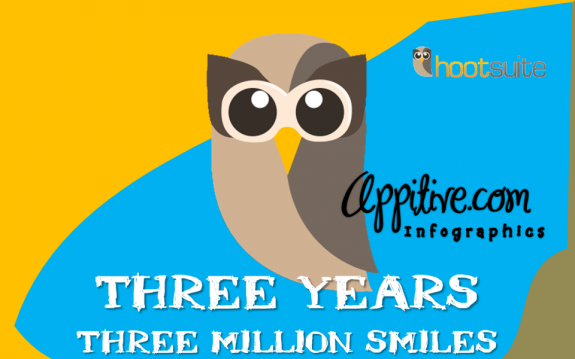 Techvibes – HootSuite reaches 3 Million users [Infographic]
Simply Zesty – Hootsuite Reaches 3 Million Users In 3 Years, 1.5 Million Messages Sent Daily
Business Insider – 10 Reasons Why 3 Million People Are Using HootSuite For Social Media Management
Website Magazine – HootSuite Hits Milestone
Soar With Our Higher Education
With the ever increasing demand for social media skills, HootSuite University was proud to launch its Higher Education Program with Syracuse University's S.I Newhouse School of Public Communications this week. The program provides professors and students access to HootSuite Pro and HootSuite University.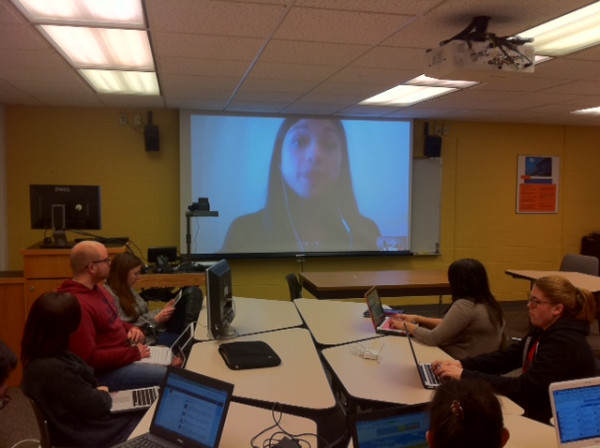 Follow Dr. William J. Ward (aka @DR4WARD), the social media professor at the S.I. Newhouse School of Public Communications, and #NewhouseSM6, to get the inside scoop on what's happening in the first semester of the program.
Inside SU – SU's Newhouse School, HootSuite form partnership for digital and social learning
"Students use social media to connect with friends and family, but they need hands-on experience with the professional social media skills demanded by the industry today," says Ward [social media professor at the Newhouse School].

According to a report from Monster.com in late 2010, social media job listings had increased 75 percent from the previous year, with more than 10,000 jobs a month requiring digital and social media skills. Yet a Manpower Group study shows that more than 52 percent of companies are having difficulty filling these positions due to a lack of "hard" technical skills among candidates. At the same time, keeping up with the rapid pace of change and innovation in social media is a continuous challenge; last year, there were more than 30 updates to the major social media platforms (Twitter, Facebook, LinkedIn, Google+ and YouTube).
PR Daily – HootSuite and Syracuse University partner to build students' social media skills
HootSuite is a great tool for seamlessly managing multiple social media accounts, and now it's taking its influence to the higher education realm.

HootSuite University is partnering with Syracuse University's S.I. Newhouse School of Public Communications to meet the growing demand for social media pros. HootSuite is providing its course materials to help students build their social media acumen.

The S.I. Newhouse School of Public Communications was recently named the No. 1 journalism school in the U.S.
DR4WARD – Hootsuite Teams Up With S.I. Newhouse School of Public Communications at Syracuse University On Digital and Social Learning
Business in Vancouver – HootSuite introduces social media education platform
Business 2 Community – Facebook's Open Graph In Action, Another 'Beauty And The Beast' Reboot, HootSuite University
Holmes on Hiring and at Cambridge House
Recently, Ryan Holmes had the opportunity to chat with Bridgitte Anderson at Cambridge House International's Vancouver Resource Investment Conference about HootSuite's growth and the importance of creating a social media presence.
Ryan also found time to field a question for Small Business Trends who polled members of the Young Entrepreneur Council on recruiting for startups.
Fundamentally, we have a 60 percent referral-to-hire rate, while other talent is found using Twitter, Facebook, LinkedIn, SimplyHired, Indeed.com, GlassDoor, Vancouver's HR Tech Group, co-op, and internship programs. I also recommend taking things offline, we always see an increase in applications after events.
Including avid HootSuite user, Laura Roeder, see what other members of the YEC had to say in the full article: Small Business Trends – 11 Places to Find Startup Talent
Hootle-oo
Once again, thank you for taking part in the HootSuite adventure and contributing to our culture. Each and every one of our owls has helped us grow to three million signups and deserves a toast! In the last three years your comments and insight have played an integral role in building the dash. Make sure to stop by our Feedback Channel and let us know if you have any ideas that would improve the HootSuite social media dashboard.
To stay on top of the latest Hootsuite news, keep an eye on the blog, our social bookmarks, and remember to follow @HootSuite, and @HootWatch!