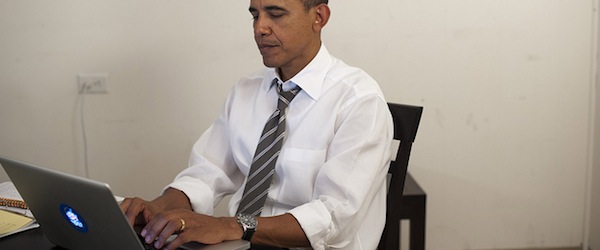 5 Famous First Tweets Uncovered: What Do They Tell Us?
This post was originally published by HootSuite CEO Ryan Holmes on the LinkedIn Influencer blog. Follow Ryan on LinkedIn: Do you remember your first Tweet? More to the point, do you wish you could forget it? Earlier this year, in honor of its eighth birthday, Twitter unveiled a special page allowing users to automatically see and share their first Tweet ever. As savvy users quickly discovered, the tool also lets you look up awkward—and occasionally embarrassing—first Tweets from anyone, including celebrities, entrepreneurs and politicians. It turns out that even some of today's most successful Tweeters got off to a rocky start. Here's a peek at five famous first Tweets and what they say about the evolution of social media:
just setting up my twttr — Jack Dorsey (@jack) March 21, 2006
On a spring afternoon in 2006, Twitter co-founder Jack Dorsey sent the first Tweet ever. From the looks of it, even the name for the service was still in beta. At the time, Dorsey and his fellow founders weren't sure what they had created or what niche it filled. They called their 140-character messaging service a "social utility" and named it Twitter after the sound a bird makes. Fast forward to the present and Twitter has more than 200 million active users around the world. When it went public last year, the company was valued at a cool $14.2 billion. Just eight years after Dorsey hit send on his famous first message, an estimated 500 million Tweets are sent every single day.
Brewing coffee — Ryan Holmes (@invoker) March 6, 2007
This Tweet might not be a famous, but it's got sentimental value. My first effort back in 2007 was actually one of Twitter's default suggested messages at the time. Though I was an early adopter, I honestly had no idea how big Twitter would become (or that I would build a global business around it). In those early days, we used Twitter a lot like instant messaging on a large scale – to connect with people in the office and around town. The big tipping point came just a few weeks later in mid March 2007, when Twitter was unveiled at the SXSW conference. Usage increased from 20,000-60,000 Tweets per day, nearly overnight. Suddenly the biggest players in tech were logging in and sharing thoughts. Bloggers covering the scene picked up on it and the network began to go viral. It wouldn't be long, however, before the business world caught on to broader applications. Customer service and marketing departments seized on a new channel for reaching clients. The term "social media manager" entered the lexicon. Big brands poured money into developing huge Twitter followings. Today, social media is estimated to represent $1.3 trillion in value for global businesses.
Thinking we're only one signature away from ending the war in Iraq. Learn more at http://www.barackobama.com — Barack Obama (@BarackObama) April 29, 2007
Credit goes to Barack Obama for being among the first politicians to pick up on Twitter's value, way back in 2007. While the prediction above may have been a bit off (the Iraq War wouldn't officially end for another 4.5 years), Obama's Twitter strategy was bang on from the start. He recognized Twitter's potential as a real-time, mass-communication tool, not just a utility for sharing personal updates with friends. It's probably no coincidence that Twitter would go on to play an important role in Obama's presidential election runs. During the 2012 campaign, for instance, Obama counted more than 20 million Twitter followers, nearly 10 times as many as opponent Mitt Romney. He was also among the first major politicians to exploit Twitter's new ad tools, spending to have his messages trend during key conventions and debates.
It's cold and will only get worse but at the moment it's bearable. Holly and Sam are coping well as are the rest of the crew. — Richard Branson (@richardbranson) October 22, 2008
When it comes to business leaders using social media, Richard Branson is regarded as an undisputed master, with some 4 million Twitter followers and 1.1 million Facebook friends. But, as this Tweet from 2008 shows, we all have to start somewhere. Like lots of early adopters, Branson initially used Twitter much like Facebook, as a personal tool for sharing status updates – on the weather, breakfast, weekend plans, etc.  
Tis my first twitt-er. Or tweet? Twit? Or tweet? "Twit or tweet everybody." Is this anything? — Ellen DeGeneres (@TheEllenShow) March 10, 2009

Ellen arrived a little late to the Twitterverse back in March of 2009. By that time, fellow celeb Ashton Kutcher was already well on his way to being the first user with 1 million followers(narrowly beating out CNN). Ellen's first Tweet (i.e., "Is this anything?") is a good example of the skepticism of the time, when the public was still unsure about the network and its staying power.
Times have changed. Ellen currently has nearly 30 million followers, leaving Kutcher in the dust. Her secret? Apart from being ridiculously funny, her Tweets mix authenticity with uncanny business savvy on what's trending and why. Most recently, Ellen was behind the most retweeted message ever, the legendary Oscar ceremony celebrity selfie, shared some 2 million times before the show was over. Seemingly spontaneous, the selfie was actually part of a planned $20 million ad campaign paid for by phone maker Samsung – proof that social media has definitely come a long way.
What was your first tweet?
For more social media insight and to learn more about my company, follow Hootsuite on LinkedIn.