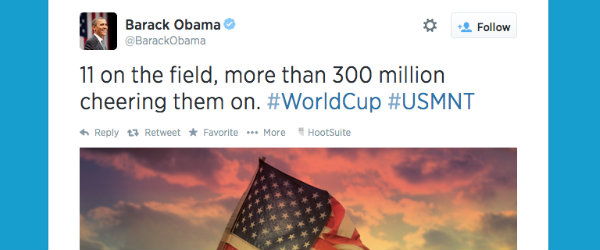 5 Twitter Habits of Highly Effective World Leaders
Twiplomacy has released the latest version of their annual global report on the Twitter strategies of world leaders, which looks at the profiles, tweet history, and follower base for heads of state and government. The study looked at over 600 official government Twitter profiles, and highlighted some of the common trends and tactics adopted by the world leaders in their tweeting routines.
If there is one job for which social media strategy is crucial, it's the head of state. Of course, some strategies work better than others. What works for the presidents and prime ministers will probably work for you, too; so here is the list of some Twitter tactics that brought success (and Twitter followers!) to heads of state across the world.
1. Include photos and videos in your tweets: President Obama's tweet with a picture of the election embrace in November 2012 quickly became one of the most retweeted photos in the history of the platform. Other politicians took note, increasingly adding photos and Vine videos to their tweets for better amplification of their messages. Adding a visual element to your tweets is like cheating the 140-character limit: it stands out among other tweets in your followers' feeds, and helps your audience get the most out of the message. Another great perk—picture messages are more likely to get retweeted.
2. Tweet in multiple languages to reach out to a bigger audience: Twiplomacy declared Pope Francis the most influential leader in the Twitterverse, with several million followers on ten (!) language-specific accounts. Thanks to translation tools such as Google Translate, you no longer have to speak the language to address a multilingual audience. Find out what languages are prevalent among your followers, or which language group you would like to reach. You may be surprised with how much of your audience is hiding behind that language barrier. Bonus tip: the most tweeted language among world leaders is Spanish, so next time you tweet, do it en español.

3. Engage with your followers: Take note from the African officials, who rank as top conversational leaders and devote the majority of their tweets to engage with their audience using @replies. Whether you manage social media for your company, or use Twitter to promote your own brand, it always helps to pay attention to your audience. Acknowledge both positive and negative comments, and don't be afraid to use your sense of humour when tweeting (Calgary Mayor Naheed Nenshi does all the time).
4. Keep up with current events in your field: The study shows the follower count for the Ukrainian Foreign Ministry's Twitter account multiplied by eleven in 2014, as a result of the increased interest and news coming out of the region. Hashtag diplomacy campaigns based on current affairs, such as #BringBackOurGirls and #UnitedforUkraine, have garnered thousands of retweets. Participating in global discussions relevant to your field can help you connect with other professionals, and attract potential followers interested in similar issues. It also demonstrates your awareness of trending topics to potential collaborators or clients.
5. Get help managing your social media channels: Twiplomacy report shows fewer political figures using the Twitter website, with a 15 per cent decline from last year. Both mobile clients and social relationship platforms like Hootsuite to monitor their social media channels. So whether you are managing social media for personal use or your organization, get a little help from the professionals—even the presidents are doing it!
Take a page out of presidential social media strategy and set up a Hootsuite Pro account.