You see the hashtags on Twitter every week: #SBizHour, #MediaChat, #CMGRHangout, and on and on. These tags refer to Twitter chats, one of the best examples of community building on Twitter. Using a shared hashtag, users meet at a set time to discuss issues of community relevance. These chats generate tons of conversation, and build deep connections between the people partaking and brands who host.
That kind of engagement has benefits for brands and personal brands alike. A successful Twitter chat community builds advocacy, loyalty, and community with participants. You'll grow the social following of your accounts, generate valuable discussions and feedback, and show thought leadership with an outspoken audience.
Could you host your own Twitter chat? It's not as simple as you'd think, but we've got your back. Here's your step-by-step guide.
What is a Twitter chat?
Before you get into the meat of starting your own Twitter chat, it's important that you know what is involved. A Twitter chat, or Twitter live chat, is when an organization or individual uses Twitter to talk about a common interest with others during a predetermined time. A Twitter chat is led by a designated moderator who will ask questions and facilitate the discussion.
A Twitter chat will almost always include a designated hashtag so that members can find the chat and follow along easily. Each time you Tweet or respond to a Tweet within the chat, you simply have to ensure that you include that chat's hashtag—that way it's linked and easy for other chat participants to find. If you'd like to find a scheduled chat on a topic you're interested in, you can check out the Tweet chat directory.
To set a hashtag for your brand's Twitter chat, simply pick a hashtag that isn't already used (just search the hashtag to see if anyone else is using it), and then promote it to your followers. Choose a time and topic and work on making sure that you won't be the only one participating. Hootsuite's own #HootChat is an example of the power of a Twitter chat hashtag.
Now that you have a better grasp of what a Twitter Chat actually is, you might be wondering whether running one is worth the effort for your business.
Why you should host a Twitter chat
A Twitter chat is more than just a fun event for your followers.
From a business perspective, a Twitter chat is an opportunity for you to connect with and engage other Twitter users in a way that you would never be able to accomplish on your own. By participating in the conversation and injecting your relevant comments, you create opportunities to connect with new people—whether they're influencers in your industry or potential clients.
In summary, a Twitter chat can help you:
Build authority and establish your brand's leadership
Enable members of your business to be identified as influencers
Make new connections with relevant Twitter users
Share valuable and informational content with your audience
Boost your brand awareness through increased mentions and discussions surrounding your brand
Now that you know a Twitter chat can benefit your business considerably, you need to know exactly how to run your own Twitter chat.
How to run a Twitter chat
As tempting as it is to just jump in, you'll need to build a plan before your chat. We recommend you consider the following in order to create a Twitter chat strategy.
Define your purpose
Before you start thinking about the what, when, who, and how, start with asking why. How does a Twitter chat support your larger social media goals? Why choose the Twitter chat format over other publishing options? Does a chat support your community building goals?
The Twitter chat format can be very powerful in creating a sense of "place" on an otherwise fragmented social media platform, but encourages opinion-based messaging (which can be a headache if topics turn controversial). Hosting a chat also requires commitment, and a fair bit of work. These considerations mean starting with a clear vision of what you hope to accomplish is critical to pave the way for success.
See how other brands are running Twitter chats
As you're planning, take some time to get a feel for how Twitter chats run, and learn the Twitter-chat lingo. The simplest way is to participate in existing chats relevant to your industry, which will have the added benefit of introducing you to Twitter chat leaders and participants you may want to invite to your own event. Reciprocity applies here—if you participate authentically in other chat communities, people will participate in yours.
Choose the best time to hold a Twitter chat
You may have heard that the secret to comedy is timing. The same holds true for Twitter chats. Will you host weekly chats? Monthly? Or will they be more sporadic, aligned with your marketing programs? Whatever frequency you choose, be consistent. Your community will find value in knowing when to tune in, and will be able to integrate your chat into their own schedules. Also consider the timezone(s) of your community, competition from regularly scheduled chats, and weekly patterns.
Our post, The Best Times to Post on Facebook, Twitter, and Instagram in 2016, suggests the following as the best times to post to Twitter:
The Huffington Post: "For maximum Retweets, post at 5 p.m., 12 p.m., and 6 p.m. Additionally, 12 p.m. and 6 p.m. also deliver higher click-through rates. The best days to Tweet for business-to-business organizations is Monday through Friday, for business-to-consumer it's the weekends and Wednesdays."
Hubspot: Between 12 p.m. and 3 p.m. from Monday to Friday, and between 5 p.m. and 6 p.m. on Wednesdays.
Kissmetrics: Weekdays at 5 p.m., where the highest percentage of Retweets occur.
While these times apply to regular Tweet publishing, they may be helpful as a jumping off point for scheduling your chat. Trial and error is a great principle to go by in regards to the timing of your Twitter chat. Hold your chats at different (reasonable) times and reflect on your results. Where did you see the most engagement? What was the length of the chat? Where were the participants of your most successful chat from? In considering all of these factors, you'll find your golden hour in no time.
Choose your Twitter chat hashtag
The hashtag you choose to rally around will come to define your community. Make sure that your hashtag is simple, concise, and conveys meaning when spoken aloud. Consider whether your chosen hashtag will be branded (for example SAP chose #SAPsmbchat for their small business chat), or whether you'll choose to build an open community with an unbranded tag (so that those who don't identify closely with your brand may feel more comfortable participating).
In either case, keep your character count low, as every letter steals valuable space from your participants' Tweets. Also stay away from abbreviations and acronyms that won't make sense to a broader audience. For a more thorough guide on hashtags, check out our post The Do's and Don'ts of How to Use Hashtags.
Promote your Twitter chat
With all due respect to Ray Kinsella, "If you build it, they will come," doesn't apply here. You're going to have to promote your chat (at least initially) in order to drive participation.
Start by scheduling promotional Tweets from relevant Twitter handles at different times of the day, as well as snippets of content from your first chat. If you're fortunate enough to have nurtured relationships with your brand advocates and ambassadors, inviting them to participate and help spread the word is a natural fit. It's likely your chat topic will resonate with them, and involvement prior to launch will build a feeling of exclusivity, deepening your relationship with your advocates.
See you all tomorrow for #HootChat featuring @giphy! Get your favorite GIFs ready 😏 pic.twitter.com/5OxaaikcOH

— Hootsuite (@hootsuite) August 3, 2016
Promoting your chat with content can also be a smart strategy for building an audience without over-promoting. Aligning your content strategy with your chat strategy can create a powerful one-two punch.
Through participation in other chats, it's also likely that you ran across connections who would enjoy participating in your chat. We recommend building a list of invitations, and sending each of them a Tweet invitation prior to the chat starting (an hour or so beforehand seems to work well). Make sure though, that your invitations are unique and personalized. If you simply @mention each person with the same message, you'll be perceived as a spammer and your invitation will have the reverse effect. Craft your messages in a way that makes the receiver feel as though you're authentically inviting them to your chat.
Now that you've thought about these factors, it's time to get down to business and host your first Twitter chat.
Execute your Twitter chat
You've planned and planned and now it's finally time to launch. Assuming you didn't skimp through the points above, you've probably got at least a few people tuned in at the proper time and your official hashtag ready to go.
Since you've planned your content in advance, your first step will be to kick off the chat with a welcome Tweet that introduces the chat and sets the tone. Schedule this Tweet in advance, to make sure the chat begins at the time your participants expect.
That's right, it's #HootChat time! Follow the hashtag to join the conversation. Make sure to introduce yourself! pic.twitter.com/xIvJ2n3pW3

— Hootsuite (@hootsuite) September 1, 2016
You'll also want to welcome participants to the chat, and to ask them to introduce themselves. This introductory period allows participants to get to know each other and make connections with each other. This also gives you a chance to open a dialogue with each of them, relationships which will be the foundation of an engaged chat community.
Warm Up Question: Quick! How do you pronounce gif? With a hard G or a soft G? #HootChat pic.twitter.com/geEbU1sNjJ

— Hootsuite (@hootsuite) August 4, 2016
After giving some time for introductions, you're on to the questions and answers—the reason you've brought your audience together to chat.
A few rules to adhere to during the chat:
Questions and answers follow the above format (Q1/A1 structure for questions/answers)
Frequency of questions in most chats ranges from five to 10 minutes
Engaged chats have a minimum of six questions or as many as 10 to 12
Adjust the number and cadence of questions to fit your audience
Q1. Why do we find GIFs so engaging? #HootChat pic.twitter.com/ThebZFUktr

— Hootsuite (@hootsuite) August 4, 2016
During the chat, remember that your branded handle is there as a host to nudge the conversation along. It also helps to:
Retweet the best of your participants' answers
Respond and probe deeper when you can
Encourage elaboration with follow-up questions
Not only will this put the spotlight on your participants as the subject matter experts, it will create a livelier conversation.
Pro Tip: Set up your Hootsuite dashboard to manage the conversation, as the stream for an engaged chat will move quickly. Search streams that remove Retweets (-RT) or filter for questions or answers only (#hashtag AND (Q1 OR A1)) will help you to view the hashtag stream with less noise, and manage the conversation more effectively.
Close your chat by thanking your participants for joining, and by setting up your next chat. This puts a nice "bookend" on your chat and gives you an opportunity to promote next week's topic.
How to run your Twitter chat using Hootsuite
Running and participating in a Twitter chat might seem like an overwhelming process—especially if you're a team of one—but thankfully there are tools to help you simplify the event.
If you're already using Hootsuite to manage and monitor your social network activity, this will be a natural extension of that usage. If you aren't, sign yourself up for an account and get your Twitter account connected.
Whether you're running a Twitter chat or participating in one, you can save a chat as a stream in your Hootsuite dashboard. This will let you monitor the chat easily, as well as jump into it at any time without having to remember the right hashtag or conduct a manual search. You can also create a tab just for Twitter chats, and have multiple chat streams saved within this tab.
Set up tabs
Once you're logged into Hootsuite you need to add a new tab within your Hootsuite dash, as you're going to create a few chat-specific streams.
You can use Hootsuite to search for the hashtag of a chat you want to join. You'll see a number of Tweets show up in the results. At the bottom of the results, there's a button to "Save as Stream." This will allow you to save that search, and that chat hashtag, as a stream in your tab.
You can now view the chat as it occurs in a saved stream. You can use Hootsuite tools to favorite and reply to Tweets from other participants, and use the compose dialogue box to create Tweets of your own. Just be sure to always include the hashtag for the chat.
On a regular basis, the Hootsuite stream will check for and indicate that there are new Tweets available to view. Remember that each stream has its own refresh button so you don't have to refresh your entire screen.
Learn how to get even more out of Hootsuite with free social media training from Hootsuite Academy.
Create search streams
Once you've got a new tab started, you're going to want to populate it with information streams. The first stream inside your new "Chat" tab is going to be the main chat stream. This stream will aggregate the entire conversation in one place. You'll want to keep this stream fairly open, but it's useful to remove Retweets from it to cut down on the conversation volume a little.
For this main stream, you'll create a search stream for the chat hashtag (in this case #HootChat) and the syntax "-RT" to remove both old-style and new-style Retweets from the conversation.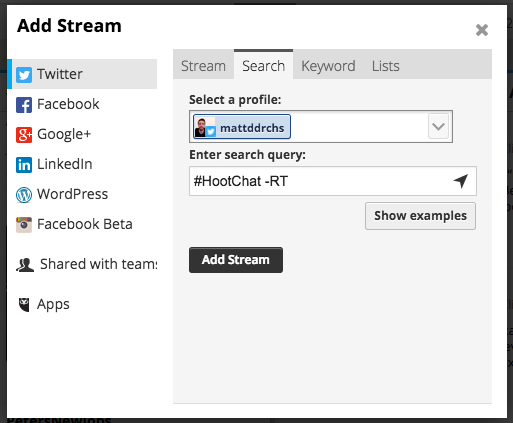 If you use your Hootsuite dashboard to manage multiple Twitter accounts, make sure to create your search streams (including the ones we'll talk about going forward) using the profile you're most likely to reply from. This will make sure that your most-used profile is auto-populated as the default profile when replying to Tweets during the chat.
Twitter chats commonly use a Q&A format to keep the conversation moving (here's a sample question and answer). To make managing that conversation smoother, you'll want to filter for these questions and answers in the chat stream. I recommend adding separate search streams with the following syntaxes to your Chat tab.
This search stream filters for chat questions only, allowing you to keep a pulse on how the conversation is progressing and which question is current:
#HootChat AND (Q1 OR Q2 OR Q3 OR Q4 OR Q5 OR Q6 OR Q7 OR Q8 OR Q9 OR Q10 OR Q11 OR Q12) -RT
This one is the reverse of the question stream—it filters for answers only, showing responses so that you can easily engage with others:
#HootChat AND (A1 OR A2 OR A3 OR A4 OR A5 OR A6 OR A7 OR A8 OR A9 OR A10 OR A11 OR A12) -RT
Depending on the needs and structure of the Twitter chat, it's often a good idea to create streams with custom syntaxes. For a chat that doesn't follow the Q1/A1 format—such as an AMA-style Q&A free-for-all—it's best to use a syntax like this one to filter the conversation for questions only:
"#ChatHashtag AND ?"
I recommend testing and iterating on new search streams to find what works best for you.
Multiple accounts
I often use more than one account to participate in a Twitter chat, especially in the case of #HootChat. We host that event using @hootsuite, but often to build and nurture personal relationships I find it important to get out from behind that handle and respond using my own handle, @mattddrchs. To manage the conversation from both handles, I will add the following streams to my Chat tab:
@Mentions for @hootsuite
@Mentions for @mattddrchs
My Tweets for @hootsuite
My Tweets for @mattddrchs
Pro Tip: The first time you type your chat hashtag, copy it  to your clipboard so that you can easily copy-paste it into later Tweets.
After your Twitter chat
You've hosted your first Twitter chat! Give yourself a well-deserved pat on the back. However, you're not quite finished. It's now time to reflect, measure, and learn.
First, decide what you want to track. Metrics like hashtag mentions, hashtag impressions, unique participants, and repeat participants can all inform how well your chat resonated with your audience. Look for increased growth or spikes in Twitter account followership as well, an indicator of community growth. Social measurement and analytics tools (we use Hootsuite Insights) can help you to dive into the chat results and quantify your efforts. You'll want to choose metrics that you can report on consistently over the long term to identify trends in community growth or to adjust your activities to better serve your audience.
The story of your Twitter chat won't end with the numbers, though. Make sure to curate the best responses and conversation for later reference (we like Storify for this), or screenshot them if you prefer. Highlight prominent community members, influencers or customers, and mine the responses for "quotable" nuggets. You'll find that some of your best learnings will be reflected here, insights that will help you tweak the delivery of your next chat. If the conversation was particularly interesting or memorable, also consider bringing some of the best content together into a blog post.
You'll find that hosting a Twitter chat requires constant tweaking, learning, and reformatting to suit the ever-changing needs of your audience. As your chat grows you may decide to add more engagement features (live Google Hangouts, influencer guests, etc.), or add more questions to speed up the flow. Whatever you choose, you're now building on a strong foundation.
A Twitter chat is a great way to bring a community together and boost your brand awareness in the process. In following the steps and tips above, you'll be on your way to creating a Twitter chat that's sure to engage your online audience.
Whether you're planning to run a Twitter chat or just participate in one, Hootsuite can help. Try it free today.