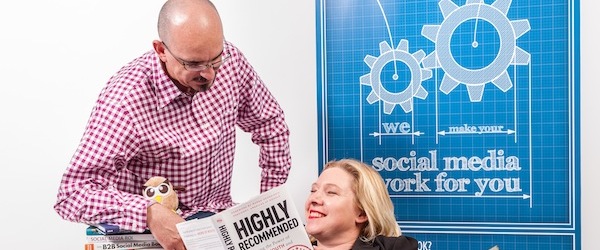 Agencies as Industry Experts: A Social Media AOK Success Story
Over dinner one evening in Adelaide, Australia, a husband and wife discussed Australia's widening gap in the market for social media agencies. From that night in 2012 onwards, Justin and Simone Douglas would dedicate their lives to building the agency, Social Media AOK. With proactive education, training, management, and strategy, Social Media AOK helps businesses grow through social media. Their passion and desire to help their clients has grown the business internationally and earned them a nomination at the 2014 Telstra Australian Business Awards in the startup category.
Justin and Simone have become industry experts with a strong social media marketing focus and share their wealth of knowledge with clients (and potential clients). To give them that competitive edge, the two are not only enrolled in the Hootsuite University program but also participate in the global Hootsuite Ambassador program.
How Agencies Become Social Media Experts
Social Media AOK knows social media marketing like no other. It is only natural then that they share their wealth of industry knowledge on social media as a way to promote their business and services.
In the ever-changing, fast-paced world of social media, Hootsuite University helps their team develop and upgrade their professional skills regularly, allowing them to stay on top of industry trends and apply their learnings when educating clients on social media best practices. As Hootsuite Ambassadors, Social Media AOK has greater access to the latest Hootsuite features and integrations in order to better serve their clients' diverse range of social media goals, challenges, and use-cases.
"Aligning our business with Hootsuite positions us as leaders in the industry, expands our business network internationally, and further cements our brand as a seriously social business," says Simone.
Sourcing and Sharing Content Marketing to Drive Business
Translating their expertise to content marketing, Social Media AOK shares their wealth of knowledge with their growing social community. For example, on Twitter, they share industry tips and best practices, while Facebook has become more of a business community forum that fuels conversations with the agency's content. By showcasing their industry knowledge through the content they share, Social Media AOK drives significant new business, including 15% of their total revenue from 2013, through their content marketing strategy.
To source and share relevant content that showcases their knowledge of the industry, Social Media AOK's team relies on Hootlet, Suggested Content, Streams, and Scheduler. While Hootlet allows them to share content easily across social media as they browse the web, Suggested Content uses keyword searches to source and share relevant content from various media outlets across social channels easily.
As an agency, Social Media AOK must source, share, and monitor content and campaigns for their clients. "Because 90% of our scheduled content is for our clients' social media channels, the combination of both the Hootsuite Scheduler and Streams features are essential for us to monitor all outbound content and resulting mentions and conversations for each client," shares Justin.
Agencies must be on their toes and think innovatively with every business challenge they're faced with. For Social Media AOK, once they understand their customers' needs, they use Hootsuite to source unique and creative solutions that help clients (and the agency) grow their brand presence online.
Want to grow your business? Learn more about Hootsuite Pro today.
Download this story!