Our Biggest Office Mural was Planned by a 9-Year-Old Art Director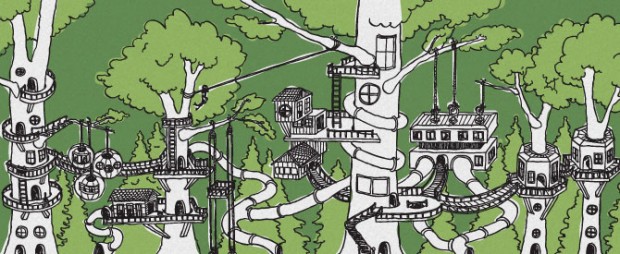 Q: Who would put the planning of a 40′ x 12′ (12m by 3.6m) mural in the hands of a 9-year-old? A: The same artist that drew the designs for our office doors without looking at what he was doing.
If you've been following along, you know that we have a number of unique and eye-catching murals in our new office space. A few weeks back, we told you about our Designer Jason Esteban and his surprising process called "blind contour drawing," where he free-hand draws without looking at the page. This time, his process is almost just as offbeat; he trusted the planning and design of our largest mural (measuring an impressive 40′ by 12′ or 12m by 3.6m) to his 9-year-old son, Miró.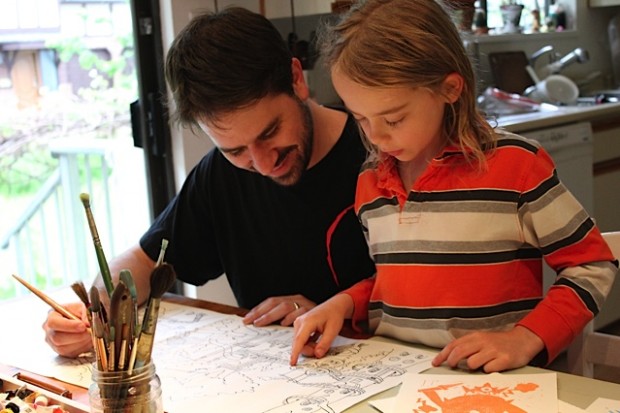 Why would he do this? Perhaps it's best to let Jason explain. "My initial idea for the mural was: 'What if HootSuite was a giant factory?'" he recalls. "I had fun contemplating and envisioning what the HootSuite software would look like if it were a huge tweet-producing, message-sorting, analytics-generating factory." But when his first few sketches didn't capture the fun and whimsy that he was hoping for, he went back to the drawing board (literally, as it were). "I started thinking…What kind of place would provide me the same kind of playfulness in illustration that a factory does, but fit in better with our office AND describe HootSuite or HootSuite culture?"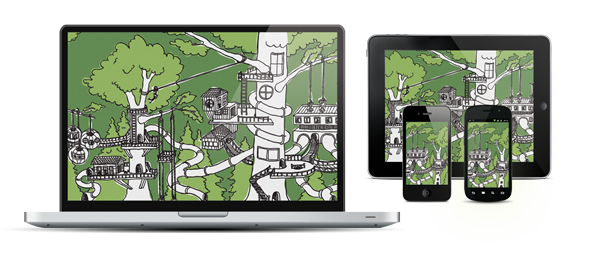 Inspiration finally struck while he was drawing with his son, 9-year old Miró. "Suddenly it came to me," remembers the elder Esteban. "A treehouse. A giant, elaborate, fun treehouse village. Who among us hasn't dreamed of living in the Ewok village at one point in their lives?" And so it was that Miró was promoted to Art Director on the largest project of his young life. Thankfully, he wasn't short on ideas.
"Miró provided a great deal of art direction," admits his proud papa. Things like slides wrapping around trees, ziplines, torches to illuminate the dark tunnels and rope bridges were all his idea. A favorite feature of this installation for many, the dog elevator, came from the mind of Dad, though. With over a dozen office dogs on any given day, even our imagined treehouse would need to accomodate them.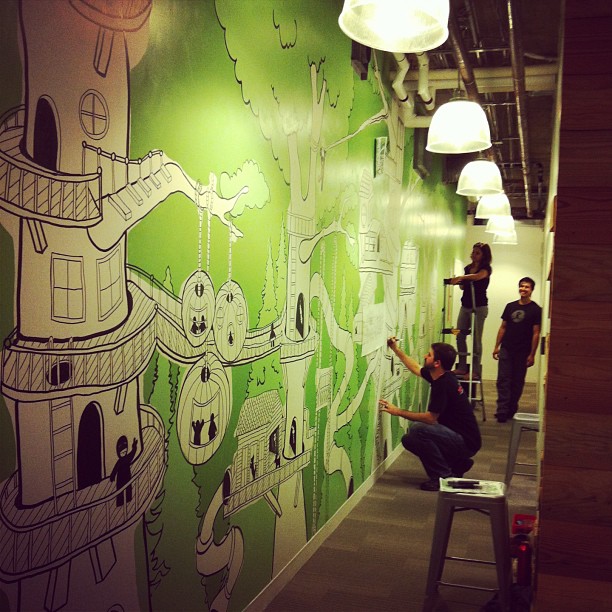 Even though much of the creative control was put into the hands of such a young artist, there was still plenty for Jason to work out logistically. "Once I had the pen-and-ink drawing complete, I scanned it into my computer, and added the floods of green to finish off the background." And then came the scary part, to hear Jason tell it. "I suddenly realized that it was going to be very difficult to take my digital file and figure out how to accurately transfer it onto a 12 x 40 foot wall!" A projector was out of the question, because the proposed wall is actually in a hallway. The medium might seem less-than-ideal to some, but Jason liked the challenge. "I chose it specifically, because I wanted it to feel like you were immersed in the environment."
Walking down the 40′ hallway, that's exactly the feeling it conveys, even if the process of getting it on the wall was tricky. "Like many of the things I do, the solution was oldschool: draw a grid on the original, and draw a grid on the wall," explains Esteban Sr. "I picked up a chalk-line at a hardware store, and after snapping a handsome chalk grid, we were off to the races!"
With the plan worked out, there was still a lot of paint to put on the wall, so Jason enlisted the help of some of his fellow artists in the building. "My colleagues Daina and Jo (along with her husband Kenji) played a huge role in transferring my drawing onto the wall," notes Jason. "We all collaboratively drew and painted over two very long friday nights. It was magical to be able to put 100% trust in the abilities of my friends and colleagues to help me make my little drawing into a huge reality."
We think that Miró would approve.
Want "The Treehouse" as your desktop or smartphone wallpaper? It can be all yours using the links below, or visit our media kit to see the entire set.
Desktop: 1920×1080 / 1680×1050 / 1280×800
Android: 640×960 / 480×800 / 480×640
Want to work in the vicinity of this giant work of art? Visit our careers page. We have several jobs posted, and we like to think we maintain a treehouse vibe all day here.