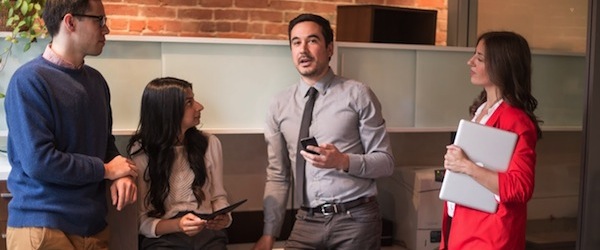 Beyond Marketing: The Benefits of Social Media Throughout an Entire Organization
Often, people assume that social media is primarily used in marketing and PR. Today's leading organizations now recognize that social media is no longer owned by a single team or department. It lives across the whole organization, and is owned by multiple departments, teams and employees.
Why do we need social collaboration?
If we were to look at how organizations are currently doing business, you'd notice that there are some inefficiencies. According to Dr. William J. Ward, professor of social media at Syracuse University, we spend on average four hours a day using email, and approximately 50% of our working day is spent sorting through and deleting emails. On top of wasted time in email, today's employees are also spending too much time in unnecessary meetings. In fact, in a recent study by the Centre for Economics and Business Research, 31 hours per month are spent in unproductive meetings. That's almost an entire week each month spent in meetings that are hindering productivity.
This is where social media comes in to help.
A recent study by McKinsey stated that the productivity of intelligent or knowledgeable workers could be improved 20-25% using social technologies. McKinsey is referring to using social media across multiple departments to increase productivity and improve communications. When your organization implements social media into company-wide collaboration, it will transform how work is done.
Here are the reasons why each department should use social, taken from the Newhouse-Hootsuite Advanced Social Media Strategy (ASMS) certification program:
Human Resources: When implementing social media in HR, it can be used to improve communication, increase efficiency, improve employee satisfaction, and for external recruiting.
Sales and B2B: For sales, social media helps improve problem-solving, decrease response time with customers, improve thought leadership, and develop collaborations with customers or clients.
Customer Service and Customer Communications: By using social media within your support organization you can increase consumer engagement and feedback, as well as decrease the response time in solving customer support issues. A quicker response rate helps to improve customer satisfaction and retention rates.
Product Development and Innovation: Through using social media in product development, you can crowdsource ideas in real time, discuss opportunities for innovation, and help new program development.
General Electric is a great example of a company that is using social media to connect with their internal audiences within the organization, as well as with external organizations and business-to-business customers. Recently, they used social media for new product development, innovation, and research. They introduced a program called GE Echomagination where a contest was launched over multiple social channels that engaged both their internal and external audiences. The contest was designed to get people to submit new business ideas and as a result, they ended up receiving 5000 new business plans furthering their program development.
For a deeper dive into how organizations are implementing social media across every department, enroll in the Advanced Social Media Strategy (ASMS) certification program, developed and delivered by Hootsuite and Syracuse University's Newhouse School. Dr. Ward will walk you through different models of how some companies are using social, and how you can get started, too.
This blog post is the third in a series about the Newhouse-Hootsuite Advanced Social Media Strategy (ASMS) certificate. Each post will give the reader tips about improving your social media strategy as well as provide insights into the ASMS certification program.