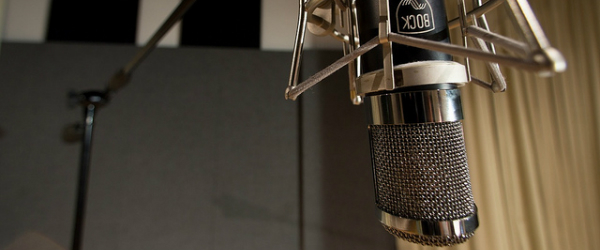 The 9 Best Podcasts for A Complete Modern Marketing Media Diet
It's time to join the podcast party. Thanks in part to Serial, the digital audio format is rapidly going mainstream. The runaway true crime hit boasted an audience for its final episode that rivals some network TV. More high-quality shows are being produced, and audiences once dominated by fans of the obscure and techy now include many of your customers—and maybe even your boss.
Basically the digital audio equivalent of a blog with an RSS feed, podcasts have been around for more than a decade. While great content has helped, the biggest change that explains the format's recent explosive popularity may be the mass adoption of the smartphone. We can now discover and consume content while working out, commuting, grocery shopping, or walking the dog. These are hours of boredom every day that can now be filled with smart, interesting, well-produced content.
As modern digital marketers, we're constantly struggling to keep pace with our rapidly evolving industry. If my daily content routine consisted entirely of blogs and news sites, I'd never get anything done. But thanks to all the great audio content out there in 2015, I can consume a complete media diet through my headphones, and save my screen time for the rest of my job.
Here are the 9 podcasts marketers should be listening to:
Reply All by PJ Vogt and Alex Goldman
Reply All is "a show about the internet." That's their tagline, actually, and a pretty good description. If you look at your feeds every day and you're concerned that you don't know what half the trending topics are about ("why is everyone talking about that blue and black dress?"), then you need more Reply All in your life.
In the show's short run, there have already been a few must-listen episodes for social pros. In #3, We Know What You Did, we learned why people don't like digital marketers, thanks to an interview with the guy who invented the pop-up ad. More recently, #14 offers an in-depth investigation of the circumstances behind a certain Tweet by a certain airline featuring a certain picture of a certain lady and a certain toy plane. (Another benefit of audio content: you don't need to open an incognito tab.)
Social Pros Podcast by Jay Baer, Jeff Rohrs, and Nick Cicero
Social Pros is essential for well-informed digital marketing practitioners. The roundtable format ensures there's always a diverse range of opinions from some of the best in the business, including Jay Baer, whose Convince & Convert blog was named #4 social media blog by Social Media Examiner.
HBR IdeaCast by Harvard Business Review
HBR's audience is more management than marketing, but the interview-based IdeaCast podcast belongs on this list because of the quality of the guests. One recent episode (February 5), for example, featured GoDaddy CEO Blake Irving on the brand's strategy transition from early broad awareness approach (sexy Super Bowl ads) to more audience-focused marketing. It's a great general resource on the current state of leadership thinking.
Billed as the podcast "for the network marketer, small business owner, entrepreneur, mlm professional, mompreneur, wahm, wahd, who is tired of the grind and ready to learn to leverage social media marketing sites like Facebook, Twitter, Instagram, and more," this show is all (small-and-medium-sized) business. Don't expect any $3 highballs at the Social Media Happy Hour—each episode is 15 minutes of tactical advice for marketers.
This podcast makes the list partially thanks to the recent episode (#96) featuring Quick Sprout's Neil Patel, co-founder of Crazy Egg, Hello Bar and KISSmetrics. If email is an important channel for your business, McMethod is required listening. If not, consider it optional and cherry-pick the best interviews.
Another interview-based show, ConversionCast is all about closing the deal. Content marketing is all about informing, entertaining, and engaging your audience, but at some point your boss is going to ask you about clickthrough rates, increasing the lifetime value of your customer or converting leads. Listen to this podcast faithfully, and you'll have a good answer when that time comes.
True to form, Gary Vee's show isn't really like anything else out there. Driven by sheer force of personality, it's fast-paced and a little in-your-face. The famed author/shouter delivers his wisdom on the state of social media marketing in the form of answers to audience questions. If you catch yourself starting to talk a bit too fast, maybe take a break for  an episode or two.
TWiT by Leo LaPorte
This Week in Tech is arguably the godfather of modern podcasting. Laporte, an experienced old-media pro, was among the first to bring great production values to an unscripted roundtable show format. His rotating cast of guests includes a who's who of technology media, from Stratechery's Ben Thompson (who Skypes in from Taipei) to Mashable's Christina Warren. Be warned, though, the group regularly dives into some true geekery and episodes run long.
SEO 101 by Webmaster Radio
Admit it: the essential modern marketing field you find most intimidating is SEO. For a long time, you've had good reason to stay ignorant of the techy tactics and black magic that determine search rank—the field can seem impenetrable to many of us. SEO 101 is a great resource for cutting through the jargon and getting your search skills up to snuff.