Big In Japan: Social Media Insights From the Streets of Tokyo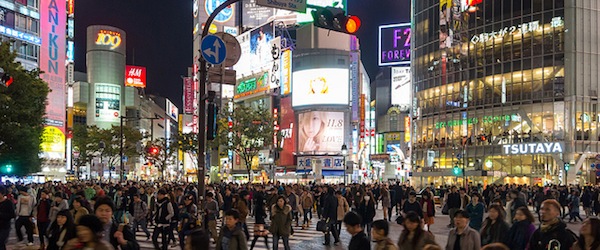 When you emerge from Shibuya Station, you are confronted by a cacophony of information. Ten-story-high digital billboards showcase live video and amazingly clear audio promoting Japanese brands, stores shout at you to come in and buy, pachinko and arcade parlours ding away loudly even behind glass doors, and buses drive by advertising the latest J-Pop wunderkinds. This is the 24-hour beating heart energy that is Tokyo. On a recent trip, I was amazed by all the sights and sounds competing for my attention. To understand the social media landscape of the culture that created Shibuya, I would need a guide.
Through HootSuite's global network of friends and advocates, I had the good fortune of meeting Kazuyo Katsuma. A businesswoman, author, TV pundit and social media expert, Katsuma is the perfect person to introduce me to Japan's social web. The Wall Street Journal named her as one of the Top 50 Women To Watch, and she's an authority on business, work-life balance, and gender equality—all particularly acute issues in Japan. She graciously took time to meet with me for a morning coffee, squeezing me in to her schedule having just returned from a business trip to Finland and due to appear on a popular Japanese TV show later that afternoon. We met just steps away from Shibuya Station's famed Hachiko statue.
Kazuyo was quick to note that mobile is key to understanding Japan's use of social. I was happy to see HootSuite installed on her iPhone 5. Japan was an early international market for HootSuite (it wasn't that long ago that you could download a Keitai HootSuite mobile app–a Japan-specific platform), but like the rest of the world iPhone and Android now rule the mobile universe. Whether it's on a subway, train or in a café mobile handsets are everywhere in Japan, and with a 110% market penetration for mobile phones, it's no wonder.
Kazuyo told me the first thing I needed to understand was the importance of Line. Beginning in 2011 as a mobile social messaging platform, similar to WhatsApp, Line has since added social features and grown into one of the most popular communications channels, with 340 million users in Asia.
In Japan Facebook is still very much on the desktop, but young Japanese get social using Line, contributing more than 50 million users to the network. Like Facebook, parents and grandparents are also starting to use the service to keep in touch with their younger relatives, contributing to a rich user ecosystem. Retailers and individuals have noticed and are buying into the Line marketplace with branded stickers, stamps and coupon offers made available to network members.
Kazuyo told me about another interesting network called Niconico. This socially powered video sharing site is the 14th most trafficked website in Japan and is a subsidiary of Dwango. The site has more than two million paid subscribers and another 50-million non-paid followers. Premium users pay approximately $5 USD per month to access members-only content.
Though Niconico got its start by reposting YouTube content, it has since built it's own server farm to support the site's massive user traffic. An interesting feature of the platform is the integration of chat with the video content. Dialogue between users is overlaid on the video and synced with the content, which creates the impression of a shared experience—something that you often need a third-party network (like Twitter) to achieve with traditional broadcast television.
With this kind of innovation you would think big business would be jumping into social media with both feet, but Kazuyo sees some hesitation among big companies adopting social media. High profile scandals and a traditional business culture mean social media hasn't yet transformed corporate culture. In certain industries (regulated sectors such banking, and publicly traded companies, etc.) the potential pitfalls of embracing social media have stymied the use of social media as a communications channel. Some companies have specific policies that prevent staff from using social media—even for personal use.
It appears that enterprise social hasn't yet revolutionized Japanese business practices. That said, there is a culture of "hourensou" in Japanese management, which is similar to the "Working Out Loud" teamwork concept. Hourensou stresses reporting out to co-workers with frequent updates on the progress of your work, while remaining open to peer feedback. Hourensou seems to align perfectly with the widespread adoption of social media in the enterprise, so I wouldn't bet against social media big changes soon.
HootSuite is a social relationship platform where the world's major networks intersect. This gives us a global perspective on how different communities connect online. Russians predominantly use VK and Brazilians are partial to Orkut, but these differences are more complex than just the network of choice. Learning about Japan's unique social media landscape is a reminder that these networks aren't just about technology—how we communicate is always an expression of culture, first and foremost.
For more information about what is happening in the APAC region, follow @HootSuite_APAC.