First Tweets: Even Big Brands Had to Start Somewhere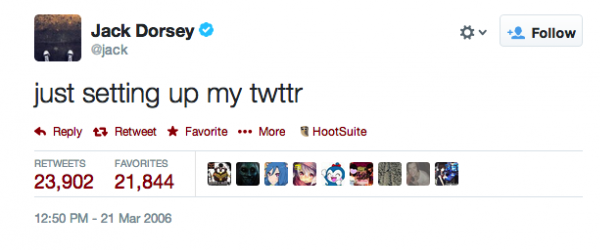 When Twitter was first launched in March 2006 even the creators weren't quite sure what it was. Many called it a social network and many others called it microblogging. Twitter was originally described as "status updates and social utility" by co-founder Evan Williams. No one was sure exactly what it was because it wasn't replacing anything, it was a brand new concept.
Eight years later and Twitter is seen as much more valuable than simple status updates: it has become an information network. With hundreds of millions of users, Twitter is where we share jokes, stories, recipes and breaking news. Most of us jumped onboard Twitter somewhere around 2008 with a ton of questions about how to use it, and more importantly, without any idea of how much we could do with just 140 characters.
Have you wondered what your first Tweet was?
Twitter recently released an awesome tool that lets you discover your first Tweet. I had never thought about what my first Tweet was- it never had crossed my mind. After the link to the Discover Tool was sent to me I started plugging in my friends at HootSuite's HQ Twitter handles. Andy Au (HootSuite's Social Content Producer) had by far my favorite: "Eating a burrito."
Last Friday we reflected on some of the science behind using nostalgia in marketing. Nostalgia is connected to positive sentiment and good feelings, and has become an inherent part social media because they act as a record of our thoughts and actions over time.
Through out the HootSuite Blog, we see a number of articles about how social media and business are tightly tied together. We often discuss best practices for brands and corporations. But did big brands know what they were doing when they first jumped onboard Twitter? Let's take a look at some of the first Tweets from a few of the biggest brands on Twitter:
Welcome to the Samsung Mobile twitter feed. We're glad you've found us, because something big is coming.

— Samsung Mobile (@SamsungMobile) August 25, 2011
Teases are always a great social media strategy, and while Samsung may have not had theirs completely finalized, they knew that a first Tweet tease would keep their followers coming back. 
Dior J'adore writes a new spectacular chapter on ultimate feminity. Follow Charlize Theron to get a sneak peek ! http://t.co/pHqPWEG

— Dior (@Dior) August 29, 2011
Is that a spelling mistake? Social media managers now dread this type of situation. But since this was Dior's first ever Tweet, we'll let it slide. That said, very few brands would make the same mistake today, showing us not only how far social media for business has come, but that even big brands like Dior started with a very basic understanding of how it works.
we'll be sharing more info here on Sony's whereabouts at GDC08, including updates on our blogger lounge:http://tinyurl.com/27yyoo

— PlayStation (@PlayStation) February 12, 2008
While PlayStation might have been unsure about how to use their first 140-character message, they sure did a lot of things right. They saw this first Tweet ever as a perfect opportunity to let their audience know they were going to be at the Game Developers Conference in 2008, and even directed followers to their blog. Today Twitter is widely used in event marketing. Playstation was ahead of the game.
Victoria's Secret has finally joined the Twitterati. Get ready to receive the sexiest tweets ever! #VictoriasSecret & #VSFashionShow

— Victoria's Secret (@VictoriasSecret) November 29, 2010
It's true, Victoria's Secret does send out some of the sexiest Tweets ever. Victoria's Secret knew exactly how to gain followers from their target audience- and we all know that sex sells. Using hashtags in their first Tweet shows that they had researched and learned the ins and outs of Twitter before joining (which is still a great idea to do when joining a new social media network). In other news, we're glad to see that the usage of the word "Twitterati" has seriously declined (+1 for that). 
need help expanding your small, local food producing business? we can help! http://www.wholefoodsmarket.com/products/locallygrown/lplp

— Whole Foods Market (@WholeFoods) June 20, 2008
While they didn't use a link shortener in their first Tweet, the wording they chose segmented the audience to seek out a very specific kind of  follower. Whole Foods was looking for SMBs to engage in conversation, favorite and retweet. Perhaps they already knew that businesses come with an audience of their own, and engaging them on social media is a smart way to boost your social profile.
77 Burnside, your spot for Nike must-haves and exclusives, is live and in full effect! Check it out here: http://tinyurl.com/69to69

— Nike.com (@nikestore) November 13, 2008
77 Burnside, you ask? Yeah, we're not too sure either. In 2008, Nike released the 77 Burnside Line which includes shoes such as the Nike Air Force 1 Premium and Air Force 1 Max Air, but this Tweet makes it sound like 77 Burnside is a place. There are a number of people looking for answers to this mystery:
"… if anyone has any idea what the significance of "77 Burnside" is, please give NikeBlog a holler. NB's closest guess is that it corresponds to an address in Portland. However 77 W Burnside in Portland is not much to look at, and doesn't have much to do with Nike, as far as we can tell" (via nikeblog.com).
Have you checked out our Facebook page lately? http://www.facebook.com/xbox

— Xbox (@Xbox) May 5, 2010
Can you tell which social media network Xbox was spending the majority of their efforts on in 2008? Sending out a first Tweet directing followers to Facebook may not be a Twitter best practice, and at the time it didn't turn too many heads. Four years and nearly 3 million followers later, Xbox doesn't need to prove that they know what they're doing on Twitter.
The Official Burberry Twitter feed is now live, welcome and thank you to those already following…

— Burberry (@Burberry) July 24, 2009
When starting out on a new social network, the first message sent can be a bit daunting. Even if you don't have a set strategy, it's always nice to be polite.
Hello Tweeps! Let's talk.

— Pepsi™ (@pepsi) March 30, 2009
The first of Pepsi's Tweets wasn't about themselves at all, but a call to followers to engage! After all, what better way to grow your brand (and your follower numbers) than by having fans and customers engage with your brand new account. Using this tactic, the reach of each individual message will go farther. But, much like Twitterati, let's just try avoid using the word "Tweeps."
RT @Kenth Better than bananas! Zoo uses Coca-Cola to snare escaped gorilla back to habitat http://tinyurl.com/o6n8jk

— Coca-Cola (@CocaCola) May 28, 2009
Coca-Cola may have been unsure of what to Tweet, but they clearly knew how to join the conversation and mind brand mentions to engage with. Retweeting a fan or partner mentioning your brand is never a bad idea. Kudos to Coke, who recognized that way back in 2009.