Content curation entails seeking out relevant and interesting content from sources outside of your company, and share it across your brand's social channels or blogging platforms. It's an easy way to diversify your brand's voice on social media, recognize your partnerships, and take a load off your content marketing team.
The latest version of Hootsuite's Syndicator Pro app helps making content curation a team effort, and save time browsing through all the incoming content. New and improved Syndicator Pro app features address all the elements of a successful content curation process. Here are five ways you can leverage the Syndicator Pro app for an efficient and effective content marketing strategy.
Boost your content curation with Syndicator Pro
4 Content Curation Techniques Made Easy With The Syndicator Pro App
Set up RSS feeds for relevant external content
In order to start sharing content that can interest your audience, you need to accumulate a list of high-quality external sources. These can be industry news sites, expert blogs, or other content aggregators. If you're not sure where to start, we've compiled a few of our favorite RSS feeds in this document.
Once you have identified the sources, use the Syndicator Pro app in your Hootsuite dashboard to set up an RSS feed for each site. You can do this by either adding an existing subscription, or import your OPML/XML files directly into the app.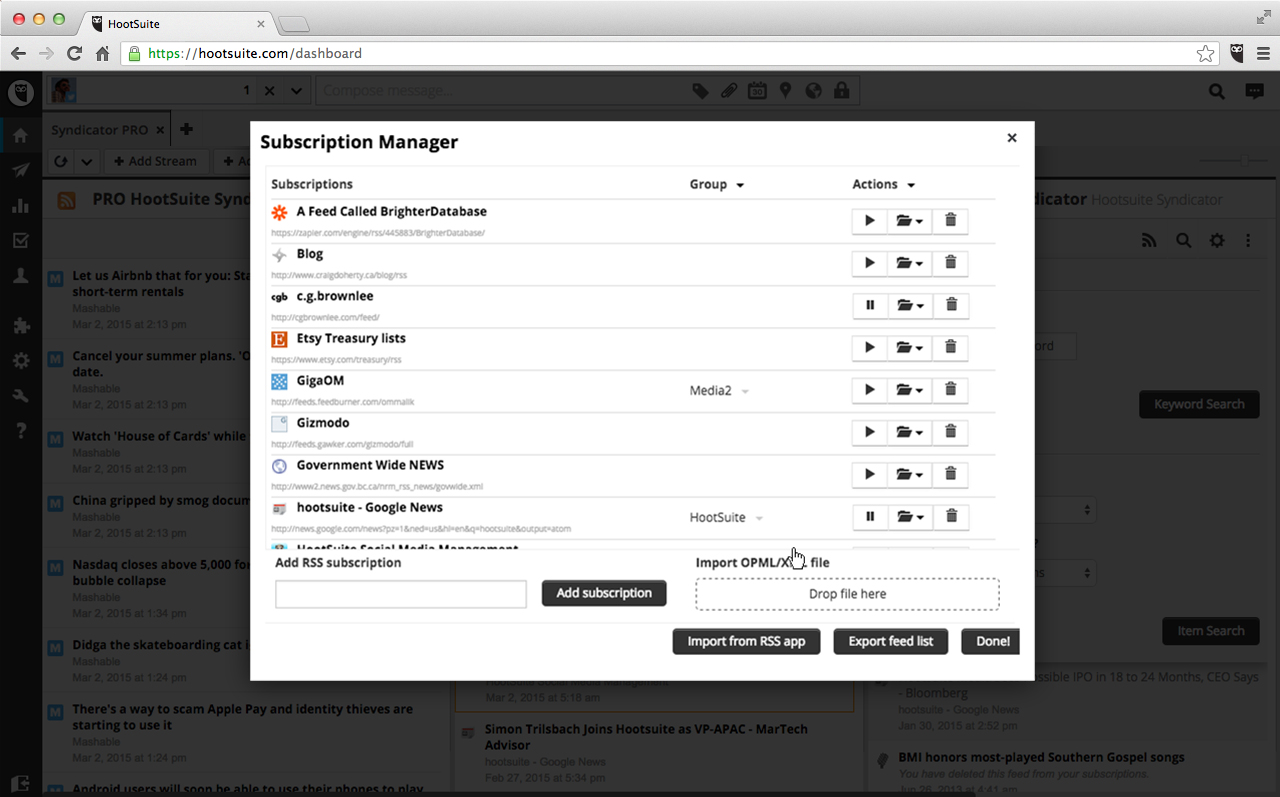 When you have all your desired listening streams set up in the dashboard, you can preview the text and header images of any articles in your feeds by clicking on the headline. If the article carries value for your social media audience, you can use Hootsuite to share the content directly from your RSS feed to your followers.
Save all your favorite content in one place
In order to ensure you always have engaging content on hand, it's important to start building out your external content library as early on in your content curation process as possible. Since you don't want to overwhelm your social media followers by sharing too much content too often, and leave some breathing room for in-house content, you can save any of the articles you don't share immediately.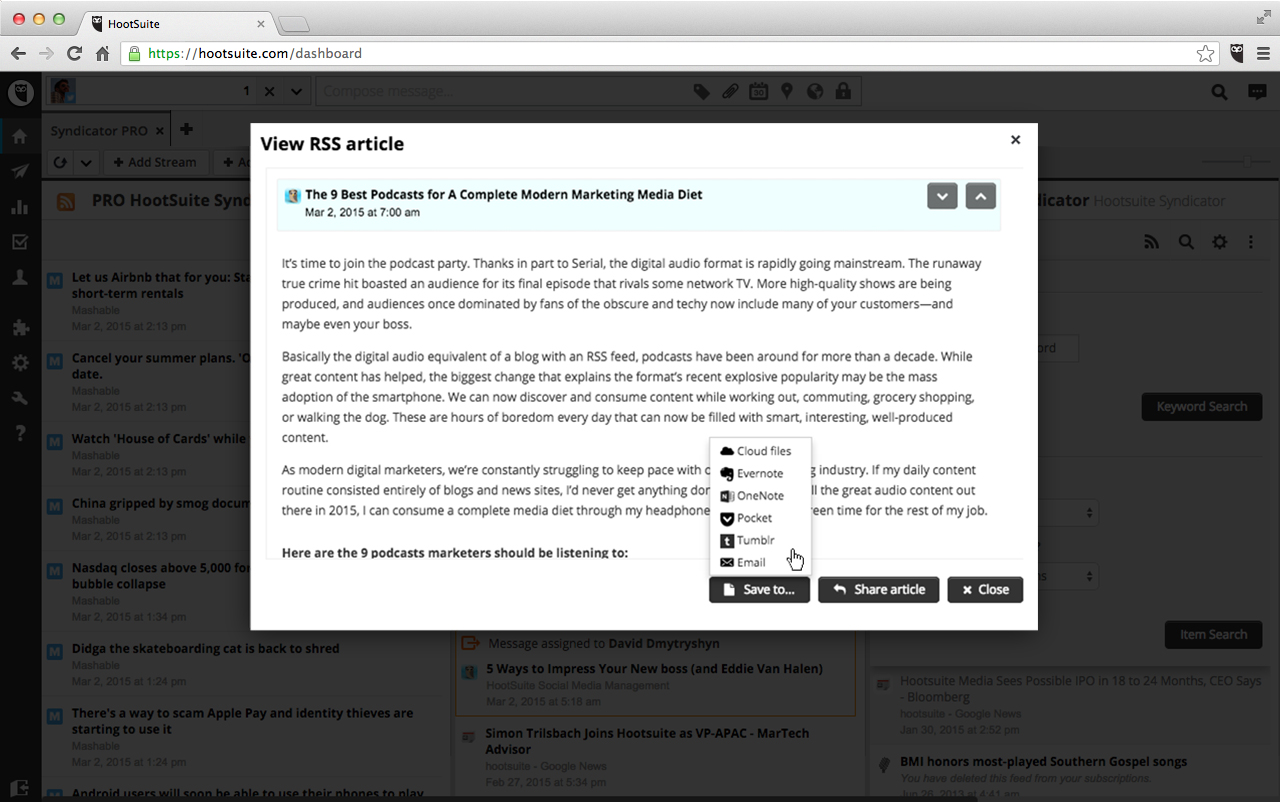 The Syndicator Pro app allows you to do this in a few ways. First, you can favorite the article by selecting the star icon in the bottom-right corner from the headline, or save it in your "Read later items" feed by clicking on the clock icon.
If you want to compile a content library outside of the Syndicator app, you can also send the content to apps like Evernote or Pocket, or share it to an appropriate folder in your cloud software (such as Google Drive, for example). Wherever you're saving the content, make sure it is accessible to the rest of your team for easier collaboration.
Tackle all the fresh incoming content as a team
Even with multiple RSS feeds set up for your convenience, sifting through all the headlines to weed out click-bait and low-quality content can be a challenge. The most efficient way to tackle incoming content is by syncing RSS feeds across your content marketing team, and assign different team members to look into specific headlines.
Assignments in the Syndicator app work the same as they do elsewhere in the Hootsuite dashboard—you can select the team, the specific team member, and add a note with action items. The assignee can then resolve the item once they have completed the recommended action.
There are several ways you can benefit from assigning articles or blog posts to your team members. First, you can alert fellow marketing colleagues to any emerging trends or breaking news. You can also assign a specific team member to watch for mentions of your brand in third-party sources, in order to highlight the media coverage on your social channels.
To increase social engagement across your organization, you can assign content from the Syndicator app streams to other teams in your organization—if it seems better suited for their followers' topics of interest. For example, if there is an article on brand advocates or evangelists, you can send it over to your community engagement team to share with their followers.
Organize and track your curated content
To save you and your content marketing team time browsing the feeds, Syndicator Pro allows you to mark items as read by clicking the checkmark icon. This signals that the content has already been read and potentially shared, so you can avoid the risk of sharing the same article twice.
Finally, it's helpful to sort the content in your feeds to help diversify the content shared on your social channels without losing focus. You can filter the content by keyword, as well as filter articles that have been read, assigned, favorited or saved to the "Read later" list.
The Syndicator Pro app for Hootsuite is now available in the Hootsuite App Directory.