In today's digital world, content distribution is nearly as important as the content itself. People are more empowered than ever before to simply ignore content they have no interest in. You can't buy their attention any more, you have to earn it.
Content quality is, of course, essential to earning people's attention. But even if you've created the Mona Lisa of blog posts, if you don't know how to distribute your content it's not going to be seen, clicked, read or shared. This is what makes intelligent content distribution so vital.
There are an absolute encyclopedia of content distribution tools and channels that you can use to promote your work. The tools that you choose should ultimately reflect your audience, providing content to them in a format they enjoy through a network or medium that they frequent.
To help you reach your audience and boost traffic, we've gathered 25 great content distribution tools—for owned, earned and paid media strategies—that might be a good fit for your business.
Owned content distribution tools
Owned media refers to the content and networks that your brand controls, and generally involves targeting your existing communities and followers. Your social media profiles, your blog and your website, all owned channels, should be a total given when it comes to content distribution.
If you're not already sharing your content on those networks, start doing that before moving onto more complex distribution strategies. If you're already there, the following tools should help you extend your reach even further through your owned channels.
WiseStamp
Email and social media aren't naturally complementary, but WiseStamp aims to change that. The company builds a number of apps meant to help publishers distribute their content. One function of WiseStamp is particularly valuable for content distribution. It allows you to share your latest piece of content automatically within your email signature. This means that anyone who receives an email from you, regardless of topic, is a potential reader.
Mailchimp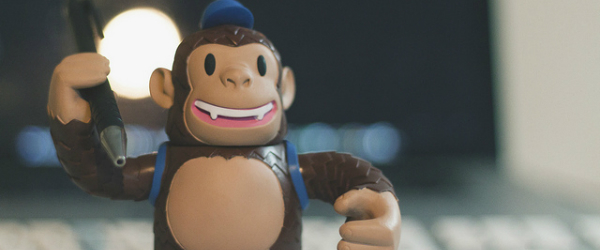 No content distribution strategy is complete without email. Mailchimp, in addition to having one of the best brands out there, leads the way when it comes to email distribution. The service allows you to send well-designed marketing emails, automated messages, and targeted campaigns. These emails are then tracked through detailed analytics reports, so you can continuously improve your email campaigns over time.
Constant Contact
Constant Contact provides another awesome email distribution option. Drag and drop your own branding onto email templates and start sharing your content to your email list. Plus, if you want to grow your list, Constant Contact can help you create email sign-up forms for your other online properties. They also provide tools for transforming your emails into social media posts, so you can tap into social networks to further grow your lists. Constant Contact can help you with content distribution today, while growing your reach for better distribution in the future.
Click to Tweet
Click to Tweet provides a simple but valuable service for distributing content: allowing you to create a link that pre-populates a Tweet for people to share. Let's say you've written a blog post with a really powerful quote from your CEO. Using Click to Tweet, you can generate a link that, when clicked, will pre-populate a person's Twitter compose box with that quote and a link to the post. Then you can use the link in your blog post, on social and anywhere else. This tool simplifies the social share process for your readers, which can lead to wider distribution on Twitter.
Medium

Launched in 2012, Medium is the brainchild of Twitter co-creators Evan Williams and Biz Stone and "was introduced as a new publishing platform where both paid and unpaid writers could post pieces on any subject and of any length." Used by over 17 million per month, including current President of the United States Barack Obama, to say Medium is catching on would be an understatement.
This readership is entirely available to you, for free. Anyone can post to Medium, including you and your business. To really take advantage of this tool, make sure you choose an appropriate topic or theme to characterize your post, include great visuals, and only share content which meets the network's fairly casual, 'community' feel.
LinkedIn Publisher and Facebook Notes
While these two tools are technically dependent on your social media profiles, they represent a very different content distribution opportunity. Unlike simply sharing something on your profile, LinkedIn Publisher and Facebook Notes allow you to create and share longer content that has wider appeal, based on the format and design.
In the fall of 2012, LinkedIn created an influencer program, inviting the likes of Richard Branson, Bill Gates and HootSuite CEO Ryan Holmes to share industry insight with LinkedIn users. The opportunity provided these thought leaders with a massive new audience, often of hundreds of thousands of professionals, and turned LinkedIn into a source of valued business content. Now, anyone can take advantage of that publishing platform, and thousands upon thousands of people already have, using the tool to grow their LinkedIn networks and expand the reach of their content.
Facebook only recently revamped notes, but the same potential is there. You have very clean blogging tool, not unlike Medium in style, that allows you to capitalize on your existing audience for shares, while appealing to a wider audience through longer, beautifully presented content. If you're in the business of blogging, both of these tools should be considered for your content distribution strategy.
Hootsuite Amplify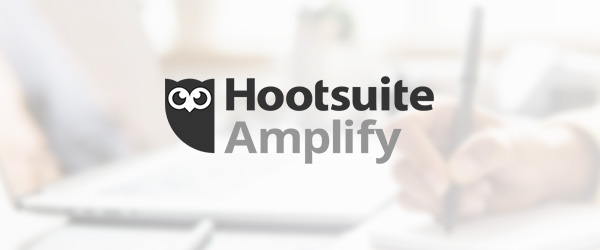 How can you distribute your content beyond your own social profiles? Tap into the social profiles of your colleagues. Hootsuite Amplify is an employee advocacy solution that could greatly extend your content distribution. Amplify empowers your employees by notifying them of any new pieces of content and allowing them to easily share that content in just a few clicks. The bigger your staff, the more impact employee advocacy can have on your reach and distribution.
GaggleAMP
GaggleAMP provides a service similar to Amplify, allowing you to tap your entire company for help with content distribution. You invite your employees to your "Gaggle," which will notify staff when there are new online marketing activities they can participate in, including sharing your content. With GaggleAMP you can also gamify the experience to further entice sharing from your colleagues.
Circulate.it
Again, another tool to make use of your colleagues to distribute your content. Ciculate.it focuses on email, providing all of your coworkers with a daily email newsletter filled with the articles, news, and blog posts you've selected. They can then share these on their own social networks with a single click.
Oneload
OneLoad is a content distribution tool focused specifically on video. With OneLoad, you can post your video to 20 different social networks and websites all at one time. This isn't just a time-saving mechanism, but a means of placing your video on sites you would likely ignore otherwise—missing out on those unique audiences. In addition to social networks like YouTube, LinkedIn and Facebook, OneLoad will place your video on Dailymotion, viddler, iTunes and more.
Slideshare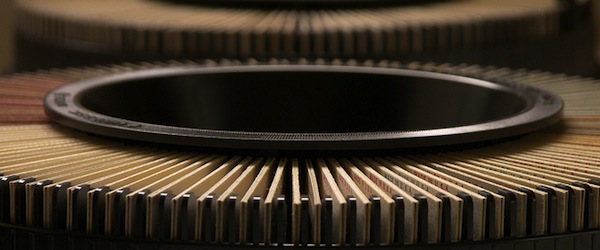 SlideShare is a content network focused on slideshows and presentations, and plays home to some of the smartest content online. An impressive 70 million professionals use SlideShare to learn and find great content, and they have a lot to choose from: over 18 million uploads in 40 content categories. As a content producer, Slideshare represents an interesting distribution option for everything from infographics to videos. Find ways to take your content and place it on Slideshare; you might be surprised at how big of an audience you actually reach.
Hootsuite
Of course we had to include ourselves! Hootsuite is a huge asset for content distribution, with major social networks and other distribution tools integrated or available as dashboard apps. Message scheduling allows you to distribute content to global markets when you might not actually be active on social media (like when you're asleep), while bulk uploading allows you to easily prepare hundreds of messages for distribution. Basically, Hootsuite brings efficiency and speed to your content distribution strategy.
Earned content distribution tools
Earned media refers to content that comes as the result of your efforts to create awareness, most often on channels you don't own. This includes public relations, events, word-of-mouth promotion and reviews, social mentions from third parties and contributions to external communities or forums.
Earned media is more important than ever before, since people increasingly trust their friends and family on social media more than any brand—a reality known as social proof. The following content distribution tools should help you tap into social proof and increase the effectiveness of your earned media strategy.
Quora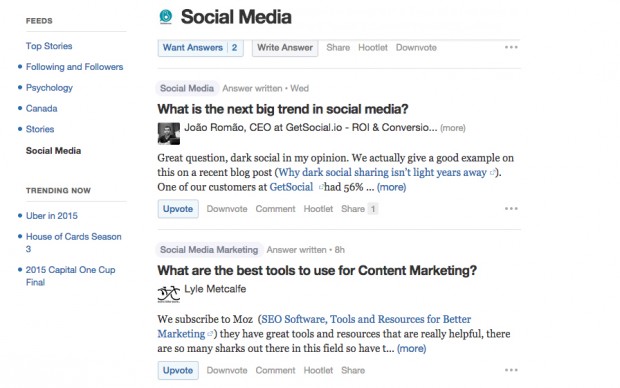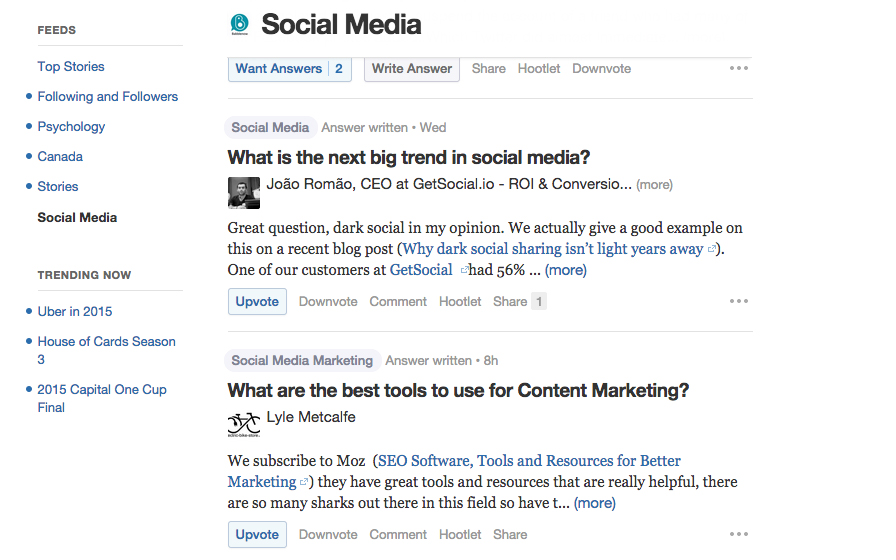 Quora is home to some of the most interesting content on the internet. People use the network to ask questions of all kinds—literally about everything you can imagine. Where there are questions, there's an opportunity for you to provide answers. Seek out questions about your industry or even your business, then prove your knowledge with a thoughtful answer, and link to your website or a specific piece of content for more context. Quora provides you with an audience actively looking for insights that you can provide, and consequently an opportunity to distribute your content.
PR Newswire
In their words, PR Newswire "provides end-to-end solutions to produce, optimize and target content – from rich media to online video to multimedia – and then distribute content and measure results across traditional, digital, mobile and social channels." What does that actually mean? It means they'll distribute your content to over 200,000 media sources.
Absolutely anyone can submit a news release to PR Newswire for distribution. If you have an announcement or other release related to your product or company, this is a valuable asset for getting the news out there, and potentially getting some news coverage.
HARO
HARO stands for Help a Reporter Out and is a bit of an indirect way to potentially get your content out there. With HARO, you can essentially present yourself as a source on particular topics that journalists can then tap for upcoming stories or media coverage. Once you do get tapped as a source, you can share your expertise and potentially push your content or website within these stories.
reddit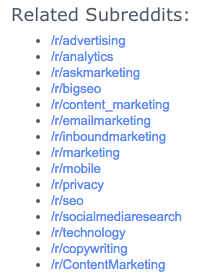 Where Quora has a question about literally everything you can imagine, reddit has a community. People flock to reddit to discover the best content the internet has to offer every day. This happens in the broad sense, but also in very niche communities called subreddits. There is a subreddit for everything, and you can bet that includes your industry or the focus of your business.
Find the subreddit(s) that best match your target audience, begin participating in the discussions and share your content. If the content is high quality, people in these subreddits will upvote it to the top of the page. The posts that top each page will usually earn more reads, shares and engagement.
List.ly
Lists are one of the most powerful types of content online; just ask Buzzfeed. They make it easy to gather resources around a certain theme or topic and distribute them in an easily digestible and shareable way. With List.ly, you and your business can create lists that other people in the community can then discover, contribute to and share. These embeddable lists might be directly focused on your content, or maybe focused on a broader topic with your content included. The key thing is that your name ends up attached to a shareable piece of content.
Paid content distribution tools
Paid media might just be the most traditional form of marketing. You're paying money in exchange for content distribution in various forms. In today's online marketing world, paid media refers to tactics like online and social media advertising, paid content syndication, and influencer marketing.
If you're willing to pay for content distribution, you can easily extend your reach to prospects and readers well outside of your existing network. Depending on your budget, the following content distribution tools might be a good fit for your marketing efforts.
Social media advertising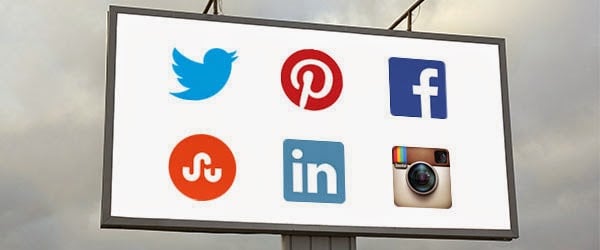 Rather than list all of your social media advertising options individually, I'll just present a few facts. On Facebook, desktop ads have 8.1x higher click-through rates and mobile ads have 9.1x higher click-through rates than normal web ads. Meanwhile, Promoted Tweets have shown average engagement rates of 1-3 percent—much higher than traditional banner ads.
Social media ads work, and they're cheaper than really any traditional advertising option. Each network brings its own advantages and audiences, but all businesses can—and probably should—tap into some form of social media advertising as part of their content distribution strategy. Check out our beginner's guide to social media advertising for more information. And if you're still concerned about the cost, there are ways to ensure you're making the most out of every penny.
StumbleUpon ads
StumbleUpon isn't exactly a social network and therefore represents an alternative to social media advertising. The website is a simple tool for content discovery, allowing users to pick a few topics and essentially scroll through curated content related to those topics. As an ad platform, this doesn't offer very much targeting. But StumbleUpon is a cheap solution, one that guarantees a certain number of pageviews for the money you spend. If you're just looking for distribution and are not worried about the call-to-action or conversions that follow the content, this is a great advertising option.
Tribber
Want to capitalize on the growing trend of influencer marketing? As more consumers turn to blogs, articles and social media instead of advertising to learn about businesses, Tribber helps connect brands with influencers who can get the word out. These influencers come with their own networks and powerful reach, something most brands are after. Tribber is free to use, but you'll have to pay the influencer for their services.
Buzzstream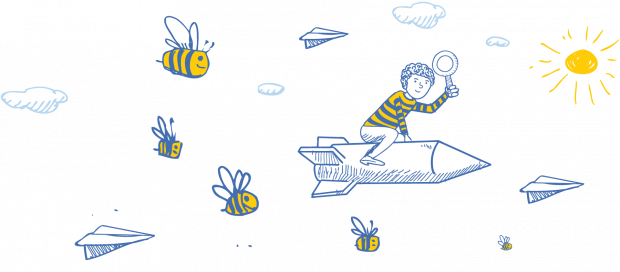 Buzzstream specifically helps you pitch your content to influencers in the hopes that they'll help you distribute it. The service focuses on faster and better pitching, by tracking your relationships with influencers and publications, and providing you with a view of your conversation history, notes, social media messages and more. A better pitch means a better chance at getting your content shared or syndicated.
Taboola
If you want to expand your reach, Taboola is a great paid distribution option. Essentially, what Taboola offers you is placement on a variety of other websites. If you hopped around online, you've undoubtedly encountered the little "Around the web" or "Recommended for you" boxes at the bottom or alongside other articles. Taboola can place your content in those boxes, driving new traffic and new readers to your work.
Outbrain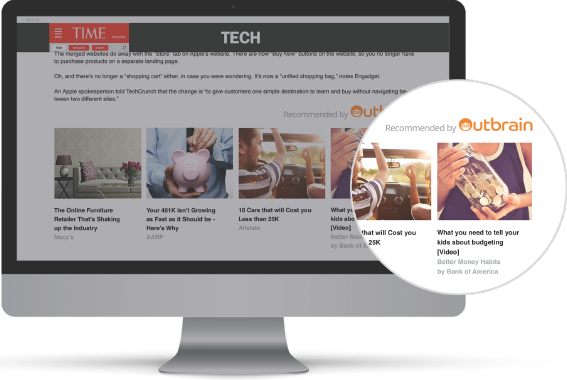 Another content placement tool, Outbrain is essentially the same thing as Taboola, with a different set of publishers. Outbrain focuses on targeting, matching content to audiences that may be interested in it.
Nativo
Last on our list, Nativo is, once again, a content placement tool. It too has different publishers. With these three tools, you're going to want to find the one with publishers who best cater to your audience, and with a price that best fits your budget.
A lot of the tools mentioned in this post are available as apps in the Hootsuite app directory. You can find out more at the links below.
Any tools we've missed? Let us know in the comments.
Get the most out of your earned content distribution strategy with Hootsuite.