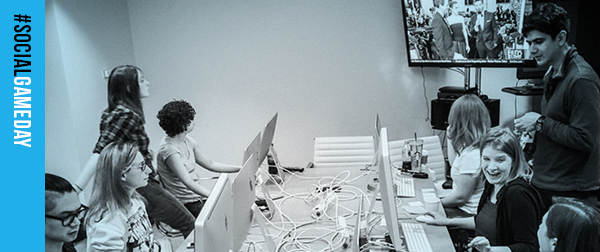 How Entertainment Weekly's 3-Person Social Media Team Engages Millions of Fans
Hootsuite salutes the people behind the major campaigns, big events and championship games—the Social MVPs who create golden social media moments for their brands' followers and fans.
We know the painstaking preparation that goes into running a social media campaign. With that in mind, we created the #SocialGameDay series as a tribute to the community managers, social media specialists and digital strategists crushing it from kickoff to the final whistle.
We're releasing a series of interviews with social media teams along with tactical best practices to help you and your team succeed before, during and after your #SocialGameDay. Check out more stories here. 
It's Oscar Night. The red carpet is rocking. The TV is blaring. You've got your award predictions on hand. Where do you turn to for a second screen?
For millions of people, the answer is Twitter and Facebook. And a good chunk of them look specifically to Entertainment Weekly.
Entertainment Weekly has 3.5 million followers on Twitter. They have over 2 million Likes on their Facebook page. Throw in a few hundred thousand additional followers on Instagram, Pinterest and Tumblr, and you can see why the organization has become a leading source for entertainment news on social media.
With that many followers, you might expect Entertainment Weekly to have a big marketing team managing their social presence. Really, it's only three people.
Led by Senior Social Media Editor Chris Rackliffe, Entertainment Weekly proves that small teams can do big things on social media.
Game day = Oscar night
In entertainment news, there is no bigger day than the Oscars. A year's worth of films are pitted against one another, as are all the people who worked on them (and their wardrobes). This is reflected in massive social media activity. There were close to 6 million Oscar-related Tweets the night of the event this year. On Facebook, 21 million people engaged in some type of Oscars discussion.
It comes as no surprise then that for the Entertainment Weekly team Oscar night is the biggest game day of the year. It's an event that requires the right tools and a good amount of planning.
Game day tools of the trade
A small social media team depends on technology to execute quickly, efficiently, and without error. Rackliffe's team has several go-to tools that they use for every important event, allowing them to maintain a half-dozen social networks, engage their followers and respond to news in real time.
First, the team uses Slack to communicate internally with staff at Entertainment Weekly.
"With Slack there's a lot of visibility into what editors are working on and what they're talking about. We see the whole editorial process unfold from the pitch to the editing to publishing," Rackliffe explains. "We have a dedicated social media room within Slack where our top editors post the final content that's ready to be promoted."
Beyond Slack, the EW team uses Hootsuite, specifically the Hootlet which Rackliffe says allows them to be more agile as publishers. They pin social networks to their publisher so they don't have to select them every time, they add a photo to the auto-filled headline and link and then publish, all within a few seconds.
Then there's an interesting tool called Slingbox, which allows the team to stream live television. When they're providing live social media coverage of award shows, they stream the event on Slingbox in real-time. Using the tool, they can capture moments in high-quality screenshots and post those images to social media with their own commentary almost instantly. This agility proves invaluable for the EW team. Rackliffe provides an example:
"We were the first media outlet to share news and an image of Benedict Cumberbatch photobombing Meryl Streep and Margaret Cho, one of the most retweeted Tweets the entire night of the Golden Globes."
Cumberbatch photo bomb! #EWGlobes #GoldenGlobes pic.twitter.com/9Do7OVfbH2

— Entertainment Weekly (@EW) January 12, 2015
Of course, depending so heavily on technology always comes with risks. During the Super Bowl, Slingbox went down so the EW team was forced to take photos of an actual television screen with their phones, and use these lesser quality images for social media messaging. While it wasn't an ideal situation, their planning ensured they didn't miss a moment.
"Sometimes the tools don't work or they're glitchy," Rackliffe said. "We always have a backup plan."
Game day social media preparation
Beyond having their tools in hand, there are a few important ways Rackliffe's team prepares for the Oscars, or any big award show.
Pulling graphics and photography assets in advance of the event
"We do a lot of re-promoting of posts, and website articles go up pretty quickly as the show is unfolding," he explains. "So if there's a moment with a performer on stage or for whatever reason we need a photo from one of the movies, we have that ready to go to promote our content and maximize the viewership."
Preparing a list of Twitter, Facebook and Instagram handles
"We pull social media handles for all the talent and all of the projects for any given award show so we don't delay how agile we are in real-time," Rackliffe said.
While this preparation goes a long way when the event is rapidly unfolding in front of them, its value is really in that it allows the EW team to be agile.
Real-time social media marketing during the Oscars
Depending on the size of the award show, the Entertainment Weekly team might start preparing assets a week or two in advance.
On Oscar day, the EW social media team got to the office at around 4 p.m., hours before the red carpet started. They set themselves up in their war room and ensured that their internet and all their tools are working. Then they checked that they had all the assets they might need and did a final rundown of each team member's responsibilities:
Chris usually takes care of driving traffic to their website through Twitter, Facebook and Google+.
Assistant social media manager Ben Boskovich does live commentary on Twitter, and uses slingbox to capture real-time moments like a photo bomb or surprise appearance.
Assistant social media manager Allison Toner focuses primarily on posting to Pinterest (specifically their red carpet gallery), Tumblr, and Instagram.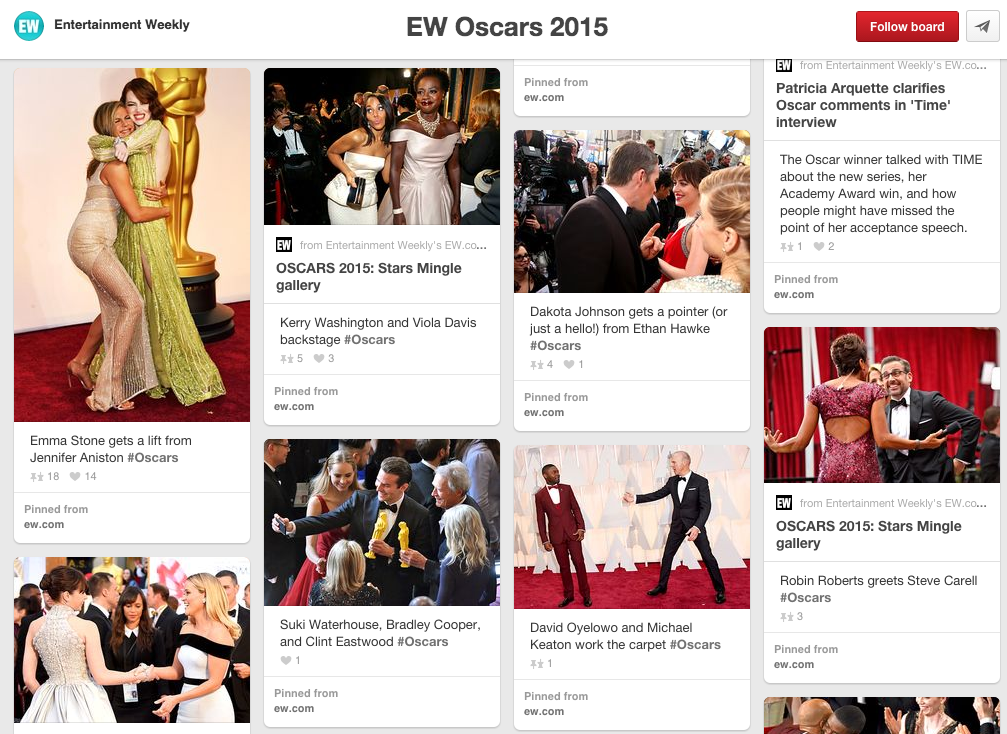 Once they were finished preparations, the team shifted focus to real-time marketing, their real bread and butter.
"We don't create a content calendar like other social media managers do," Rackliffe says. "We've gotten into a groove."
That groove involves knowing what to look at for, what their audience is most interested in, and how to get it onto social networks as fast as possible. The Entertainment Weekly team can't anticipate what will happen during the show, so they have to excel at providing real-time coverage of these major events. Upwards of 75 per cent of content about award shows happens during the events themselves, and the team will post a remarkable 600 or 700 times in that short span.

"For us, it's all about the moments, and having Entertainment Weekly associated with those moments," he says. "People rely on us to be their friend in the room, the person with the commentary, their companion while they watch TV."
During the Oscars this year, the EW team tweeted out a photo of Patricia Arquette with a quote from her speech on women's equality. The Tweet earned well over 5000 retweets, as they were one of the first outlets to share that information.
'It's our time to have wage equality once and for all' —Oscar winner Patricia Arquette #Oscars pic.twitter.com/yg9tqgTnrA

— Entertainment Weekly (@EW) February 23, 2015
Throughout the night Rackliffe also monitors Chartbeat to see what content is connecting with their fan base, and then doubles down on it. This process might extend until three or four in the morning, as EW's content team churns out stories, everything from speech round-ups to ranking the host's jokes.
Measuring their social media success
As a publisher, Entertainment Weekly uses social media to drive traffic to their web properties. This is an essential part of what they do, and they're good at it.
However, the social team's focus on real-time marketing is reflected in their main metric of success, which is engagement. The team monitors:
Twitter impressions, mentions and retweets
Facebook Likes, Comments and Shares
Tumblr Reblogs
Pinterest Repins
Instagram likes and comments
Then, after every event, they pull together pretty comprehensive reports on total social interactions. They sit down and talk about how things went, what they could have improved, or any moments they could have capitalized on.This information is used to constantly improve their game day efforts, helping the team remain at the forefront of entertainment news on social media. The lessons they learned from the Golden Globes, for example, might become useful as they take on the Oscars.
Lessons for your game day
Here are a few lessons you can take from the Entertainment Weekly social media team and apply them to your own social media game days:
Slack is a valuable tool for internal communication
Hootsuite's Hootlet helps social media teams publish quickly across social networks
Prepare images and a list of influencer handles in advance of events
Be agile during events. Don't just stick to a content calendar.
People want to share in an event's big moments. Try and be the first to provide that content to them.
Engagement is the main metric of success for real-time social media marketing
A post-mortem or retrospective will help you better prepare for future game days
Learn how sports, media, and entertainment brands are getting real results from social in our latest white paper.