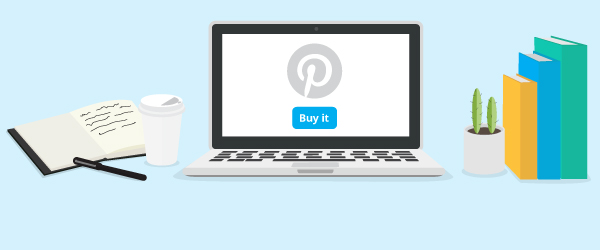 4 Fast Rising Social Trends for Retailers
What social trends are shaping retail? From a new push in social commerce to a shift from campaigns to store-level enablement, here's a quick look at what's shaping the future of social retail. These are based on industry reports and interviews with experts at Hootsuite.
1. Social executed at the store and shopping center level
Social media will continue to expand beyond big idea campaigns managed by agencies and marketing departments.
As Hootsuite's Vice President of Marketing Dee Anna McPherson explained, "for businesses, social media will shift from being something that is managed by a social media team to a core skill set that is used in every department. Invest in training and education for employees to help modernize their skills sets."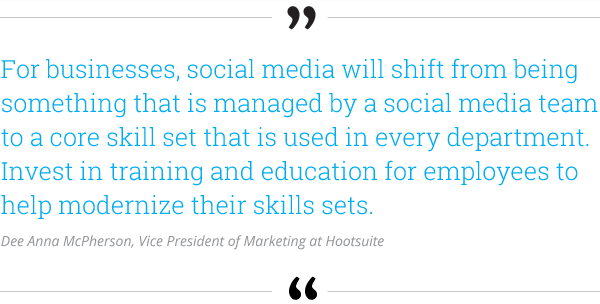 National and global campaigns might raise awareness, but social proof (especially from people online we know and trust) is often what makes us convert. For example, a study by Hubspot found that four out of five people say that posts from friends directly influence buying decisions.
Likewise, Edelman surveyed 33,000 consumers in 27 countries and found that 52 percent of the international public consider employees either extremely credible or very credible.
The research further revealed that "employees are considered the most trusted source across most clusters of trust attributes" and that the general public wants to hear directly from employees as "ambassadors for the company."
What to do:
Agencies can still create campaigns. But look for ways to help your store managers, locations, and employees to tell your brand's story.
Solutions such as Hootsuite's Content Library, for example, make it easy for thousands of employees to amplify approved brand content on their individual or store-level social accounts. It also allows you to easily track what content is being used by local teams and uncover what content works across your markets.
As Google says, brand marketing has changed in the digital era. "Like it or not, the ad industry's traditional approach to a story arc—beginning, middle, and end in a 30-second spot—is a thing of the past. Rather than telling one story in one video and uploading it once on YouTube . . . tell stories that can't be 'contained.'"
2. The decline of local websites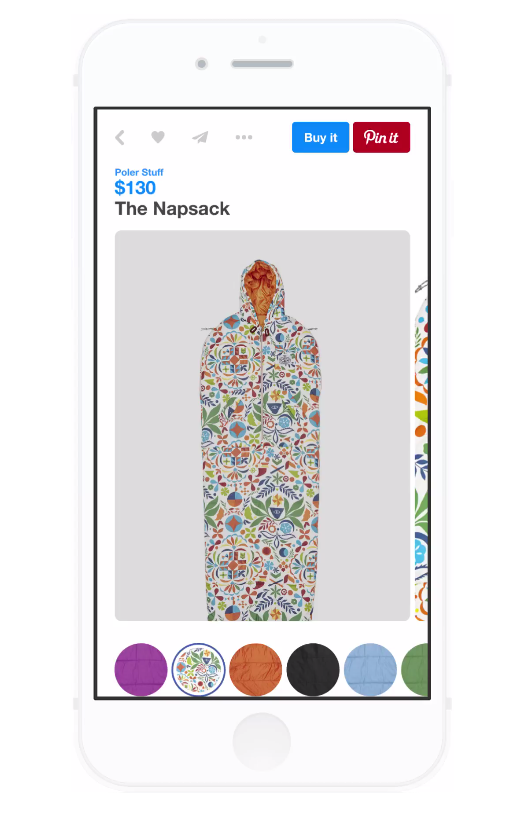 Ecommerce businesses and large retailers such as IKEA or Best Buy need complex functional websites. But for businesses with simple product lines—such as a franchise of yogurt shops or a jewelry brand with a limited line of premium products—the utility of traditional websites is waning.
This is also true of content discovery. Facebook's new Instant Articles, Snapchat Discovery, the fast rise of Medium, and the one million articles published directly on LinkedIn—these new platforms all show that discovery of branded content is shifting from search to social.
We've found this to be particularly true for local businesses. In emerging markets like APAC (the Asia-Pacific region), consumers and brick-and-mortar businesses will often skip websites and instead communicate directly through social accounts.
"Many local businesses in Asia won't even have a website," says Yvonne Tey, Hootsuite's Marketing Director in APAC. Instead, their customers "interact directly with their Instagram account or Facebook Page for real-time updates and business information."
From Pinterest's new Buyable Pins (which include initial partnerships with retail giants Macy's and Nordstrom) to Facebook opening its Buy Button to retailers on Shopify, social commerce aims to give consumers a compelling reason to buy right from their feeds.
What to do:
Make impulse buying social. Social commerce is still new and can be complex (for example, this technology needs to integrate with the inventory systems of retailers). But social commerce can help your retail brand differentiate with a simple and fun buying process.
Flash promotions are an easy way to begin. Newsfeeds are fleeting, retail columnist Brad Tuttle explained in Time. And seeing a social promotion can create a sense of urgency. The good deal someone saw this morning might not be there in the afternoon.
As a result, consumers feel that they need to "act quickly or miss out on the deal at hand."
3. The buying journey has changed
"We don't 'go' shopping anymore," says Jason Golberg of Razorfish, one of the world's top digital agencies. "We are always shopping." Digital natives have toppled the old sales funnel. In the past, brands would use marketing to drive awareness, which, in turn, would result in foot traffic. But now, says Golberg, "you can't win for being well-known."

What we are also seeing is that buyers are increasingly using social sources to shape their early buying criteria. Some of this research is direct, like asking friends on Facebook for sport equipment recommendations.
Other types of consumer research are more difficult to track. For instance, when consumers compare your social presence to a competitor, their trust is influenced by the differing quality of social engagement.
The challenging (and rewarding) part is that social doesn't sit neatly in one place of the sales funnel. It cuts across awareness, consideration, and action. The key is to create content that allows your brand to be present for every step of your customer's journey.
What to do:
Create social content that reveals your brand as three things: 1) a like-minded peer 2) a problem-solver 3) the popular choice.
A like-minded peer:
Social requires voluntary attention. If you don't vary your content, your followers quickly get tired of hearing the same thing week after week.
Let's say your brand sells musical gear. Everything you say doesn't need to be about amps, effect pedals, and how to choose the right guitar. You can also share content about the different excuses people use to not spend time on their passion (such as practicing guitar).
These insights can be broader—for example, an aspiring writer might share the article alongside your core guitar-playing audience. This helps your brand stay relevant in the months or years between purchases.
A problem-solver:
Social content works best when it solves problems that are relevant to your brand. This is a simple point, yet often marketers get distracted by either creating promotional content or trying to entertain their audience. Entertainment is consumed and soon forgotten. But a genuine insight or lesson is something a customer remembers for life.
For example, a Twitter series that explains the five chords that new guitar players should learn how to play first is worth much more than product shots of musical gear.
The popular choice:
Once consumers decide on an option (such as a $2,000 Gibson Guitar), they will look to their online peers for advice. This is where the digital body of work you've created—from Twitter chats to tutorials to a fan community—drives conversions.
Social proof helps to rationalize consumer choices, especially for high-priced and emotional retail items such as engagement rings, musical gear, and fashion merchandise.
4. Young retail brands go straight to social
According to a global study by Gartner, one in four companies will lose their market share by 2017 if they ignore the impact of digital disruption.
"The next 10 years are set to become the first truly 'digital decade,' when digital technology will move to the forefront of finding new sources of value and creating new threats for the enterprise."
Gartner also predicts that 25 percent of top companies today will be unseated by companies founded after the year 2000. Why? Young companies understand that their new front door is social and have built their audience engagement on this premise.
Small competitors that understand social will be able to move fast, connecting directly with consumers and quickly building the digital storefronts of the future.
What to do:
Watch the new competitors. They are playing by different rules and creating a trail of best practices that established retail brands can follow.
Our retail customer Herschel Supply Co, for example, focuses on building distinct customer communities rather than big splash campaigns. Well Travelled and City Limitless—two of Herschel's most successful Instagram campaigns—feature multiple storylines and long-term curation of customer-generated content.
"Different social networks attract different audiences," explains Herschel's Marketing Manager Allison Butula.
"Our Instagram account attracts aspiring photographers; our Pinterest following caters more toward females; Twitter attracts those interested in our product releases and news stories. Knowing this, we share relevant content and grow distinct communities." You can read more in our case study here.
Dive deeper into these social trends with these resources:
Engaging Customers Locally: How Social is Changing the Local Buying Journey
The Digital Retailer: Trends, Opportunities, and Challenges
How to Create Employee Advocates—Strategies from Zappos and Hootsuite