By Popular Demand: Google Analytics Webinar Archive Available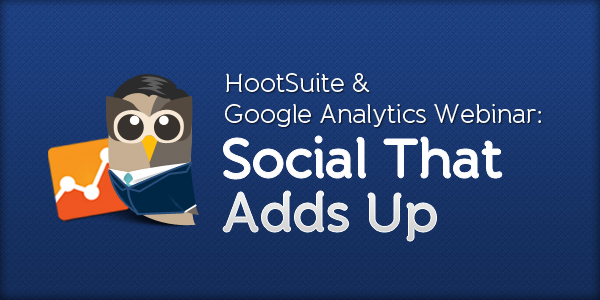 Last week saw great response for our HootSuite and Google Analytics webinar. The feedback has been excellent, and we are responding to demand for an archive for those who missed it.
In this webinar, Adam Singer from Google Analytics shares how you can use Google from inside your HootSuite dashboard to measure social performance. With over half of people talking more online than they do in "real life,"  social media management has become a critical platform for marketers, but how do we measure its impact?

With Google Analytics Social reports in the HootSuite dashboard, you can tie your social media to metrics you care about. Here are some top tips Adam covers in the webinar:
Find something you can measure (micro or macro-conversions) and sprint in that direction.
Focus on how separate channels can drive different types of site actions, which can be tied to a value you determine.
Measure success criteria directionally. Benchmarks are uncommon and do not necessarily translate across products, services or industries.
Create your social posts with a measurement goal in mind. Be sure to include a call to action to inspire your audience to act.
Understand and connect with your audience differently across the different networks. Try not to post the same thing on each platform, customize and use what works best.
HootSuite offers you the ability to track all your social activity, exclusive Google+ Pages measurements, with built-in Google Analytics, unique Ow.ly links, and our social analytics reports.