Using Google Analytics with HootSuite ~ New #HootGuide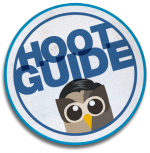 As you grow your social business, it's important to utilize tools and techniques to help maximize the return on your social media investments. And because the HootSuite dashboard is chock full of advanced features and functionalities designed to do just that, we're pleased to offer this free HootGuide – Using Google Analytics with HootSuite.
Using Google Analytics with HootSuite is the first in a series of HootGuides to be released by HootSuite. Through this series, you will learn the ins and outs of the dashboard's features, helping you achieve and maintain social media success.
What's Inside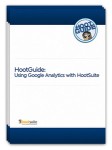 The ability to demonstrate the return on your social media investment is paramount for any organization. HootSuite Enterprise provides measurement solutions for organizations to analyze and report on social media activities.
Our Google Analytics and custom URL integrations are valuable tracking functionalities which are essential for any social business looking to tie social to results.

This HootGuide shares practical advice about tracking and reporting on the impact of your social campaigns using Google Analytics. This HootGuide includes:
An Overview of Social Reporting with HootSuite
By adding Google Analytics into a site's conversion pages and using HootSuite's Google Analytics, campaign managers can truly understand how outreach translates into results.
How to Integrate Google Analytics and HootSuite
By integrating Google Analytics to your website and HootSuite dashboard, you can tap into the statistics behind your campaign and accurately analyze your social media engagement against destination site traffic.
How to Add Goal Tracking and Campaigns to Google Analytics
To enhance Google Analytics reporting, add goal tracking in order to learn how and where social media traffic is converting, giving you an end-to-end view of what is happening to social traffic on your website.
Insights Into Success
The business-specific tools available in HootSuite's Social Analytics package will help you optimize your social campaigns and gain insight into which social media strategies are actually delivering.
As we continue this series, you can expect additional HootGuides on the advanced functionality and features of HootSuite Enterprise for measurement, collaboration, security and engagement.