New HootSuite Info Sheet and Case Study ~ Talking About Team Collaboration Tools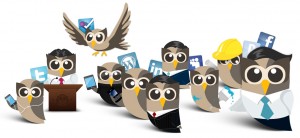 The owls at HootSuite know that running social media campaigns is anything but simple. Marketing managers, community directors, and customer support personnel all have a big role to play.
It was these multi-tasking owls that HootSuite had in mind when we developed our many useful team collaboration tools to make sharing, assignments and drafting messages a breeze. And no matter how large or small your nest may be, HootSuite has a plan that can fit your needs.
To help illustrate the power of team collaboration for your social media initiatives, we've got not one, but TWO releases today all about teams — a Case Study detailing a Transit Authority's use of HootSuite to launch a new Twitter Pilot Project, and an Info Sheet full of helpful advice.
Share them both with your team today!
Tweeting Transit
Recently, the Transportation Authority for Vancouver, Canada launched a new Twitter Pilot Project. Using HootSuite, the @translink team collaborated to make customer-updates on events and major service disruptions a permanent feature for all those that ride on their system.
Check out this Case Study all about the successes of using HootSuite's handy team collaboration tools to reach out and increase customer engagement.
This can be found in our library along with many other Case Studies and helpful Info Sheets to give you information and inspiration for using the dash for your social endeavors.
¿Hablas español? ¡Hemos traducido este Caso de Estudio para todos nuestros fans hispanohablantes!
TransLink Case Studyも日本人ファンの方のために日本語版を用意しています!
Team Info Sheet
There is a suite of team collaboration tools available in the HootSuite dashboard to give your team what it needs to efficiently manage multiple social campaigns and initiatives. With so much that you can do, it can be hard to know where to start.
For this reason, we've put together this Info Sheet all about team collaboration as part of our series on Advanced Topics for the HootSuite dashboard.
Download it from SlideShare, embed it on your blog, or print it out (on recycled paper) to pass along to your managers and colleagues.
Y recuerda que si hablas español, también hemos traducido esta Hoja Informativa a tu idioma.
日本語で話してる?この記事は日本人の方のために、日本語版も用意しています。– Teams Info Sheet in Japanese