HootSuite – A Hub for Vancouver Cycling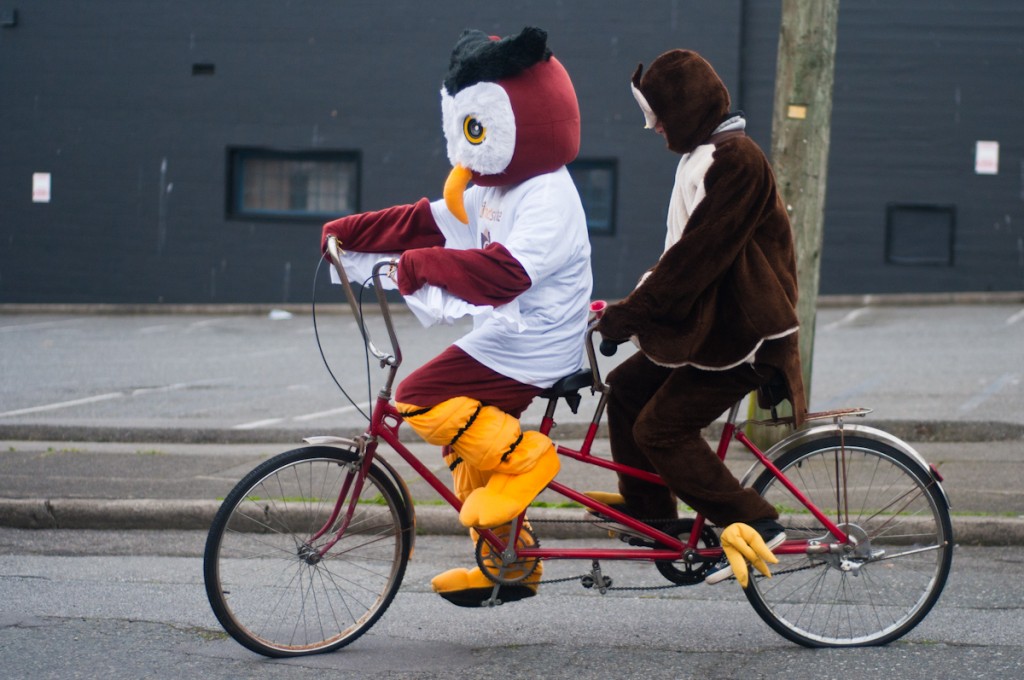 When I went in to interview at HootSuite's original office in Railtown in Vancouver's Downtown Eastside, a couple of questions popped into my head as I almost tripped over 20+ bikes, 3 dogs and a foosball table.
Did I take a wrong turn? Is this really HootSuite's Headquarters? It sure didn't look like it – it looked more like a used bike shop with cycles of all shapes, sizes and colours sprinkled around – from a rusted tandem to a shiny new top of the line racing bike – easily outnumbering pieces of furniture, which required visitors to stand.
When someone came to help me, I realized I was in the right place but fell victim (like I'm sure many others did before me) to an active atmosphere somewhat unexpected from a growing internet company.
I later came to learn all about the deep roots of the cycle culture which run deep in the company's character.
Bike Shop Reception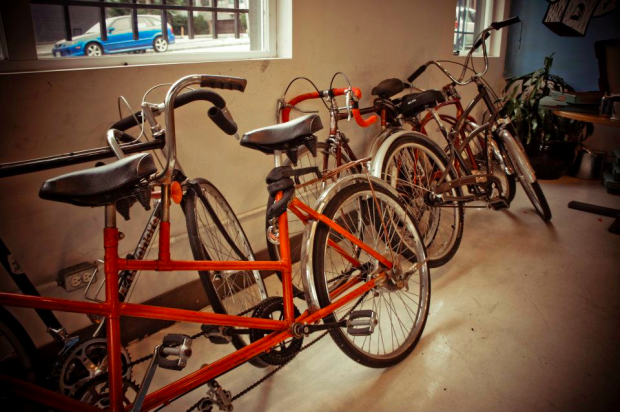 After entering "37" – short for 37 Dunlevy Street, I waited and wondered whether a bike salesman or the company's HR team would come greet me. And in those couple of minutes, I saw several people come and go from the office, rolling their bikes around with one hand, holding a helmet in the other, while balancing a coffee or a laptop.
Some were decked out in wellington boots and rain gear, with others heading out in full-racing spandex kit. While I felt a little bit out of place in my business casual attire after running into the company's biking contingent, luckily, I was invited to join the team.
That initial half-hour visit helped me realize cycling is a way of life at HootSuite no matter who you talk to – from the speed-racing CTO, to a mountain biking sales executive, commuters of all experiences and distances, or a visiting Dutchman who chuckles at our hard-found bike lanes – HootSuite Owls like to ride.
Bike For Life
Many of the Owls choose their bikes over any other form of transport. CTO Simon Stanlake says it wasn't hard for this culture to grow authentically, "I think our demographic is young, active and socially conscious and I think those things all come together to make a great fit. I think it's a natural connection."
Dan Webster, who joined HootSuite as a Corporate Account Executive in September of 2011, leads the pack. He and his wife own 10 different types of bikes and he takes part in many disciplines of the sport – both recreationally and competitively – as well as commuting.
He's excited to see an increasing number of Owls riding their bikes into the new Mount Pleasant office from as far away as Coquitlam, saying, "I was pumped to discover HootSuite's biking culture and connect with some like-minded people when I first started. Now I've organized group rides with my coworkers for fun and to help with awareness. It's great to have an enthusiastic team helping each other with motivating and tips."
Even VP Community, Dave Olson, hops on his old-school Marin for the ride down from Upper Lynn Valley in North Van to bring him back to the "good old days" of pre-suspension mountain biking over Slickrock in the deserts of Moab, Utah. "The ride down I can do with a coffee in hand but the ride up is well… up all the way… but it feels good to open a frosty can at the top."
Dutch Treat
Rolf van Velthoven came to the West Coast from the Netherlands to arrive into the HootSuite manic cycle culture. Like me, he was rather surprised by the whole experience, despite coming from a country where everyone rides.
"When I came here I knew there wouldn't be that many people cycling [as compared to the Netherlands]," he says. "But when I arrived on my first day to HootSuite's lobby, which was full of bikes, I was pretty shocked."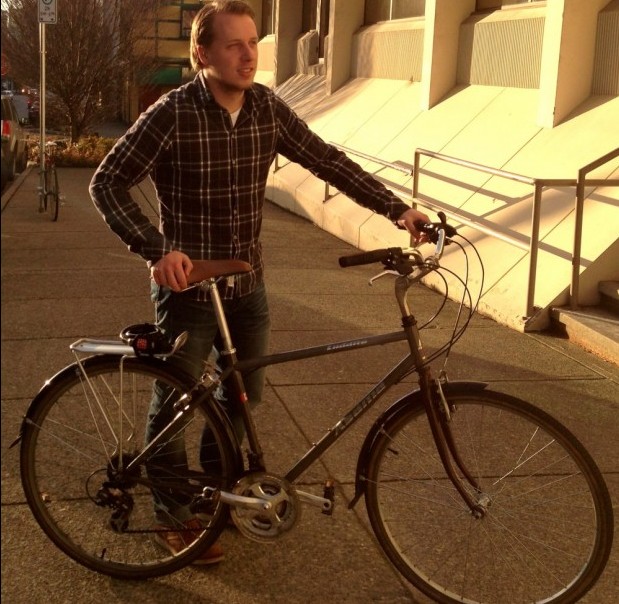 Rolf shares stories about his hometown of Vught where biking is the primary mode of transportation for his family. Apparently, even in the midst of harsh winter conditions, his go-to for getting around is his bike. Is there a more natural fit for him in Vancouver?
He's not the only international Owl, as HootSuite has employees from many countries in Europe and Asia where cycling is a prominent part of everyday life.
Rolf says he feels refreshed to be a part of a company that promotes a socially-conscious and active lifestyle.  "The bikes remind me of home and give a good and sporty impression," he says. "It is great to see that still quite a few people take the bike instead of the bus or the car. It is a good thing for the environment especially for a beautiful city like Vancouver, which aims to be the greenest city."
Healthy Competition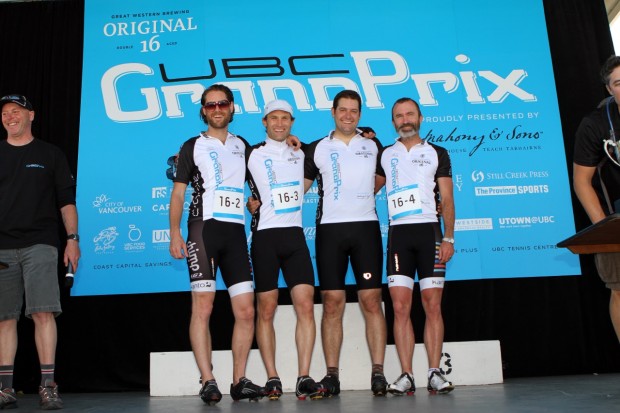 Along with commuters keeping it green, there is a crew of hardcore cyclists active in competitive or group rides like the GranFondo Whistler.
Dan says "I quickly found out that our CEO Ryan Holmes really likes riding bikes really fast and likes to compete and do nice long races and such, Simon is really into it heavy as well. It was pretty awesome!"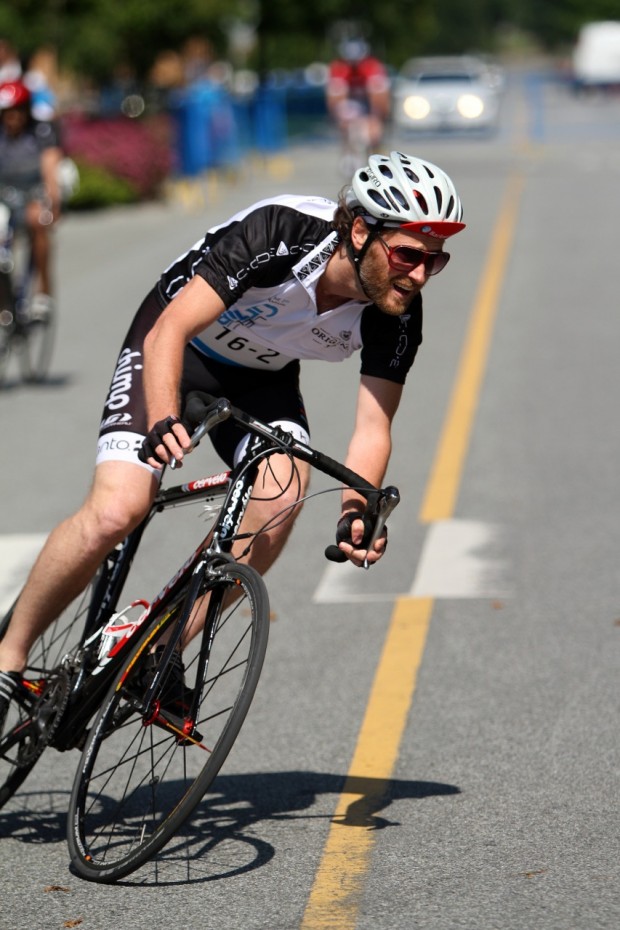 Just last summer Simon and Ryan along with Dan and Web Development Director Noel Pullen entered a team into the corporate challenge at the UBC Grand Prix, finishing third. Although if you ask them, they'll insist they were the rightful second place finishers.
Simon also competed individually in Ryder Hesjedal's Tour de Victoria where he clocked in the fastest time (though it wasn't a race per se), an outstanding personal achievement which also sparked great pride among the Owls at HQ.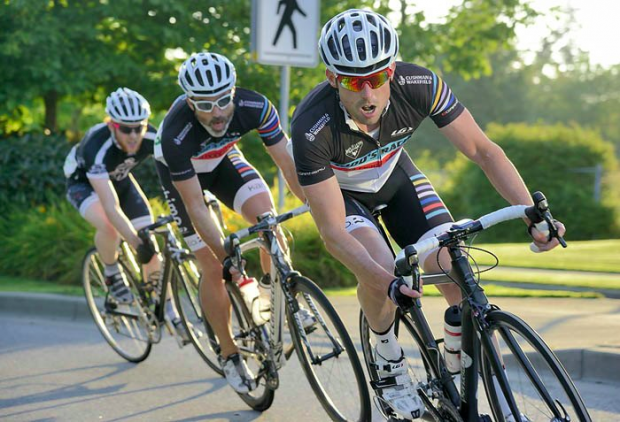 The same foursome is set to compete at the 2013 UBC Grand Prix in hopes of building on last year's killer result.
Cycle Ready Nest
HootSuite recently outgrew 37 Dunlevy, packed up our bikes, and moved to a new home in Vancouver's Mount Pleasant neighbourhood where the new nest has some additional features to cater to cyclists.
The new office – former home to a Vancouver Police Department unit – features a bike storage where the bike collection is tucked securely away in dry covered parking. To aid commuters, there are also showers and a changing area.
With the new office, you won't be seeing any more bikes littering the lobby and visitors will no longer be confused as to their whereabouts.
Even the pragmatic Dutchman is impressed. Rolf says, "Our current building really stimulates you to come with your bike to work. With all these facilities you almost have to so you don't feel guilty. It's a great plan!"
Helping Build the Sport
Simon says he feels HootSuite is contributing to the sport's momentum in Vancouver. "I've seen [cycling] explode in the city. There are a ton of events and people promoting the sport so I'm not at all surprised given our group of people here that they're latching on to it."
HootSuite aims to contribute to the sport's growth in Vancouver by signing on as a sponsor for races during BC Super Week, including the UBC Grand Prix, the Tour de Delta and the Tour de White Rock.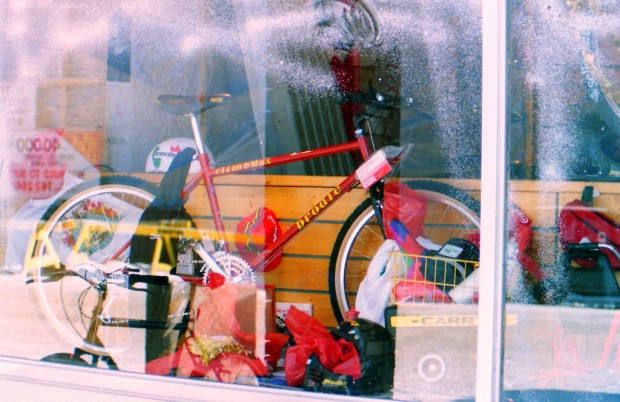 We've also formed symbiotic relationships with local bike companies to make the sport more accessible and fun including cozying up with Brodie Bikes to get our butts on fresh dream rides.
Whether it's speed racing, commuting, or leisure riding, at HootSuite we enjoy our bikes and look forward to riding towards new checkpoints. Come along for the ride!