HootSuite Integrates new Social Media Tools with Lists, Facebook and LinkedIn
We've added new features, and we think you'll like them. Some features were the result of your requests. Others were added because they're just darn cool.
Twitter Lists
Many of you have been asking HootSuite to implement Twitter lists, and we've been listening. Not only can you import the lists you've already created, you can create your own lists using HootSuite. These lists can be be saved as a column. You can further modify your lists (and who's on them) using your column preferences.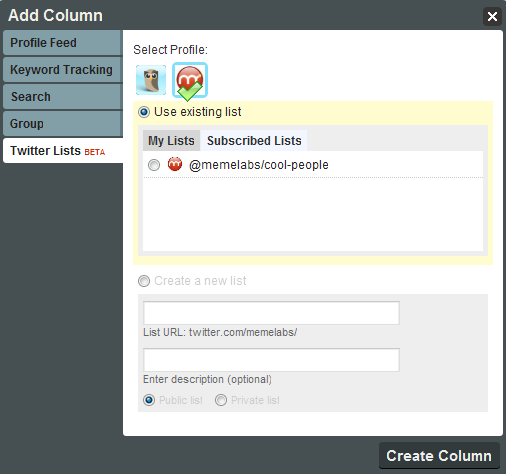 Facebook and LinkedIn
We've decided to push HootSuite functionality beyond Twitter. You can now integrate your Facebook and LinkedIn accounts. Whereas before you could update Facebook and LinkedIn through Ping.fm functionality, things are different now. Facebook and LinkedIn accounts are treated similarly to Twitter accounts: you can create columns from these social networks, read your friends' status updates, and update multiple Facebook accounts. Facebook integration offers in-line commenting.
Scheduled Facebook and Linkedin Status Updates
If you are a regular HootSuite user, you've probably tried scheduling your tweets. We've extended this capability further: HootSuite users can now schedule their status updates on Facebook, LinkedIn, and Ping.fm. The ability to schedule Ping.fm updates is particularly noteworthy since through it you can update most popular social networks (such as MySpace, LiveJournal, etc.) Scheduling status updates now has near universal applicability.
For help with using HootSuite, please visit our customer service area at http://feedback.hootsuite.com