Medical Social Media; HootSuite Helps University Engage Med Students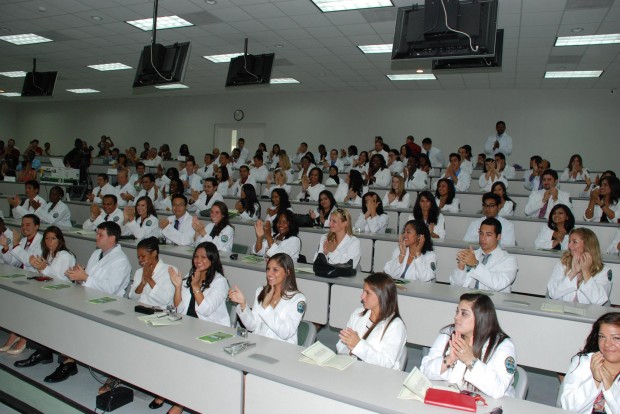 For many, the Caribbean Islands are atop their list of exotic destinations for sun, sand and relaxation.
But, how about a medical degree?
Imagine this… you live in the US and you've taken a couple of cracks at the MCAT. You've poured countless hours into studying for the exam, but test day just didn't bring you the results you were looking for.
You've applied to half-a-dozen med schools, but you haven't heard anything back and your deadline is fast approaching. You're freaking out because you don't want to give up your dream of becoming a doctor
You're about to lose all hope…. but luckily, there is a solution!
In this installment of #HootRemote, HootSuite features the University of Medicine and Health Sciences (@UMHSstkitts), a boutique Caribbean medical school located on the island of Saint Kitts offering prospective students an alternative to North American-based schools.
Ryan Ross, whose family owns the university and who serves as its marketing director, shares his successes and challenges using social media tools like HootSuite to establish @UMHSstkitts as a leading Caribbean medical institution.
Carving Out a Niche
Ryan's grandfather, Dr. Robert Ross, built and ran one of the Caribbean's first ever medical schools from the late 1970s up until his retirement in 2000. The university addressed the strong demand for more medical school spots and helped inject thousands of doctors into the American and Canadian healthcare systems.
In 2007, the Ross family decided to build another medical school, @UMHSstkitts.
Now in its sixth year of existence, the university has attracted close to 800 students and is among the Caribbean's top medical schools in terms of pass rates. The majority of the students in its inaugural class have been matched with residency positions in American hospitals.
Ryan says the Ross family goal is to provide the highest quality education possible and to treat @UMHSstkitts students like they're members of the family.
Social media tools like HootSuite help @UMHSstkitts overcome strong barriers to entry. They also allow The University to establish itself as a trusted source for medical education on the island by spreading its mission and sharing its family story.
Setting the Story Straight
The educational landscape changed considerably in the Caribbean in the span of just a few decades from the time Dr. Ross was running his family's original school to the time they established @UMHSstkitts.
For-profit education became increasingly popular and an influx of institutions opened their doors to students. Ryan says "We've seen the number of Caribbean medical schools skyrocket, with many of them offering extremely low quality education, poor facilities and dismal prospects for residency match."
Poor practices by a  few schools tend to devalue the reputation of the Caribbean. With competing medical schools spending millions on marketing to cover up blemishes, Ryan says students have grown hesitant of recruiter and advertiser claims.
As a result, establishing credibility is very difficult in the region:
"As a new school, we face the challenge of building our reputation and convincing prospective students and academic advisors that we are a family of high-integrity, with only our students' success in mind."
Social media to the rescue
Thankfully, @UMHSstkitts identified the benefits of medical social media early on. They use social channels like Facebook, YouTube and Twitter to share their story and to break down industry barriers.
"We can use social media to leverage word of mouth," Ryan explains. "I always tell prospective students to get as much first-hand information as possible. Due to the international nature of our campus, social media is the next best thing giving us a platform to share photos, videos, and events."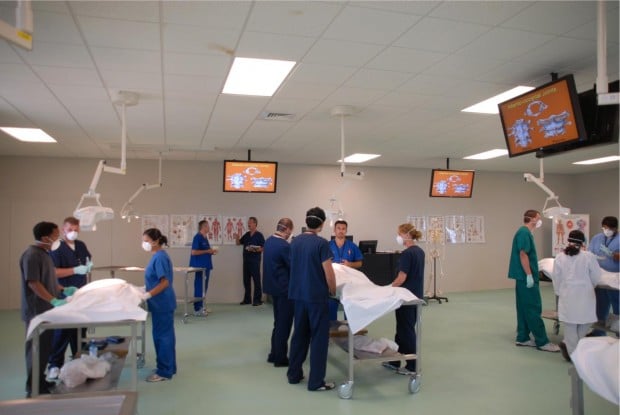 Social media tools like HootSuite level the playing field for @UMHSstkitts against the more wealthy and well-established schools in the region.
Stretched thin? HootSuite Can Help!
Over time, as @UMHSstkitts began to grow and attract more students, it required a cheap but effective tool to give it the extra push in its social media efforts. A savvy student recommended HootSuite and from that point on, the university uses the dashboard to manage its social media profiles.
Ryan says HootSuite instantly allowed @UMHSstkitts to streamline the conversations around its profiles and organize its stakeholders into easy-to-follow lists.
"HootSuite is quickly proving to be both a powerful marketing and customer service tool for us," he says. "It easily allows us to discern and address current students with customer service needs, or prospective students with recruitment needs."
Beyond its positive impact on the university's outreach efforts, Ryan says HootSuite has also made life easier for @UMHSstkitts thinly-stretched organization. The dashboard allows him to spend more time on the university's recruitment and admissions efforts, alongside his regular marketing responsibilities.
For Ryan, the best part of using HootSuite is how easy it makes it for the university to connect with prospective students eager to pursue careers in medicine, despite admission challenges.
"There was no clear alternative for students not accepted into US/Canadian medical schools. They either had to give up on their dream of becoming a physician, or travel as far as Eastern Europe or Latin American for their medical education. HootSuite has really helped us reach these individuals."