That's A Wrap! HootSuite's #SXSW Recap

Amidst the intricate chaos that is South by South West (SXSW), was a parliament of Owls, mobilizing for various meetings, events and networking sessions with the best and brightest in Austin.
As industry pundits and geeks alike flocked to the big ticket badge events, the humble 12 who represented HootSuite elected for smaller, more intimate gatherings with specific groups of amazing people.
As you can see from the video, SXSW is fun. Here are a few more highlights from HootSuite's SXSW experience: including film screenings, a private backyard BBQ,  intimate VIP panels and even an old fashioned street hockey tournament.
#HOOTedu ~ Social Media Education for a New Economy
HootSuite kicked things off during the educational portion of SXSW. Scholars and educators assembled at the Brew Exchange on a cloudy afternoon for an inspiring panel moderated by the lovely Director of HootSuite University, Kirsten Bailey.
The panel featured Dr. William Ward of Newhouse School of Public Communications at Syracuse, Lea Lashley of Southern Methodist University and David Altounian of St. Edwards University. The trio discussed the challenges of teaching social media and the evolution of social in higher education before taking a break to network and chat with the crowd over food and drinks.
#CMmeetup ~ HootUp, Drinkup, Mashup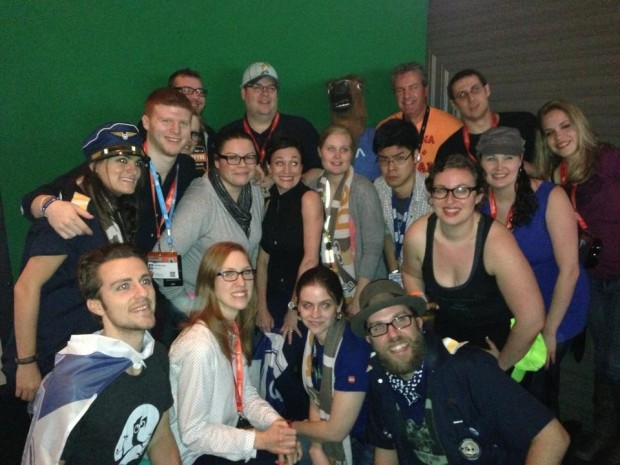 What happens when you assemble 50 of the world's finest community managers, virtual graffiti and a giant Owl? Probably the funnest three hours of SXSW! Perhaps you would expect a crew of community managers tweeting and facebooking the whole time, but such was not the case (although there were more than a few vine's shot).
Co-hosted by HootSuite and our friends at #CMmeetup, the afternoon presented a great opportunity to finally meet some online friends in real life. The group mingled, exchanged bizarre 'South By' stories and even snapped a few #SXSelfie's.
#HootHockey ~ The Coolest Game at #SXSW + The Dallas Stars!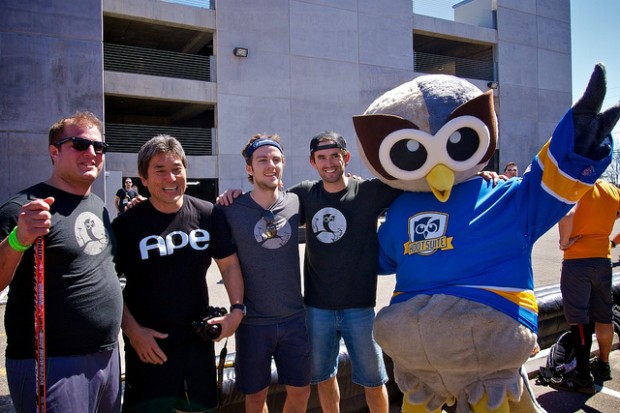 Of course the Canadian company HAD to host a hockey game! Given the difficulties finding ice in Austin, the Owls took to the street, partnering with Five Hole For Food, the Dallas Stars and a gaggle of other organizations like Nexalogy, metabridge and North of 41.
With all the proceeds going to the Austin Food Bank, Players, fans and even the Dallas Stars Ice Girls gathered for a sunny afternoon outside. Fierce competition ensued as the teams all vied for the coveted prize of #HootHockey champion. In the end, team HootSuite took the crown, with the help of Owly and ringer Guy Kawasaki. Even better news – #HootHockey raised 7,500 lbs of food for the Austin Food Bank!
#GenSoc ~ Film Screening and Panel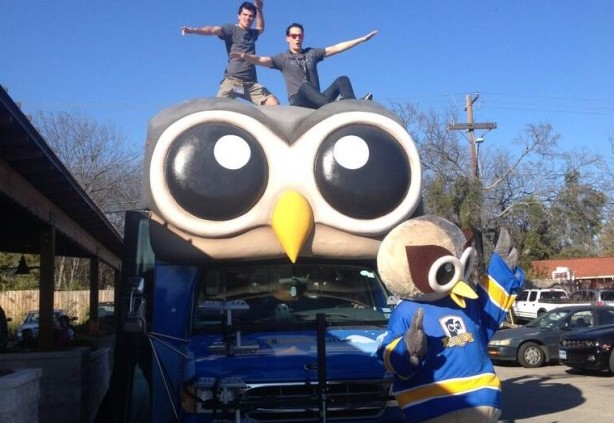 Lucky attendees for Generation Social rolled up to the eclectic Alamo Drafthouse Theatre in style, aboard the #HootBus. A casual meet and greet kicked things off, followed by a move into the gorgeous theatre for the screening and panel. Directed by Andrew Lavigne, the film follows a social start-up, a higher education institute working on a social media survey and a moneymaking blogger.
The HootSuite hosts, along with Reelhouse and Vision Critical, extended first class service throughout the event. Film goers enjoyed exquisite meals delivered to their very seat along with a fine selection of craft beers to wash down the grub.
#HootUpSocBiz ~ Social Business and Big Data Panel
As SXSW winded down, HootSuite hosted a thought-provoking panel at the swanky Social Good Space, including Ryan Holmes (HootSuite), Aparna Mukherjee (Wall Street Journal), Matthew Bishop (The Economist / Author), Adam Broitman (Mastercard Global Group) and Michael Chui (Mckinsey Global Institute / Author).
The crew shared their take on everything from social responsibility to tackling the never ending email inbox, and even building a global, social brand. The weather was scorching, but luckily, attendees enjoyed refreshing drinks and killer tacos, provided by plated.
Want more mementos? Hoots to Roam Mobility!
Luckily, the whole HootSuite squad at SXSW was outfitted with personal hotspots (HootSpots) from our friends at Roam Mobility. In the chaos of SXSW, your most prized asset is a charged phone with internet access. Roam's hotspots allowed the Owls to stay connected and share all our stories with you in real time.
Here's where you can find all the HootSuite SXSW buzz including event summaries, pictures and videos:
#HootTrak – Documenting a lone Owl's journey by train from Vancouver to Austin for SXSW
#CMmeetup – 50 community managers in one spot? Checkout the highlights!
#HootUpSocBiz – Ryan Holmes and other special guests discuss social media and business
#HootBus 2013 – Pictures of the famous #HootBus in action at SXSW
#HootHockey – Highlights from the coolest game at SXSW
#GenSoc – Highlights from the our screening of Generation Social at the Alamo Drafthouse
#HootSX Flickr  – More photos from #HootSX 2013
#HootSX Instagram – A collection of #HootSX instagram photos
See you next year!
Another year, another SXSW survived. Through all the ruckus, meetings and chaos, HootSuite thoroughly enjoyed all the events and collaborations. That being said, the best part for all the Owls was meeting you: new friends and social media power users! With that, I ask you one question:
What was your favorite part of SXSW this year? Leave a comment and let me know!