HootTour Japan ~ CEO Ryan Holmes Visits Nippon
Tokyo Bound
HootSuite CEO Ryan Holmes in heading to Japan to outreach to the HootSuite fans, talk to social media agencies and all sorts media sources plus present to the Digital Garage Open Network Lab Event.
He's bringing some special edition HootSuite stickers and t-shirts (complete with QR codes) and of course the popular HootSuite pins and tattoos.
Open Networks Event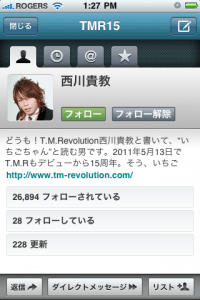 Ryan will show the Japanese version of the HootSuite for iPhone at the Digital Garage Open Network Live event on Tuesday May 25th at 7PM Japan local time.
The event will be broadcast on Ustream as Ryan will share the app with 150 of Japan's top engineers, developers and social media experts. We'll post or embed the session so come back to watch.
Open Network Lab is an start-up incubation project supported by Digital Garage and other top Japanese tech companies.
Learn more about Open Network Lab at Crunchbase and in this article by Serkan Toto.
Meet and Greet
Also on his agenda is meetings with Softbank – the giant mobile handset and service provider, plus policy group DG, translation service myGengo, and media outlets New York Time (Tokyo bureau), CNET Japan, TechCrunch Japan and ITMedia. He'll also stop by radio station Nippon Broadcasting and many more interviews and visits. Follow Mr. Holmes' personal Twitter @invoker for more updates and news as he visits with social media luminaries and tech pundits over the next week.
Translations and Support

To better support and engage in conversation with the Japanese HootSuite users, we've added a Japanese-specific Twitter account – follow along at @HootSuite_Japan and are rapidly building FAQs and other support resources in Nihongo as well as offering a Japanese feedback and feature request channel.
HootSuite is committed to the Japanese market by releasing a fully-translated version of the iPhone App (along with Portuguese, Spanish, and German) with more native language versions to follow.
Big in Japan
Japan is a unique and exciting market for HootSuite and Twitter as supported by a May 18th Venture Beat article "Twitter's explosive Japanese growth fuels Softbank handset deal" by Kim-Mai Cutler:
If there's one market where Twitter is pummeling Facebook, it's Japan.

Unique users are up to 7.52 million compared to Facebook's 1.4 million, Nielsen Online Japan told The New York Times. Even third-party Twitter developers are seeing some of the action; HootSuite's chief executive Ryan Holmes told us that roughly 30 percent of his service's month-over-month growth is coming from Japan.
New York Times Tokyo-based reporter Hiroko Tabuchi documents reasons for Twitter's explosive growth in Japan including Softbank's Twitter ready handsets plus celebrity, political users and the familiarity with mobile phones "keitei" in Japan in a May 18th article "Softbank to Help Twitter Get Even Bigger in Japan":
Twitter has taken off in a big way here in the past two years, fanned by media exposure and the use of the service by a flurry of celebrities: Prime Minister Yukio Hatoyama tweets frequently, as does the astronaut and national hero Soichi Noguchi, who tweets from the International Space Station.

The number of unique users in Japan surged from 521,000 in April 2009 to 7.52 million in March, a 15-fold increase, according to the technology ratings service Nielsen Online Japan. Figures show Twitter is fast catching up to Japan's biggest social networking site, Mixi, which had about 10.8 million unique users in March. An analysis by Semiocast, based in Paris, in February found 14 percent of the millions of tweets per day worldwide are in Japanese.
Arigato
Thanks to all the companies and reporters hosting Ryan and please let us know how we can help Japanese users enjoy HootSuite.