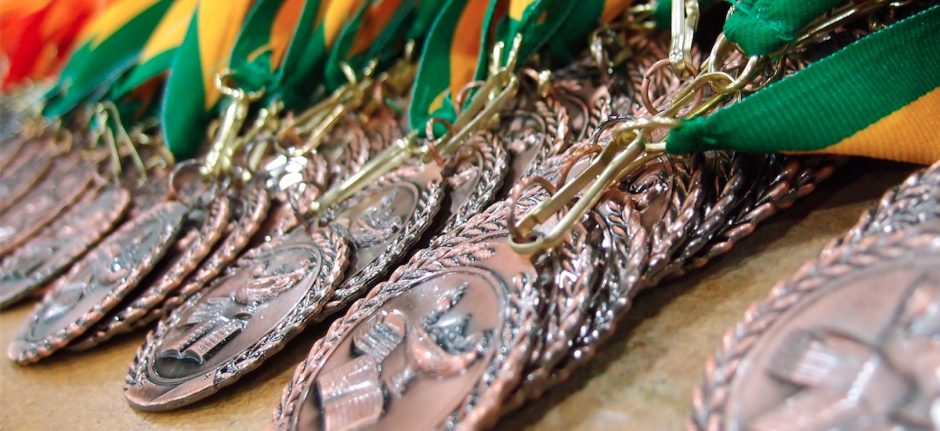 Hootsuite's Unofficial 2015 Social Media Awards
As we bid farewell to 2015, it's time to take part in the ancient historical tradition of looking back at the social media year that was. While there might be posts you've shared online that you would rather not reminisce about (why were you wearing that cowboy hat again?), countless brands and professional accounts provided us with superb content in 2015.
From new features to innovative campaigns, social media was the site of many notable changes and events this year. While there were far too many standout accounts, posts, and campaigns, we put together a list of our (very unofficial) favorites in each category. Let us know what you think of the (again, very unofficial) winners and what your top choices in each category are!
Favorite social media update
Instagram's evolution beyond the square
Ah, I still remember where I was when I found out that Instagram was no longer restricting photos and videos to the square format. On August 27th, 2015, there were audible gasps in the Hootsuite offices as the news spread that portrait and landscape images were to be supported by the platform. With "nearly one in five photos or videos people post aren't in the square format," this was a much needed and welcomed update.
Most random update
Facebook's relationship eraser
While anyone who's ever had their grandma comment on their Facebook relationship status might not think this falls under the "random" category, we can't help but feel that this came out of nowhere. In November of 2015, Facebook introduced a new set of tools that will help you erase an ex-lover or old relationship from your timeline. As The Huffington Post explains, "with the new tool, your ex's posts will not show up in your News Feed and "their name won't be suggested when people write a new message or tag friends in photos." Love in 2015, am I right?
Top time-saving feature of the year
Pinterest's localized search
While Pinterest's appeal is heavily based on the platform's organizational purposes, it used to take ages and much luck to find local users and pins of relevance. To increase efficiency for their users in 2015, Pinterest introduced location-based updates. This is helpful if you want to find people pinning items in and around your geographical region, or if you simply want to take your creeper status to the next level! Having Pinterest search results customized by language and country will save you a ton of time, especially if you were geo-targeting your audience or trying to connect with your local Pinterest community from a professional standpoint.
Creepiest update
Tinder's job and education addition
Whether you want to admit it or not, Tinder is a social media network. Honestly, what's more social than Tinder? Think about it (or don't). However, the potential for creepiness and uncomfortable situations is high with this one, and the new update makes this even more so. In November, Tinder made some updates aiming to help make your potential matches more relevant to you, by using the information you provide on your Facebook profile (which you use to login to your Tinder account) to show your job and education, and those of your matches. I can't think of many social media interactions more heart-stopping than someone beginning a conversation with you on a dating app by asking you about your specific workplace. Tinder CEO Sean Rad explained to Business Insider that "this update will make Tinder more true to the way we meet people in real life. "Job" and "education" are often two big factors people use to decide whether they want to go on a date with someone." Still, the creep factor is high with this one.
Best brand vs. brand exchange on social media
Penguin Random House vs. Melville House
October 2015 saw what Buzzfeed called "the cutest little Twitter spat" take place. Melville House, an independent Brooklyn-based book publisher and international bigwig book publisher Penguin Random House delighted Twitter users when they got in a good-natured Twitter "feud." After Melville House posted a Tweet and photo poking fun at Donald Trump, Penguin Random House replied "Don't you have work to do" which escalated to threats of snail mail being sent, emoji use, and major shade being thrown both ways. The humorous exchange brought Melville House into the spotlight, and showed that both brands are able to poke fun at themselves and not take themselves too seriously. The fact that these are both book publishing companies (yes, real paper and bound books!) just adds to the charm and shows that, with creativity and some great timing, social media allows for any genre of business to shine.
Most engaging Snapchat user
DJ Khaled
This one is a no-brainer. American record producer, DJ, and record label executive DJ Khaled has one of the most notoriously popular Snapchat account out there. As SB Nation declared, "DJ Khaled is a lot of things, but perhaps most importantly he is a social media titan," and we couldn't agree more. Posting Snapchat stories that our favorite Canadian Justin Bieber has even taken to doing impressions of, DJ Khaled is a must-follow on the ephemeral video and image platform. Simply doing a Google search of "DJ Khaled Snapchat" will give you a ton of results and collections of his top moments, but expect highly humorous (although not usually intentionally so) inspirational and entertaining photos and videos that might leave you scratching your head (but in the most wonderful way).
Best video update
Snapchat's speed filters
In October 2015, Snapchat added an update which allowed users to take their videos to the next level. With "speed modifiers," Snappers can now slow down, speed up, or rewind their video content shot through the image sharing app.  With these special effects, Snapchat users are able to use even more creativity with the app, adding extra interest and engagement potential. With the app quickly evolving and adding new updates on a monthly basis, we're definitely excited to see what Snapchat has in store for 2016.
Top brand on Tumblr
Denny's
Tumblr is one of those gray area social networks that businesses and organizations haven't seemed to fully embrace yet, but with the average age of its almost 20 million active users per month between 18-29 years old, it's one that has huge potential for reaching this highly desirable age bracket. However, the brands that are doing it right are really doing it right, as shown with the North American diner chain, Denny's. The Denny's Tumblr has been around for a few years, but is still shining brightly on the top of the list in 2015. With such a specific brand voice, and one that has obviously resonated amongst Tumblr users, Buzzfeed has even dedicated a list to "11 times the Denny's Tumblr was Hilariously Awesome." We can only expect more gems, such as the one below, in 2016.
Top brand on Instagram
Airbnb
As a prime player in the sharing economy model, Airbnb takes this community-minded approach to their stunning Instagram account seamlessly. With 75 percent of their Instagram content user-generated, Airbnb uses their social media presence to showcase customer stories, experiences, top destinations, and the properties available through their site. After making every property showcased on their Instagram bookable in 2014, Airbnb saw their average engagements and interactions increase by 404 percent year over year. Furthermore, from January 2014 to December 2015, Airbnb saw their user-generated posts "grow from 179 user generated photos in January 2014, to 6,429 uploads in December" and their users' photos seeing "3.2 million likes and over 103 million potential impressions."
Top brand on Facebook
Nutella
  With over 30,000,000 Facebook fans, Nutella's Facebook page acts as a kind of brand hub for the incredibly popular hazelnut chocolate spread. With three Facebook apps, customer service capabilities, and numerous engaging components such as recipes, photo contests, and lifestyle tips, the Nutella page is definitely a place to go to see a brand who is doing Facebook right.  
Top brand on Twitter
Charmin
While you may not think that a toilet paper brand would have an engaging Twitter account, the people behind Charmin have proven that on social, anything is possible. In taking beloved "toilet humor" to a new level, Charmin has established a brand voice that makes following and interacting with their Twitter account a true form of entertainment. Sharing polls and using the hashtag #CharminAsks to pose questions such as "is sneaking in a go while someone's in the shower ever a good idea?" Charmin has built a community of dedicated fans and followers.
#CharminAsks: What are you thoughts on streaming while streaming? pic.twitter.com/GgEjdbsm8h

— Charmin (@Charmin) December 7, 2015
Best social media customer service account
Discover Card
With "social care" slowly becoming the norm for businesses and brands, we expect 2016 will see even more companies jump onboard the social media customer service train. In 2015, American credit card company "Discover Card" showed the true potential of this practice with their Twitter account. Discover Card was awarded the "Highest in Customer Satisfaction with Credit Card Companies" by JD Power and Associates, undoubtedly due to their social media customer service practices. Available 24 hours a day, 7 days a week, and with an average response time of 19 minutes, Discover Card led the way in social customer support in 2015.
Most engaged social media community
Lonely Planet
While the name of this travel giant indicates a lack of community, Lonely Planet has built their social media strategy on connecting the global community of travelers. With an active community on most social networks (all listed here), Lonely Planet has built a mega platform for travelers and would-be travelers to connect and share information, travel tips, images, and content from around the world.
Favorite new Hootsuite feature
Instagram integration
We couldn't do a round-up of social media in 2015 without highlighting our favorite new feature available on Hootsuite, and this one was a no brainer. After listening to our customers' top social needs, Instagram capabilities were integrated with Hootsuite in August 2015. Allowing users to schedule Instagram postings, like and comment on other posts, manage posting and engagement across teams, and more, Instagram was a welcome addition to the Hootsuite family.