HootUps from the Great White North to Down Under ~ Your Spring RoundUp

2013 has gotten off to a beautiful start. People young and old from all corners of the earth have been gathering each and every week to hangout and HootUp! Whether it be in a pub, a lecture hall or at a craft fair— HootSuite owls are smiling everywhere, take a look!
Australia
As winter creeps in, HootSuite's Aussie owls are burrowing themselves inside for lots of HootUps across the country.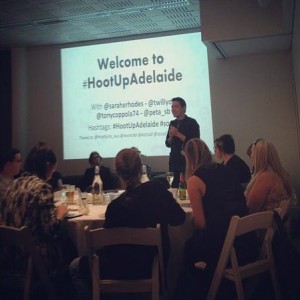 #HootUpAdelaide
May 2 2013: #HootUpAdelaide was hosted by Ben Teoh at The Highway Hotel in Adelaide, Australia.
Fully equipped with a media presentation and Hoot swag, Ben led an educational session inspiring discussion on the power of HootSuite– check out attendee Steve Davis' tutorial of Using HootSuite for ethical eavesdropping.
Be sure to take a look at the panelists, Tony Coppola, Peta Spurling-Brown, Tom Williamson and Sarah Rhodes!
Find out more about #HootUpAdelaide at the Storify page here.
#HootUpMelbourne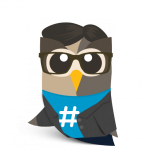 April 16, 2013: The owls gathered in Melbourne last month under the lead of Nik Kingsman to discuss some valuable social media tips in a fun, informal gathering. The hot topic of the night was the power of auto-scheduling– Nik showed the owls how to expand user reach and maintain consistency!
Be sure to head over to the HootUp Melbourne Facebook page.
Stay in the loop on all things down under by following @HootSuite_AUS  and @HootSuite_NZ !
North America
Owls are HootingUp all across Canada and the United States! HootSuite's North American friends have been busy as they emerge out of the winter months and into some beautiful May sunshine!
#HootUpMKE
May 14, 2013: This week superstar owl @HouseOfBrew hosted a HootUp in Milwaukee at the Hudson Business Lounge with a special G+ Hangout from the Community Owls from HootSuite HQ!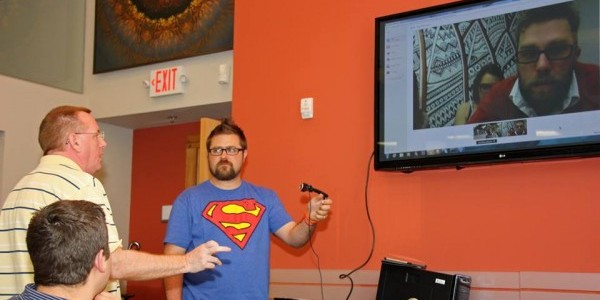 #HootUpCraft
May 11-12, 2013: Owls young and old gathered at the Vancouver Convention Centre for the annual Great Canadian Craft Fair this past Mother's Day weekend. They created all sorts of beautiful art with our HQ owls, head over to the #HootUpCraft blog post and the HootClub Facebook page for a cute picture overload.
#HootUpROA
May 9, 2013: HootSuite HQ's very own Kristina Cisnero, Social Media Coach extraordinaire, joined some owls in Roanoke, Virginia for an educational hangout.
Kristina was on hand virtually, giving the lucky attendees an overview of all the HootSuite Pro bells and whistles. This is a new initiative HootSuite is piloting, where Social Media Coaches attend HootUps virtually.
Interested in having a coach at your HootUp? Send a tweet to @HootUp!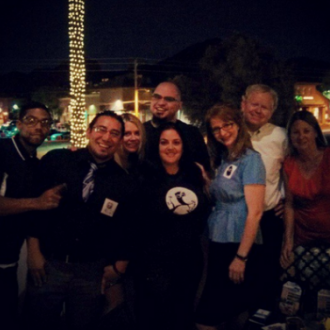 #HootUpPhx
April 24, 2013: The first ever HootUp in Phoenix went down at the end of April this year. Attended by Kristi Trimmer at Caves & Ives pub.
#HootUpPortland
April 17, 2013: Oregon owls gathered for #HootUpPortland last month as well, hosted by @JandTonic and friends at the Radio Room.
#HootUpCape
April 4, 2013: Spring arrived with Missouri owls hosting the first ever HootUp in Cape Girardeau– the HootUp was even covered by a local news station! The event was attended by Erin Fluegge Woolf, Stacy Lane, Holly Brantly, CIE Southeast + more! Get the full recap at the #HootUpCape Storify page and check out the video below.
#HootUpTO
March 27, 2013: Canadian owls in the East gathered for HootUp Toronto in March. Hosted by the awesome Eric Buchegger at The Gladstone Hotel ! Check out the Storify for all the tweets and deets.
#HootUpTriad
March 18, 2013: The most recent North Carolina HootUp occured back in March at Elon University hosted by the incredible Danielle Hatfield. See the Storify page for more!
United Kingdom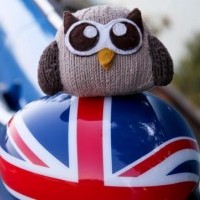 #HootUpGW
May 16, 2013: #HootUpGW was hosted by our lovely @ HootSuite_UK owls in Glasgow @29Studios, Scotland! One of the biggest HootUps yet in the UK, the owls had a great time learning from UK Ambassador Allan Blair Beaton and our team of Scottish diplomats, Steve Sefton, Matthew Marley and Jennifer Tough.
Head over to the Storify page to see all the details!
#HootUpCardiff
May 5, 2013 – HootUp Cardiff was hosted by HootSuite's UK Diplomat Jay Perkins at the 10 Feet Tall pub and restaurant, where the owls discussed strategies for chasing leads for small businesses.
See more at the #CardiffHootUp Storify page.
#HootUpLiverpool
May 2, 2013: Earlier this month, we saw a HootUp in Liverpool, England hosted by HootSuite's UK Community Manager Shain Shapiro. The owls discussed how to align music, brands and social media.
Head over to the #LSCHootUp Storify Page to see a full recap.
#HootUpDublin
April 30, 2013: Keeping busy on all corners of the UK, late April saw a HootUp in Dublin, Ireland. Hosted by HootSuite HQ Owl Peter O'Sullivan who shared social media tips and tricks of the trade.
See the #HootUpDublin Storify Page for more.
More Past HootUps#SXSW Austin, Texas
#HootSX – #HootUpSocBiz // #HootUpLocal // #HootEDU
Los Angeles
#HootUpLA – Hosted by HQ Owl Connor Meakin— Take a look at the Storify here
New York
#HootUpNYC – Hosted by HQ Owl Ashley Brookes — Take a look at the Storify here.
Vancouver (Capilano University)
#HootUpTREC – Hosted by HQ Community Team– Take a look at the Storify here. 
United Kingdom
#KillburnHootUp – Hosted by UK owl Sian Alicia Evans, in Kilburn, London — Take a look at the Storify page here
#HootUpManchester – Hosted by UK Community Manager, Shain Shapiro.
Still To Come in 2013
In last half of May alone, HootSuite owls around the globe will be hosting 15 unique HootUps in 7 different countries. Keep your eyes peeled on these hashtags, and check out the HootUp nearest you!
United Kingdom
#CanadaDayLondon – 07/01 – Hosted by @HootSuite_UK in London, UK.
Spain
#HootUpClubMktVlc – 05/15 – Hosted by @DavidMCalduch in Valencia, Spain.
#HootUpCastellon  – 05/16 – Hosted by @DavidMCalduch in Castellon de la Plana, Spain.
#HootUpStartUp – 05/16 – Hosted by @AlexPerDel in Huelva, Spain.
#HootUpGandia – 05/17 – hosted by @DavidMCalduch in Gandia, Spain.
#HootUpBCN – 05/20 – hosted by @JRequejo in Barcelona, Spain
#HootUpBNO – 05/29 – Hosted by @Rumorismo in Barcelona, Spain.
Portugal
#HootUpPortugal – 07/11 – Hosted by @MiguelLuis
New Zealand
#HootUpAuckland – 05/21 – Hosted by @Gerri50 in Auckland, New Zealand.
Canada
#HootUpProtechtivity – 05/23 – Hosted by @SteveDotto in West Vancouver, BC.
#HootUpVancouver – 05/31 – Hosted by @UBCGrandPrix in Vancouver, BC.
The United States
#HootUpOlympia – 05/25 – Hosted by @Banghi in Olympia, Washington.
#HootUpHouston – 06/30 – Hosted by @RebeccaThompson in Houston, Texas.
South Korea
#HootUpLCGagnam – 05/23 – Hosted by @EdreaMJ
#HootUpLCChongdae – 05/29 – Hosted by @EdreaMJ
Australia
#HootUpMelb – 05/ 21 – More details at the MeetUp page.
Interested in hosting a HootUp in your city? Check out how to at the HootSuite Community page!