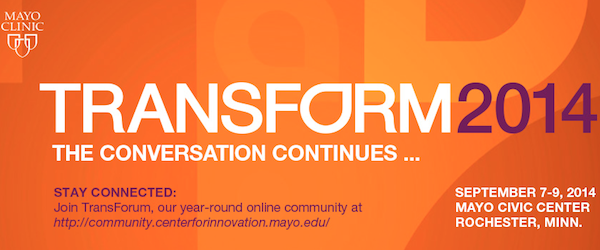 How the Center for Innovation at Mayo Clinic Engages its Community
Health care in the United States is going through some radical changes from coast to coast, and with these changes, the solutions to transforming the experience and delivery of health care  aren't found in the way we've done health care for the last 150 years.
The Center for Innovation (CFI) follows a user-centric approach, from discovery to implementation, applying an interdisciplinary team and research methods to reveal unmet needs. One unmet need that was focused on was collaboration between designers, health care workers, and providers that are looking for innovative ways to improve their work to benefit their patients. Transform, a yearly symposium held in Rochester, Minnesota, was born out of this need, and is held yearly in Rochester, Minnesota.
The CFI motto is: Think Big, Start Small, Move Fast™. We want to build a global community of innovators, designers and providers that work together to face the challenges that the future of health care presents.
While we work closely with providers and staff at Mayo Clinic, our work is enhanced by our community of fellow innovators around the world. With the power of social media, and the absurdly cheap price (free) to utilize tools such as Twitter, Facebook, Pinterest, and other networks, moving to the social world to connect, share, and collaborate was a natural fit.
Twitter is our true cornerstone for our social media needs. There are more and more people in health care migrating to Twitter every day; it has become a super tool of communication with our community of Transform attendees past and present. Twitter is also a phenomenal resource to find great people sharing their experience and knowledge in Twitter chats, and our communications calendar is scattered with hashtags for chats every day!
We strive to connect where our community is and as trends and habits change, so do we, with our social media content. We, like over 1 billion people, are on Facebook. We have content that is shared between Twitter and Facebook, and also some that are specifically geared towards how Facebook works. Part of our workflow is understanding the culture of each social media channel and its unique culture.
One of the more exciting areas we are moving into is Pinterest. We don't have many recipes or home décor ideas to share (yet), but one of our designers brilliantly thought to have our team start pinning articles that they find interesting with commentary as to why.
This has been a great way to share news, interesting ideas, innovative trends, and whatever else catches our eye. We're collaboratively creating conversations and new ideas through this one pinboard, which sparks new ideas on our work.
The reality of innovation, and the challenges we face in health care, is that we can't go at it alone. With social media, we engage on a daily basis with people around the globe who are bringing new ideas, prototypes and thoughts to the table. Without the ability to connect and build community online, we would be moving at a much slower pace with innovation, and missing out on potential ideas.
Join us online for our Transform symposium, September 7-9th, 2014, and join our community to be part of the Transform family!