12 ways to make money on TikTok
If a water park influencer can make money on TikTok… why shouldn't you?
For anyone with an entrepreneurial spirit and a knack for editing snappy short-form videos, TikTok can offer the chance to make some cold hard cash.
After all, there's a huge audience on this thriving social media platform, eager to be entertained (and maybe even spend some money in the process).
In 2023, TikTok ranks as the 6th most-used social media platform worldwide, with over 3 billion downloads and 50 million daily active users. That's a big market.
It's no surprise, then, that many people have already figured out how to earn money on TikTok — some even consider it a full-time job.
But whether you want to go all-in or explore a new side hustle, your journey to become a TikTok business whiz needs to start with a little research. And you've come to the right place.
Read on for the best strategies to start making money on TikTok (or watch the video below!).
Bonus: Get a free TikTok Growth Checklist from famous TikTok creator Tiffy Chen that shows you how to gain 1.6 million followers with only 3 studio lights and iMovie.
Can you make money on TikTok?
Yep, you can absolutely make money with TikTok… and many, many people do. (We see you and your Tesla Model X, Addison Rae.)
There are a few different ways to make that sweet, sweet bank.
To earn money directly from TikTok, join TikTok's Creator Fund. To do this, you need to have a minimum of 10,000 authentic followers (sorry, bots!) and have accrued at least 100,000 views over the last 30 days. (You also need to be 18 or older and live in the U.S., U.K., Germany, France, or Spain.)
Beyond this official, app-funded method of earning cash, there are plenty of other ways that you can make money on TikTok — even if you don't have a ton of followers. (These strategies will probably look familiar if you've already checked out our guides to making money on Instagram and Youtube.)
Let's get into it!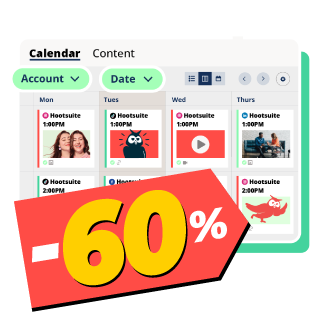 Our best deal EVER!
The deal won't get any sweeter. Get an annual Hootsuite plan 60% off and save up to $1,793 now.
Claim this deal
12 ways to make money on TikTok
1. Sign up for TikTok Creator Next
Creator Next is the portal for TikTok users to access all of the app's monetization features.
As TikTok puts it: "TikTok Creator Next aims to help creators monetize as they grow and develop their communities on the platform. When you join TikTok Creator Next, you receive access to tools and features that allow you to turn your creativity and passions into something greater, whether that's a side hustle or a business."
To join TikTok Creator Next, you need to meet the following eligibility requirements:
Be 18 or older
Have posted at least three videos in the last 30 days
Have a minimum of 1,000 video views in the last 30 days
Meet the minimum follower requirement for your region
Be based in the U.S., U.K., German, France, Italy, or Spain
No Business Accounts allowed!
Via TikTok Creator Next, you can access a few different monetization features… though each has its own threshold of eligibility.
TikTok Creator Fund
On July 22, 2020, TikTok announced their new Creator Fund, pledging to give $200M U.S. to "encourage those who dream of using their voices and creativity to spark inspirational careers."
The internet—and the world—ate it up, and only a week later, they announced that the fund would grow to $1B U.S. by 2023. So how do you get your hands on that sweet creator cash? The app has a few boxes you have to tick before you can start making :
Be located in the US, UK, France, Germany, Spain or Italy
Be at least 18 years of age
Have at least 10,000 followers
Have at least 100,000 video views in the last 30 days
Have an account that abides by TikTok Community Guidelines and terms of service
You can apply for the Creator Fund through the app (you'll need to switch to a Pro Account if you don't have that already). Click on Creator Tool and then TikTok Creator Fund to send in your application.
TikTok Creator Marketplace
If you're based in one of several approved countries, you can join the TikTok Creator Marketplace to be connected with sponsors and brands. Any brand can join, but influencers need to be invited or apply to access the Marketplace. As of December 2022, there are 800,000 creators from across the globe on Marketplace.
Live Gifts and Video Gifts
Creators using TikTok Creator Next can receive "gifts" from viewers on their Live videos or regular TikTok video posts. These digital gifts can be converted into dollars and withdrawn.
More on TikTok gifts here.
2. Partner with a brand you trust
Sponsored content on TikTok is defined as content for which you receive something of value. That's the goal, right? For example, a brand might pay you to make a TikTok video talking about how great their soy candles smell, or you might receive a free skydiving trip in exchange for posting about it. (Though we're not recommending taking any free skydiving offers).
In 2022, the global value of influencer marketing was $16.4 billion USD, according to Statista — an amount that has more than doubled since 2019. An eMarketer study found that 75% of medium-to-large U.S. companies are planning on using influencer marketing this year… even as brands are pulling back from social media advertising.
And while Instagram continues to hold the #1 spot as the influencer-brand partnership platform of choice, TikTok is making a strong play for the top.
Source: eMarketer
But just because brands might offer you an opportunity doesn't mean you need to take it. Even if a payday seems sweet, it can be a mistake to partner with companies whose views don't align with your own. The way you engage with your audience is uniquely yours. Your followers may care about your inspirational soup metaphors or how many languages you can speak or manicure, but they care about your ethics, too.
Here are some tips for getting started with sponsored content:
Only reach out to brands or organizations you really love
If your TikTok is all about your raw vegan journey, and all of a sudden, you start posting about your favorite local burger joint, your followers will see right through you. Not only is this confusing, but it also makes you look like a sellout. So, make sure that your sponsored content aligns with your regular content.
Make a press kit for your TikTok account
A press kit is like a movie trailer for yourself. It hypes up all of the great things about you (and gives brands good reasons to work with you) and includes contact information, photos, and notable achievements. Make them want to see what happens next, a bag of popcorn in hand. Websites like Templatelab offer press kit templates for free.
Create a few non-sponsored posts
Brands will want to see that you have what it takes to drive sales to their business. Making a couple of (non-sponsored) posts chatting up your favorite pair of shoes will make that elusive specialty sock brand more likely to want to partner with you.
Use the Branded Content toggle
People don't like being deceived—and it turns out apps don't like it either. TikTok created the Branded Content toggle to make sure that users were being transparent. If you're creating content for sponsorships, hit the button (or risk your video being taken down).
3. Partner with an influencer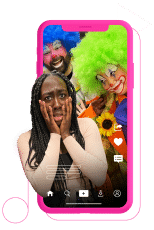 Post TikTok videos at the best times FREE for 30 days
Schedule posts, analyze them, and respond to comments from one easy-to-use dashboard.
Try Hootsuite
This is the reverse of the first strategy. If you are an established business looking to grow your presence (and make money) on TikTok, reach out to an influencer whose content aligns with your brand.
Civic Science found that 14% of 18-to-24-year-olds and 11% of millennials had bought something within the last six months because a blogger or influencer recommended it. In other words: influencers have influence.
Will we ever know how many Swarovski earrings Bella Poarch sold? Maybe not, but you can bet it was worth Swarovski's while to get in front of 9.4 million people.
Outside of the TikTok-sanctioned Creative Marketplace, you could also search for hashtags that align with you and your business (#dentist, #faintinggoats, #thrifting) and scroll through the content. Or, just explore the app yourself, liking the videos you like and ignoring (or hitting "Not interested" on) the ones you don't. The app will start showing you what you want to see. It's scary smart like that.
Take your time scrutinizing each creator's page—we've all heard the age-old story of the tearful influencer's non-racism non-apology. Stay away from problematic TikTokers. It's 2023.
4. Sell products directly through TikTok
TikTok Shop offers brands the opportunity to integrate ecommerce directly into the app — it's like your own little digital storefront.
Brands can also collaborate with creators to sell products through their channels. You can showcase and sell your products via your TikTok videos, TikTok Live, and the product showcase tab.
If you are a Seller, you must be located in the UK, Chinese mainland, Hong Kong, or Indonesia. You must also be able to prove it with a phone number from that region, a certificate of incorporation for your business, and identification.
If you are a Creator, your account must be in good standing. Plus, you have to:
Have 1,000+ followers
Have 50+ video views in the last 28 days
Be 18 years old
Have posted a video on TikTok in the past 28 days.
Learn more about setting up your TikTok Shop here.
5. Earn money through affiliate programs
You don't need to make your own merch to sell something on TikTok. You can just use affiliate marketing links to earn a percentage on sales.
#WaterTok influencer TayTayyMarie shares affiliate codes for water syrups in captions, and has a link in her bio that directs to an Amazon store with her favorite products (for which she'll earn commission).
For instance, if you're big on #BookTok and are sharing a list of your fave beach reads, it's easy to set up an affiliate link to buy all your book picks via Amazon. Your followers will be able to easily click and shop, and you'll get a percentage of the sales made through that link.
6. Create promotional videos for your product or service
If you've already established merchandise, this is the most obvious route for money making: create TikToks that show off your products or services, including all the details that make them unique (our free caption generator can help!).
Make sure you include a link to your website in your bio.
You can also create your own, personalized merch, like Italian Greyhound (and proud gay icon) Tika the Iggy did. The dog's owner, Thomas Shapiro, sells Tika-branded clothing online. Makeup brands like Fenty Beauty and Cocokind are also killing the merch game.
7. Use TikTok ads to drive traffic
Sometimes, you've got to spend money to make money.
Whether you want to grow your TikTok following or drive traffic from TikTok to your ecommerce site, sometimes, organic views just don't cut it. TikTok's ad platform is growing more and more robust by the year, with options like in-feed ads and branded hashtag challenges.
Learn more about TikTok advertising options here.
8. Offer premium paid content
The beauty of TikTok is that it's free for anyone to obsess over for hours each day… but a really beloved content creator may just be able to convince their followers to invest in a VIP experience.
Many TikTokers offer paid premium content off of the site — for instance, via Patreon. The TikTok videos offer a taste of what paid subscribers are in for. Even if just a fraction of your audience is willing to pay a few extra bucks for exclusive monthly videos or a special, supporters-only podcast, that can add up over time.
Consider paid content like exclusive live chats, or access to an exclusive community Discord channel, or a special monthly video series available to subscribers only. Or maybe your TikTok channel can be a little taste of the paid course you offer on Thinkific… get creative with how you can use free content to promote the extra-special stuff.
Toddler experts at Big Little Feelings use TikTok videos to share helpful tips about parenting… but each one directs viewers to learn more from their paid online course.
@biglittlefeelings

Can we let you in on a secret? You can lower the intensity, frequency, + duration of your toddler's tantrums, starting TODAY.🤯 If you have a toddler, you're living inside of a tantrum tornado🌪️ The crayon is too "purpley" or they wanted you to peel their banana BUT NOT LIKE THAT🌪️ But, the way that WE, the parents, respond to the tantrum can either shorten the duration + intensity – or make it last longer + go harder.🤯 🌈 When we say, "Stop crying!" "calm down" → just like if someone told YOU to "calm down" when YOU'RE upset, they're gonna explode MORE, longer, harder. 🌈 When we say, "FINE! One more episode of Elmo" → your kid just learned next time they should tantrum harder, + longer to get that Elmo. So, instead, the key to taming those tantrums? ✨ACCEPT THEM✨ Here's your 🌪️ script: ✨SEE THEM: "I hear you really wanted more iPad time NOW." ✨OK THE FEELING: "It's ok to feel mad/sad that iPad time is over for today." ✨BOUNDARY: "We will have more iPad time tomorrow." Notice how "allowing the tantrum" doesn't equal "allow them to have anything they want." They're allowed to ask, + we're allowed to hold boundaries. Support them through their upset feelings. You'd be SHOCKED by how simply saying, "I see you're feeling mad/sad. That's tough." Can be a game changer in and of itself. And, while we have TONS of tricks that dramatically shorten tantrums, they will NEVER go away entirely, they're actually healthy. Wait WHAT?! "How could a tantrum be healthy? It's a totally inappropriate way to deal with feelings/wanting something!" Here's the DL on those toddler tantrums: 🧠 Their brains haven't yet formed the areas that help manage emotions 🌪 Since they don't have strong language skills yet, they express through their bodies ⚡️Their concept of time is totally different, so they can't understand why something can't happen RIGHT NOW ✨Toddlers have a lot of emotion + energy and, just like adults, need a HEALTHY release in the form of crying ✨Struggling with tantrums, power struggles + disciplining in a way that both WORKS + protects your child's self esteem? Our course, Winning the Toddler, is here to help! For people w/ kids ages 1-6. Link in bio✨ #respectfulparenting #toddlers
Of course, that paid content better be worth it, or you'll be losing subscribers as fast as you gain them.

9. Consult for other brands and businesses
If you've managed to crack the TikTok code and regularly create engaging content that delights audiences and winds up on the For You Page, why not use your special skills to help other brands do the same?
Talented TikTokers can use their own accounts as a portfolio: proof of just what they can do. Some businesses will pay big bucks to outsource social media content to someone young and cool who knows just how to appease the algorithm.
Lizza Prigozhina, for instance, has parlayed her TikTok talents into a business as "the queen of New York real-estate TikTok," getting paid to make videos for realtors.
10. Collect gifts from your viewers
Gifts are a way for viewers to show their appreciation to creators. It's a little bit convoluted but stay with us here because, ultimately, gifts from the fans turn into cash money for you.
1. TikTok users purchase "Coins" from TikTok that they can use to buy virtual Gifts.
2. When they're watching a Live stream or a video that they think is really amazing, users can send that "gift" to the creator. (Only creators who have signed up for TikTok Creator Next access will be able to receive gifts, though.)
3. Those "gifts" then get converted into "diamonds," and once a creator has enough "diamonds," they can cash them in for real, actual money.
Two coins are worth one diamond, and one diamond is worth… $0.05. So a big, generous audience is really the only way gifts are going to work as a true financial opportunity.
11. Collect Tips
If you've opted into TikTok Creator Next, you'll be able to activate the Tips function… provided that you live in a location where Tips are available, of course.
Tips are connected to a Stripe account, so you'll need to set that up first. Once you've activated TikTok Tips, a Tips button will be visible to your audience. If they like what you're up to, they can tap the button to send you a predetermined tip amount or a custom amount.
12. Refer your friends
Weird but inspiring fact: you can make money on TikTok without even having a single video or follower. Just go hard into the TikTok Rewards referral program.
Copy your unique referral link from your profile, then share it with friends and contacts. If those friends join and start using TikTok, you'll get reward points that you eventually can redeem. More about eligibility here.
TikTok users can also earn TikTok Rewards by watching videos and participating in specific events listed on the Activities Page.
5 tips for getting paid on TikTok
1. Be authentic
If the big book on social media had a moral, this would be it. And as hard as it is to believe that authenticity is important in our highly filtered world, internet users crave genuine content.
User Ox Zung climbed the TikTok charts thanks to his boyish charm and silly videos. His 54.8 million followers aren't there to buy anything; they're just enjoying his antics… but when the time comes for him to monetize his content, he's got an incredible audience of people who know and trust him.
Whether you're hopping on a dancing trend or showing off your crochet frogs, stay true to yourself. It's the surest way to gain followers you'll keep—and hopefully, earn some real money.
2. Be transparent
This goes hand in hand with authenticity. The rules around posting sponsored content and divulging when you get free stuff are pretty foggy, but it's always better to err on the side of caution.
TikTok's branded content toggle adds a disclosure for you (#Ad), so make sure you use it when appropriate.
3. Look to your favorite creators for guidance
If you're not sure where to start, start scrolling. Odds are, some of your favorite creators are making money from TikTok. Check out what they are doing—brand deals, promoting T-shirts, spelling their Venmo in alphabet soup—and try to put those same strategies into action.
4. Don't ditch your regular content
If every single one of your TikToks is sponsored content or promoting something, your followers will lose interest. You gotta play it cool.
Rug designer H.H. Hooks doesn't just try to sell you rug-making kits… she shares soothing sensory videos about how rugs are tufted and prepped.
Even big brands like Ben & Jerry's post TikToks presenting their office dogs' Halloween costumes. Don't always make it about money.
5. Post at the right time
Getting your content in front of viewers is key to earning engagement and racking up views — which means deciding when to post can be just as important as what to post. (Check out our cheat sheet for the best times to post on TikTok.)
Using a social media management tool like Hootsuite to schedule your TikTok posts can help you optimize your content's reach.
6. Don't give up
Making money on this social network isn't easy. If it was, we'd all be Addison Rae. (It's cool to joke about that—she herself acknowledges how many folks don't think she has a real job. And she does it with the self-assurance of a 22-year-old who makes $5 million a year.)
If you get shut down by one brand or influencer, keep trying. Hard work pays off—literally.
How much do TikTokers make in 2023?
As seen above, there are many ways to make money on TikTok, and how you decide to monetize your content will determine your earnings.
Brand partnerships on TikTok can make you upwards of $80,000. That's right — if you're a big enough creator (with a large and engaged audience and a track record of success on the platform), you can buy an expensive car with your earnings from one video.
As for the TikTok Creator Fund, you can earn between 2 and 4 cents for every 1,000 views. This means you might expect $20 to $40 after reaching a million views.
Learn more about the TikTok Creator Fund here.
Who makes the most money on TikTok?
The top earners on TikTok don't change much year over year. In 2022, the TikTokers who made the most money were….
1. Charli D'Amelio, $105,770 per post. The American influencer was an early adopter of the platform, and it's paid off. As of the writing of this story, she has 150 million followers thanks to her sick dance moves (and probably also her beautiful face).
2. Khabane Lame, $92,270 per post. Lame is a Sengalese-Italian social media phenomenon thanks to his internationally beloved comedy videos. As of April 2023, he had 151 million followers, making him the most-followed user on the platform.
3. Bella Poarch, $66,829 per post. American TikTok star Bella Poarch has 92.8 million followers. She scored one of TikTok's early viral hits with a hypnotic lip-synch, and still regularly gets millions of views on her videos. Her sponsorship deals aren't the only way she's making money, though: Poarch has turned her fame into a music career.
How many videos do you need to make money on TikTok?
There is no set number of videos you need to have to make money on TikTok. Instead, money-making potential comes from the number of followers you have. You can't join the TikTok Creator Fund unless you have 10,000 followers.. It's also extremely challenging to make money in any other way (see our list above) if you don't have an audience.
So focus on quality, not quantity: videos that are engaging, entertaining, and informative that will organically help you grow your follower count.
For everything you need to know about making your TikTok the best it can be, explore our TikTok strategy guides here.
Grow your TikTok presence alongside your other social channels using Hootsuite. Schedule and publish posts for the best times, engage your audience, and measure performance — all from one easy-to-use dashboard. Try it free today.
Grow on TikTok faster with Hootsuite
Schedule posts, learn from analytics, and respond to comments all in one place.
Start your 30-day trial