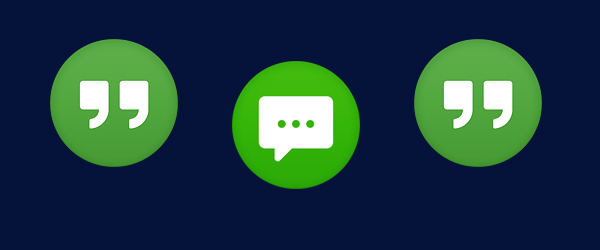 7 Tips On How To Use Google Hangouts On Air To Promote Your Business
Marketers are always looking for different ways they can promote their business or brand. Something we have recently started using to increase awareness for our brand, as well as to provide our audience with valuable content, are live online panels via Google Hangout. These on air Google Hangouts have provided us with an avenue to promote our brand, share engaging content with our social media audience, as well as connect with influential speakers in various fields.
We've hosted a couple of Google Hangouts under our #Social60 theme. We have learned a few things about using this live panel tool to achieve business goals, and decided to share them. Here are some tips for hosting Google Hangouts on Air.
Here are 7 tips on how to use Google Hangouts on Air
Tip #1: Know how to host a Google Hangout on air
Did you know that an on air Google hangout is a simultaneous broadcast on your Google+ page and YouTube channel? If you didn't, Social Media Examiner has written a great post that outlines how to create a Google Hangout on air. Knowing how to properly set up and use Google Hangouts on air will allow you to avoid any mishaps during the panel.
Tip #2: Choose a topic relevant to your audience
When hosting an online panel on Google Hangout, make sure that the topic you are discussing is relevant to your audience. This is key to driving attendance and views. For example, Hootsuite hosted an online panel about social media teams, since we have found this topic to be interesting to our target audience and relevant to our brand.
Tip #3: Create a promotional strategy
Even with the most intriguing topics for discussion, your attendance numbers will stay low unless your Google Hangout receives proper promotion. You can create awareness for the upcoming Hangout by writing a promotional blog post, creating a hashtag (for example, ours is #Social60), and sharing it on social media. Even though it's hosted on Google+, promoting the panel on other social networks—such as Twitter, LinkedIn, and Facebook—will increase the number of people the announcement reaches.
Tip #4: Choose relevant speakers and get to know them
Making sure that your speakers are relevant to the topic, they're knowledgeable about the topic, and that they won't sabotage your brand while on air, will help you ensure that you're providing your audience with quality content. Take time to do some research on your potential guests before reaching out. Review their LinkedIn profile; if they don't have one, it may be a sign that they are not the right fit for you. Review what they tweet about—it's important to know their level of engagement with their own social media audience, since that is a good way to predict how much value they can add to your panel. It also helps if the speakers have advanced public speaking and presentation skills. You can search them up on YouTube to see if you can find a recording of them speaking somewhere else.
You can use the follow criteria to find out if the speaker is right for your Google Hangout:
Do they use your product?
What level do they occupy at their company? (Manager, Sr. Manager, Director, VP)
Do they have a good social media presence? (After all, you're using social media to host the panel)
Are they influential in their market space?
Is their brand relevant to your brand?
Is their area of expertise relevant to the topic of your Hangout?
Tip #5: Set your speakers up for success
Provide your speakers with a list of questions some time in advance (we recommend doing this at least a week before the date of your Google Hangout). By doing this, you'll allow your speakers to prepare their talking points, as well as show your guests that you care about their presence and want them to succeed with you. If you can, let them know what kind of audience to expect. This will let them cater their speaking points to the attendees, so that the Hangout is more relevant to the viewers.
Tip #6: Promote the Google Hangout internally
The Google Hangout is not just beneficial for your audience, they are also great learning material for your employees. For example, our product marketing department uses Google Hangouts to learn about what our audience is asking, and to get to know the jargon they use to talk about our product or market space. I use it to gain insight into the kinds of content that interests our audience. So make sure your employees are aware of the Google Hangout—to drive attendees and awareness, but also help your colleagues learn something that makes them excel at their job.
Tip #7: Follow up after the Google Hangout
So now that the live event is over, what's next? The Google Hangout may be finished, but your job is not done. Create a follow-up blog post, like this one, to sum up all the important points in the discussion for those who could not attend. Thank your speakers via email or a card—you never know when their expertise may be needed next, and it is important to establish a good working relationship with influencers. Finally, report on your success. The last point is important because reporting will allow you to evaluate what went well and what didn't. This will set you up for success the next time you host a Google Hangout on air.
Are we missing any tips? We'd love to hear any tips you have on how to use Google hangouts in the comments below.
Start managing your Google+ page in Hootsuite.
Sign up for a free 30-day trial, today!