#HootUp Season is kicking off with Spain & Indonesia
Are you a HootSuite user? Find and meet others like you
HootSuite can help you and your organization take advantage of the potential that digital networks offer your business. However we never forget the importance of face to face meetings that complete and enhance offline experiences.

We encourage our HootSuite fans to host or attend HootUps to meet fellow professional and savvy users with similar interests. HootUps are a great way to share HootSuite knowledge and connect with colleagues in a relaxed and fun setting.
You don't need to be a social media expert or professional to attend or host HootUps.  We're sure you will learn from other HootSuite fans and enjoy discovering how to better use the HootSuite dashboard strategically. You might even leave with some new friends!
HootUpping everywhere!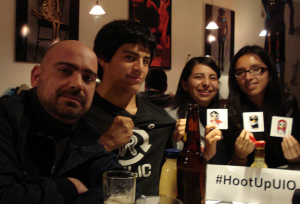 HootSuite's more than two million users are, without a doubt, the most awesome fans in the world. We have already seen them organize international #HootUps in Japanese, Spanish, English and more.
The #HootUpUIO celebrated in Quito (Ecuador), the #HootUpYYJ celebrated in Victoria (Canada) and the #HootUpAdl celebrated in Adelaide (Australia) are some recent examples of successful events.
While all the HootUps are 'unofficial' HootSuite events, we support and help the organizers with advice, swag, and other resources. We've even had some HootSuite team members in attendance.
Spain: (still) sun, beers and… owls!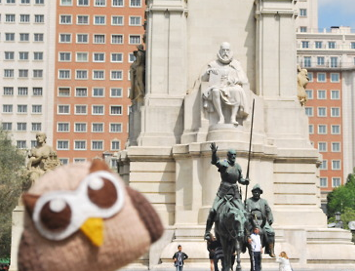 Although it seems that summer wants to stay in Spain until the end of the year, fall is knocking on the door and there's no better way to welcome the season than a casual meeting with HootSuite users.
Spain is host to one of the most active HootSuite communities and the growth of Social Media in the last year has been extraordinary. Indeed, Spain is one of the top countries in Europe using social networks for business.
That said, the two largest cities in Spain will be hosting a couple HootUp coming up:
#HootUpBCN – Barcelona
Francesc Gómez, with the help of Adriana, Estela and Cristina, will be organizing #HootUp Barcelona . More than 40 owls have already been confirmed to attend the meeting on Thursday October 20th at 19.30 [CET/GMT +2]. They will talk a little about HootSuite best practices and their experiences and will share some tips. Hopefully, after the meeting some beer will also be shared.
#HootUpMadrid – Madrid
HootFan and pro user, Juan Andrés Milleiro, blogger at Bloguismo, is organizing the first #HootUp in the capital of Spain which will be held on Thursday November 3rd at 20:00 [CET/GMT +2]. You can reserve your place and find information about the venue and attendees in the official HootUp site: HootUp Madrid.
Indonesia: the awesome 'new player' also wants to HootUp

We want to offer a special welcome to our Indonesian friends and Owly – dressed in traditional batik and a blangkon – who will fly to the 13,000+ islands that the country is comprised of, offering support and tips from the official Indonesian account @HootSuite_ID.
Indonesia has been revealed as one of the Social Media champions of the last year. The country is rocking the social networks and the number of HootSuite users are growing rapidly. Stay tuned, as we have a bunch of surprises coming soon for our Indonesian community!
Next week, two HootUps will be celebrated in Indonesia. If you're close to Jakarta or Bandung, don't miss the great opportunity to meet HootSuite fans and grow your network of professional contacts. Our Indonesian International Ambassador will be attending both events, so be sure to say hello!
#HootUpJKT – Jakarta
Tuesday October 18th at 19.00 [WIB/GMT +7], a lot of friends will meet at EMAX (Plaza Semanggi). Don't forget to add yourself to the Jakarta HootUp community and confirm your attendance. The organizers @mdstephanierw, @aswinutomo and @adadiskon will be ready to give you a warm welcome and they've prepared a fantastic evening with an interesting take on their HootSuite experiences.
#HootUpBDG – Bandung
The Bandung HootUp community will meet Wednesday October 19th at 18.30 [WIB/GMT +7] at the Hummingbird Eatery. The organizers @mdstephanierw and @wikupedia will be there to assist and collaborate with you to ensure you enjoy your night.
Do you want to celebrate a HootUp?
HootUps are great for meeting people who share a fantastic trait… being a HootSuite user. At HootSuite HQ, we provide support to the organizers with advice, promotion, and swag. We encourage everyone to organize and attend HootUps, as we are sure it is one of the best ways to share knowledge and meet new friends in a fun and casual environment.
Check out this helpful guide on planning and organizing your very own HootUp (también disponible en español).
Remember there aren't any rules for celebrating a HootUp. You decide what kind of event you want to hold. For example, a good topic to cover could be explaining how you're using HootSuite for your social media strategy. The more original the event the more memorable it will be for your attendants.
You can contact us at community+hootups[at]hootsuite.com to answer any questions you have about organizing a HootUp.