Publish Content Faster and Increase Demand Generation with the HootSuite-Kapost Integration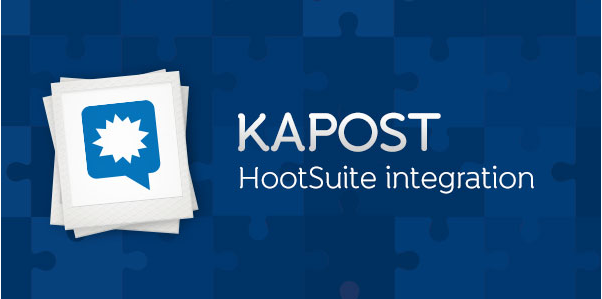 Content marketing is continuously evolving, and enterprises now rely on quality content to drive key business goals. Whether it be educating prospects, engaging customers, or attracting leads, large organizations face the challenge of sharing the right content for the right situation at the right time. With that in mind, HootSuite and Kapost have teamed up to provide an end-to-end content management and social engagement solution, enabling marketing and social teams to publish relevant content faster and drive more high quality leads through the various stages of the marketing funnel.
The Right Content for the Right Situation
The HootSuite-Kapost app integration allows marketing and cross-departmental groups to seamlessly integrate their content catalog into their HootSuite dashboard, directly alongside their social media profiles. The "Content Catalog" stream allows you to:
View the Kapost content library within HootSuite
Filter content by keyword, buyer persona, content type, and more
Share content to multiple social networks directly from HootSuite
Additionally, marketers can access publish-ready social messages drafted in Kapost and then pushed to HootSuite in the "Promotions" stream. This stream allows cross-departmental teams to:
Easily promote marketing-approved campaign messaging across social networks
Extend the reach of marketing and campaign content without losing messaging control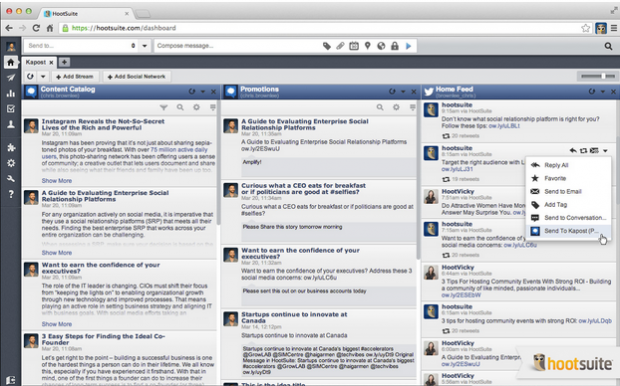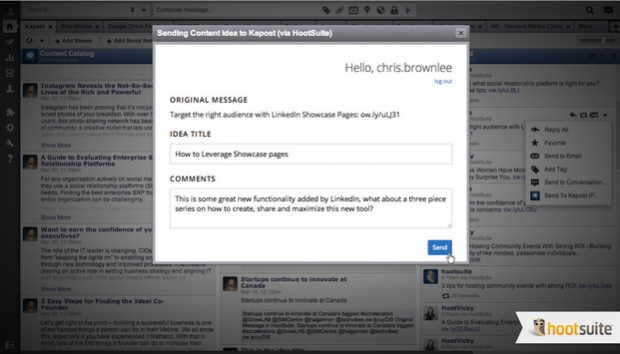 Crowdsource Content Ideas from Social Media
In addition, marketing and social teams can take advantage of the ability to easily send social content from HootSuite to Kapost. This feature offers joint users, especially content creation professionals, the ability to share suggested social content to a Kapost queue to kickstart planning around a campaign. Together, HootSuite and Kapost provide joint customers with a content management and social engagement solution for their business needs.
"We are excited to bring the Kapost content marketing platform into the HootSuite Enterprise ecosystem. Organizations are in need of a way to easily access and amplify the right messages across their social channels in a timely manner, and the HootSuite-Kapost integration now allows them to do this at scale." – Kevin Zellmer, Global Director of Enterprise Business Development, HootSuite.
"The HootSuite-Kapost integration finally gives content marketers a simple way to manage their social efforts," said Robert Phillips, SVP marketing, Kapost. "You can now seamlessly create content in Kapost — and push it to social channels through Hootsuite — all through one platform. Content marketers can now organize workflows and share post ideas with their social media counterparts, making the social process smoother and more relevant for everyone involved," Phillips said. "We are very excited."
Start using today!
Using both HootSuite Enterprise and Kapost? Install the Kapost integration from the HootSuite App Directory today.
Using HootSuite Enterprise, but not Kapost? Contact your Account Manager for more details.
Using neither HootSuite Enterprise nor Kapost? Get a demo of the solution today!