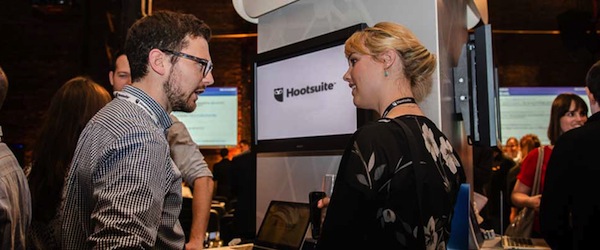 Lessons Learned From dmexco 2014
Six years ago, few people predicted that the annual international Expo and conference for the digital economy (dmexco), held in Germany, would become the number one industry meeting place in Europe. However, this should not have come as a surprise from Europe's largest national economy. More than 31,700 visitors attended dmexco 2014. An impressive 710,000 ft.² of exhibition space in three halls was filled to capacity. Hootsuite EMEA joined 800 exhibitors from all over the world including: Amazon, Baidu, eBay, Facebook, Google, IBM, Microsoft, Oracle, SAP, Twitter, Yahoo!, and Yandex, for two days of (in the words this year's event motto), "Entering New Dimensions".
Stand-out thought leaders who spoke included: Pieter Nota (Philips), Bonin Bough (Mondelez – @boughb), Kirk Perry (Google), Tom Buday (Nestlé – @tombuday), Carolyn Everson (Facebook – @ceverson), Steven Althaus (BMW Group), Ajaz Ahmed (AKQA – @Ajaz), Caroline Taylor (IBM – @green_goddess), Blasco de Felice (L ́Oréal), Jonah Peretti (Buzzfeed – @peretti), and Rob Norman (GroupM – @robnorman).
An 11-person-strong team of Hootsuite employees from the UK met up with our digital siblings in Germany to speak to customers, partners and prospects. In line with this year's dmexco motto, the social media presentations at the conference saw a refocus on some familiar topics: localisation, the continued relevance of social media in an ever-changing world, and the use of multi-screens. Hootsuite embraced this theme and discussed the challenges and opportunities within the social media landscape, as well as security, scalability and integration.
Read more about these themes and download our Social Trends Report from DMEXCO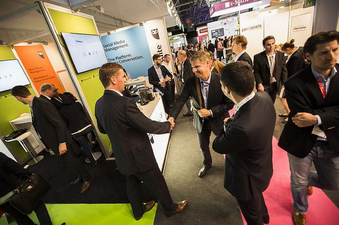 The Hootsuite booth was buzzing with pre-scheduled meetings and our co-branded Lounge with the Stuttgart and Munich Social Media Clubs delivered 12 roundtable sessions dedicated to social media. Special thanks to our roundtable guest speakers from 1&1 Internet , Lewis PR, IBM, and ProSieben
A digital Expo that didn't create an online buzz would be anathema. Consequently, Twitter activity associated with the two days showed over 303,000 impressions for dmexco (Hootsuite 29,000). The sentiment meter for dmexco indicated that 19% of these were positive  (78% neutral, 3% negative). In contrast, 39% of the mentions for Hootsuite were positive (61% neutral 0% negative).
Engagement with Hootsuite on Twitter saw German followers increase by 4%. @HootsuiteDE ranked fourth in terms of top tweeters at the event. Top influencers who engaged with us included @acquisa (marketing magazine) who were also number two on the top tweeter's list;  @bosbjorn and @renateeck  (agency owners).
Key Learnings
At Hootsuite we love to innovate and continually learn. So what are the takeaways from dmexco for increasing engagement?
People love swag, i.e giveaways. Therefore, trade engagement for swag as this helps you become more influential. @TwitterAdsDE gave away swag for a "follow" and a Tweet with  #waterbottle (You can take this to another level by creating engagement competitions that qualify people to receive your goodies.)
 Create eye-catching features that generate a lot of buzz. When people see unusual things, they usually take pictures and then post these to their social media. A good example came from Twitter, who created hashtags and Twitter birds made of foam over the entrance to the expo.
The pre-populated Tweets we created were very successful and helped drive visibility of @HootsuiteDE and our Social Media roundtables.  Save your most successful pre-populated tweets and adapt these for use at future events.
Pre-Schedule your meetings at dmexco! We literally had delegates queuing up for a meeting. But note that the entry queues can be as long as 30,000 attendees who all arrive at once, so start a bit later on the first day.
Official and Unofficial parties are a plenty. Buy your tickets well in advance or investigate the VIP events put on by the Big Brands. Anticipate late nights when scheduling meetings the following day.
About dmexco
dmexco is the leading international expo and conference for the digital economy. Comprising a unique combination of an exposition and a conference, it stands for innovative and future-oriented marketing in the midst of a global growth market. Placing a clear focus on marketing, media, and technology, dmexco in Cologne is the global No. 1 industry meeting place and platform for valuable knowledge transfer and direct business transactions.