Ever wanted to be the star of your own shopping channel? Good news: Instagram's new Live Shopping feature is here to make you a shoppable star, baby!
Live shopping has already made it big in China over the past few years on platforms like TaoBao — like, $170-billion-market big. Now, Instagram has launched its own Live Shopping tool, giving Instagram users their own chance to get a piece of that delicious ecommerce pie.
With Live Shopping on Instagram you can:
Educate your audience: Share recommendations and reviews, do product demos, and answer questions to help shoppers build confidence that this is the right product for them.
Showcase new products: Live is the perfect way to share the latest and the greatest from your brand, with updates that drive real-time demand.
Collaborate with other creators: Team up with other brands and creators for live streams that drive sales and show off product collaborations.
Read on for your guide to getting started with Live Shopping on Instagram, and tips for maximizing your stream's success.
Note: In February 2023, Instagram announced that they would be shutting down Live Shopping. Instagram's other shopping features are still available, including Shops, tags and collections. Learn more about Instagram Shops.
Bonus: 14 Time-Saving Hacks for Instagram Power Users. Get the list of secret shortcuts Hootsuite's own social media team uses to create thumb-stopping content.
What is Instagram Live Shopping?
Instagram Live Shopping allows creators and brands to sell products during an Instagram Live broadcast.
Think of it as an update to the old-school TV shopping networks — only more authentic and interactive. With Instagram Live Shopping, you can showcase your products, interact with your fans, and collaborate with other brands and creators.
Instagram Live Shopping is available for any Instagram Business accounts that have Checkout capabilities. These users can tag a product from their catalog to appear on the bottom of the screen for purchase during a Live broadcast.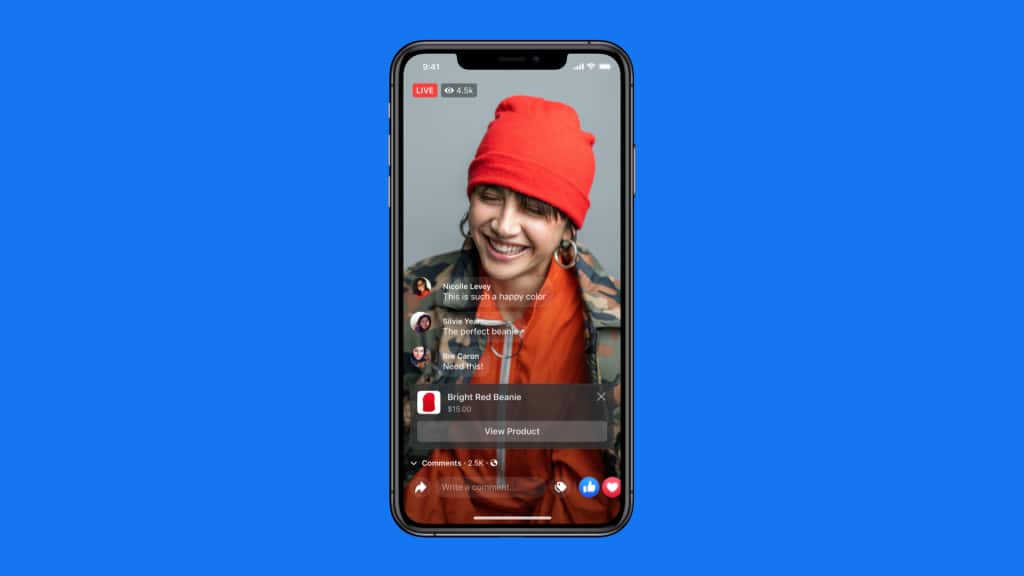 Source: Instagram
Instagram introduced Shops earlier this year, which allowed approved accounts to upload a product catalog and create a digital ecommerce storefront right in the app. The Live Shopping feature pulls from that same product catalog to put your best buys front and center during a broadcast.
Who can use Instagram Live Shopping?
To broadcast an Instagram Live Shopping experience, you must be a U.S.-based brand or creator with access to Instagram Checkout.
To shop an Instagram Live Shopping experience, you just need to be a U.S. Instagram user in the mood to drop some coin.
If neither of these describe you, hang tight: it's likely this feature will be rolling out globally in the future. Keep up with the latest Instagram updates here so you don't miss when the news drops.
How to set up Instagram Live Shopping
Before you can start your Instagram Live Shopping stream, you should already have your Instagram Shop and product catalog set up. You can't tag products if you don't have products, after all. (We're pretty sure that's ecommerce rule number one.)
Need some help building your catalog? Check out our step-by-step guide to setting up your Instagram Shop here. Note that you can build collections of up to 30 products within your catalog for easy access to a curated group of goods.
Once you have your products in the system, here's how to launch your Instagram Live Shopping experience:
Tap the camera icon in the top right corner
At the bottom of the screen, toggle to Live
Tap Shopping
Choose the products or the collection you want to feature
Tap the broadcast button to go live!
Once you're rolling, you can pin one product at a time to the screen
As they watch, fans can tap on feature products to see the product detail page, or continue on to make a purchase. Let the shopping spree begin!
Tips for Live Shopping on Instagram
The raw, uncut nature of a Live broadcast makes it a different buying or selling experience than simply sharing a product in your feed or via Instagram Story.
Take advantage of the intimacy, interactivity, and authenticity to make Live Shopping into something special.
Reveal a new product or collection
Making a big announcement is all the more exciting when it's live.
If you've got a brand new product or collection that's dropping, make an event of it by sharing all the details on a Live broadcast. You'll be able to answer questions from fans, and really give the launch a personal touch, as you make a product available for sale for the first time.
Instagram even has product launch reminders to help build anticipation and set alarms for people to tune in.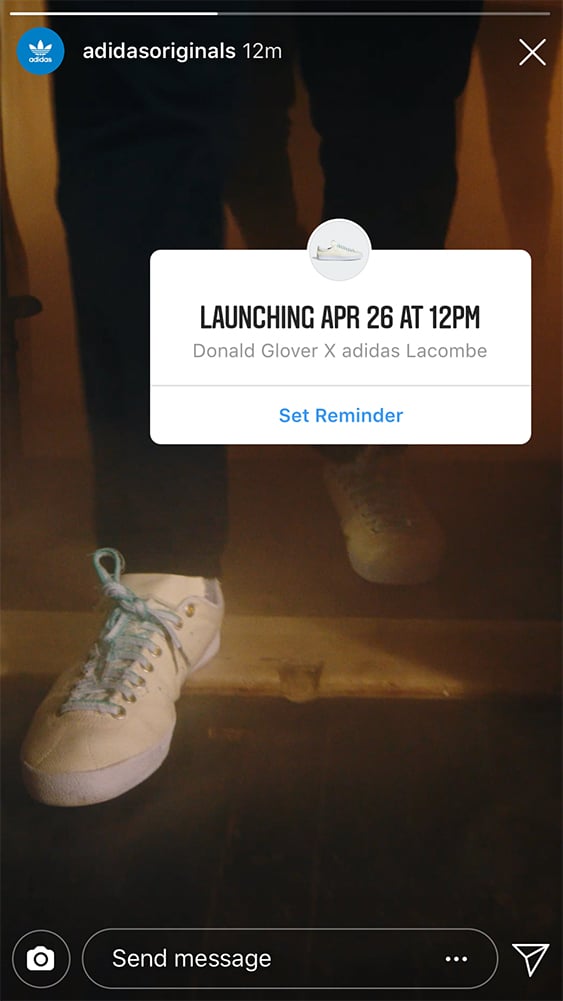 Source: Instagram
Feature a product tutorial or how-to
Sharing pictures and videos of your product on the Instagram feed and in Stories is great, but doing a live, interactive demo or tutorial is even better for engagement.
Seeing how a product works in real-time is a great opportunity for fans to understand what you're selling, or get inspired to make a purchase.
And as the seller, this direct line to your audience is a unique chance to ask for feedback or answer questions as you show off just what your product does best.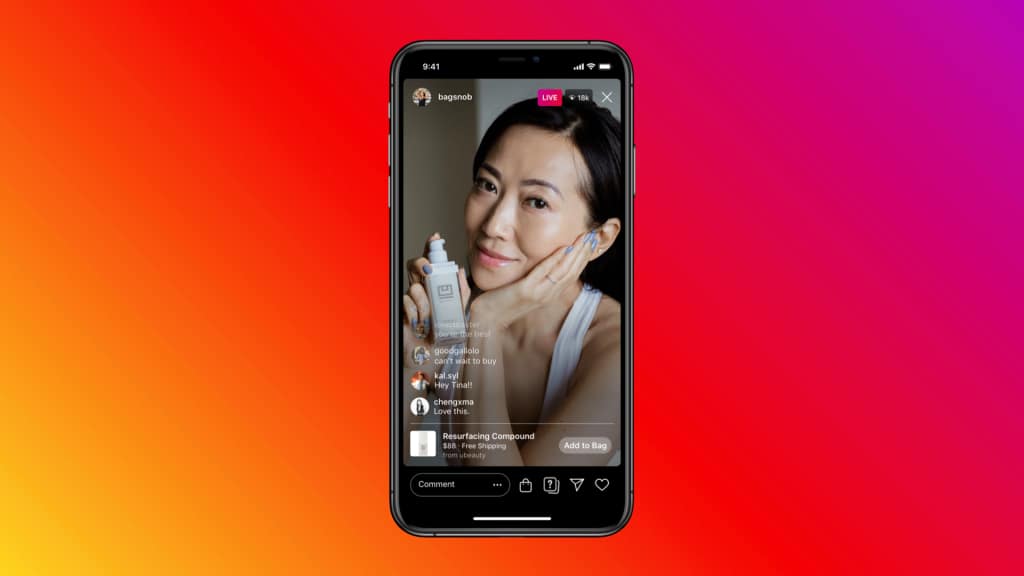 Source: Instagram
Embrace spontaneity
Creating a predictable schedule and planning events in advance is great, but there's something special about spontaneous Live sessions, too.
The best thing about Instagram Live is that it's so real and authentic. Maximize that "anything could happen!" feeling by surprising your followers with flash sales and surprise demos.
These spontaneous broadcasts are an opportunity to reward fans who are paying attention… and have a little fun while you're at it.
Team up with other creators
A Live broadcast is a great opportunity to cross-promote with other Instagram influencers, brands, or creators.
You could have a special guest host a Live Shopping event featuring a curated collection of their favorite products, or offer a special VIP rate to another brand's fans. There's plenty of opportunity for cross-pollination here.
Try a Q&A
Hosting a Q&A on your Live Shopping feed is a great way to help hesitant shoppers get over any concerns.
Marketing a livestream specifically as an "Ask Me Anything" session will bring out those curious folks who might not have yet taken the plunge. And because it's such an intimate and casual setting, you'll breed trust with your viewers in a way that a more polished feed post might not.
Switch things up
Instagram Live's Shopping feature is an exciting tool for brands, absolutely — but don't forget about the other ways you can use Live.
Constantly selling to your audience is a surefire way to burn them out. Ideally, you'll balance product-driven livestreams with content-driven moments. Make those shopping moments special — an occasion! — so that people remain curious and excited to tune in.
For brands and creators with Checkout capabilities, Live Shopping on Instagram is one more ultra helpful ecommerce tool in your toolkit. Stock your virtual shelves and then get that broadcast going — your fans are waiting for you.
Manage your Instagram presence alongside your other social channels and save time using Hootsuite. From a single dashboard you can schedule and publish content, engage your audience, and measure performance. Try it free today.
Do it better with Hootsuite, the all-in-one social media tool. Stay on top of things, grow, and beat the competition.
Free 30-Day Trial