Blow Up Tweets with HootFeed
As a Social Media Coach, I always try to put myself in your shoes. If I know your needs, it's easier for me to help you. I trust that like me, many of you often want to make your social interactions more "visible." That is why today we are focusing on the HootFeed.

Ever been at an event, where you want to be present but at the same time check up on what other attendees are saying on social? I know I have.  That is why we created the HootFeed. It's the best way to stay connected while at an event.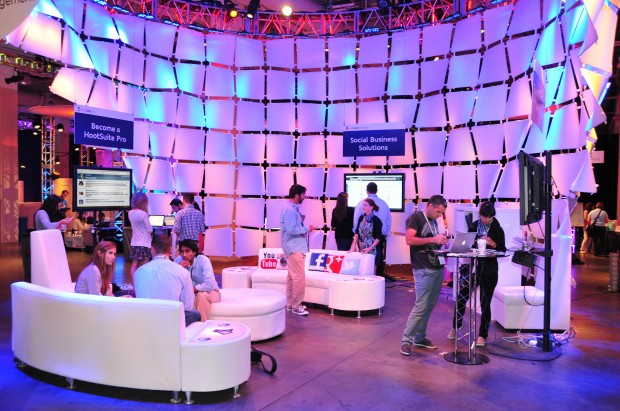 The HootFeed is HootSuite's live Twitter stream, that can be set up on screens at events or other venues like amusement parks, concerts, conferences and more.  Having a large-screen display of live tweets is a simple way to engage big crowds at any event. Did I mention it's free?
By highlighting their tweets, you encourage attendees to engage and respond to each other, right then and there. We use HootFeeds here at HootSuite headquarters; the HootFeed is constantly refreshing on monitors all around us, keeping us all updated on the HootSuite conversation around the world.Curious about how you can use a HootFeed? Here are a few tips from your trusted Social Media Coach:

Add HootFeed to a screen in your office lobby – guests can watch and interact with it
Add a HootFeed to your booth at a conference or tradeshow.
Monitor a group chat like #HSUchat or #HootSuitePro and share your customized HootFeed by grabbing the ow.ly link on the top-right of the screen.
Your fans and followers now have another way to actively participate in your event by allowing them to make their mark in real-time, on the screen. And since the HootFeed is browser based, there is no installation required. It's also super easy and quick to set up.
A Two Minute HootFeed How-To
Go to hootsuite.com/hootfeed
Sign up with your email address. Yup, that's all you need!
Enter one or more search terms you want to see featured on your live feed.
Customize the HootFeed with your company name, logo, and choice of colors.
Make sure to turn on the profanity filter when you are live streaming at events!
Authorize HootFeed to use your Twitter account by entering your username or email and password.
Preview your layout and customization options to ensure you're happy
Maximize your display by adjusting your web browser to full screen.
Pro Tip: If you want to make your search terms more specific, here's a list of advanced Twitter search arguments, and how they'll be displayed in HootFeed.
Let me know how you use HootFeed! Plus, if there is a HootSuite product you'd like to learn more about, register for my free weekly Pro Webinars and follow me on Twitter @HootVicky.