A Mighty Oak On The Wall Brings Smiles to Our Halls ~ New HootSuite Wallpaper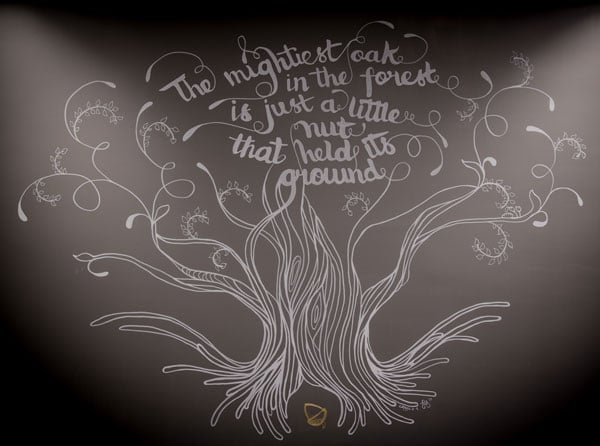 An Oak Tree has a 4-step life cycle. It starts off as an acorn, which when provided proper nutrients and water, grows into a seedling. This seedling will mature into a young tree. Ultimately after years, it will develop into a full fledged Oak Tree.  
In the weeks leading up to what is an everyday inspiration to those at HootSuite headquarters, Ulara Nakagawa had seen and been inspired by another of HootSuite's murals. As a writer, she doesn't get many chances to do creative things outside of writing, so when she heard that our Art Director, Joanna Ambrosio was thinking about doing a mural that combined words and images, Ulara couldn't pass up the opportunity.
"It was fate."
After sitting down together, the two hashed out the basics. Ulara explains: "We wanted to find a message that captured the essence of HootSuite as a whole, so Joanna started coming up with original words, but then as we were brainstorming ideas…" BOOM! Ulara remembered a quote that was in a fortune cookie from a few weeks previous.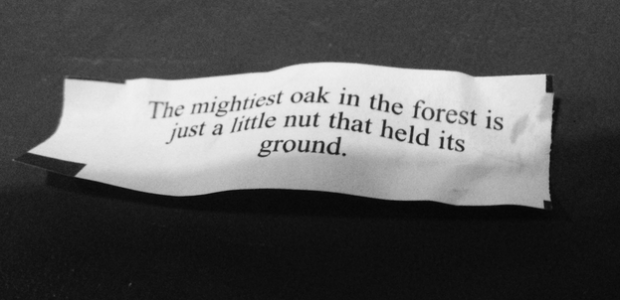 "It just fit so well, and embodies what HootSuite is," explains Joanna. Early on, HootSuite was seen as a company that was too small to make much of an impact. "There were many people and organizations who were thought of as 'bigger fish', and tried getting rid of their competition. However, we stuck to what we were good at and grew from that tiny nut into this powerful tree, with roots and branches and leaves!"
After agreeing on the quote, they began working on an image. Joanna works on a personal series of Midnight Doodles, and wanted to incorporate that into the mural. They both knew that they wanted something that wasn't absolutely perfect; they didn't want something that was over-thought… they wanted something that was going to be meaningful. "It was pretty much the first sketch- I showed it to Ulara and she loved it!"
The Making Of
Ulara and Joanna decided to stay late one Friday night to complete the painting. In true HootSuite spirit, others staying late wanted to help out, and hang out. Throw in a little music, and of course it turned into a party!
This great display of collaboration and creativity is now an inspiration to anyone lucky enough to have booked that meeting room (which isn't an easy feat anymore since the mural popped up).
Sharing the Inspiration
It didn't seem right to keep such an amazing piece of art, to keep a big oak tree, trapped in a room all to ourselves. HootSuite is offering new desktop, iPad and smartphone wallpapers of the mural, all of which are now available on our media page. The backgrounds have been optimized to perfectly fit a number of devices and screens, all of which you can find below.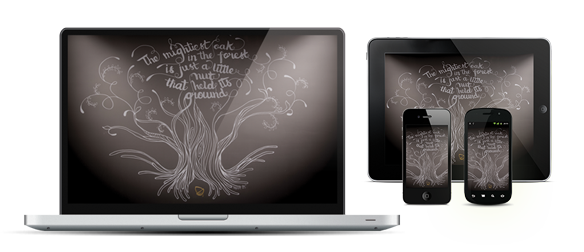 Desktop: 1920×1080 / 1680×1050 / 1280×800
Android: 640×960 / 480×800 / 480×640
We want to thank Ulara and Joanna for creating this incredible artwork. It will be enjoyed by our owls and people all over the world for a long time to come! Ulara and Joanna are currently brainstorming ideas of how others in the office can also contribute to "The Mighty Oak", so be sure to check back for updates.
We'll be adding even more wallpapers to our media page, so make sure to keep checking in to see new artwork! And keep an eye on our blog to see more featured artists, news, updates, tips and more.