4 Tips For Using HootSuite Mobile at Conferences
Using HootSuite mobile at events? Conference veteran and HootSuite VP Community, DaveO, reveals secrets, tips and advice on how to best use HootSuite mobile apps at events.
DaveO moves (and talks) fast. If you didn't catch all the nuggets of wisdom above, we've summarized 4 of his tactics:
Conference Attendees
Get more out of attending your next conference. Don't just meet new contacts, add them to your social network immediately, follow up, collaborate and make your conference participation more meaningful. Use HootSuite mobile the following ways…
1. Check in with social, stay informed.
What's the first thing you would do when you step into a conference? Check in on Foursquare, no doubt. As soon as you check in, you will then be alerted of tips and deals related to the venue you're at.
Don't forget to check into Facebook too. Why? To alert your friends and colleagues of where you are. Odds are, some of your business contacts will be at the same event. If that doesn't enhance your conference experience, wait until you set up your custom streams on the HootSuite dashboard.
2. Use search streams to stay connected on location
To get the most out of your social media experience at conferences, take a tip from DaveO and set up custom search streams on the HootSuite mobile dashboard with conference hashtags. This way, you can:
Connect with fellow conference attendees who are tweeting about the event
Quickly respond to hashtag Tweets and stay up-to-date on conference happenings in real-time
Zero in on relevant Tweets by creating search streams
Use autocomplete within search streams to save keystrokes
Handy tip: Use geo-located searches to find attendees who are tweeting near you.

Networking Made Easy
3. Network better at a conference or event with these simple steps.
Social media makes networking less scary. You can break the ice over a Tweet, spark a conversation over a common hashtag or status update:
Post LinkedIn status updates to alert contacts of your participation in the conference.
Check in on Facebook and update your status so friends know where you are. Better yet, upload a photo and tag the location!
Follow contacts right away on Twitter after meeting them. Just hand them your phone instead of your business card to swap contact info instead of remembering to look them up later.
Add new contacts to custom lists on the HootSuite mobile dashboard for easy access later.
Create a list of attendees and speakers ahead of time to conveniently track conversations and updates.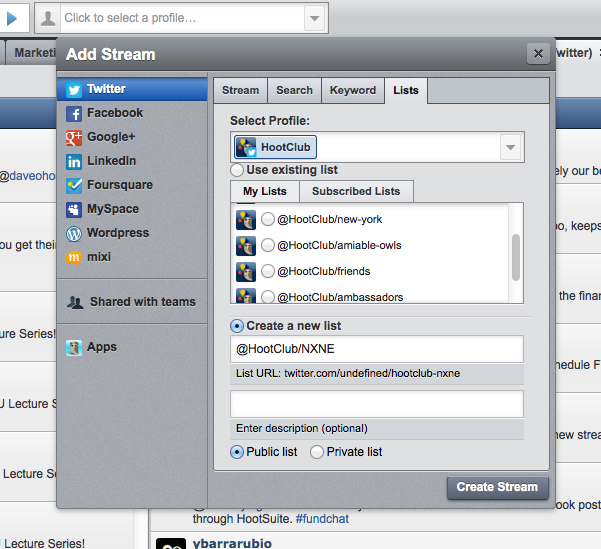 Conference Organizers
4. Blow it up.
We have a tool for Conference Organizers too! How are you going to pull conference attendees' eyeballs off their phones and up onto the big stage? HootFeed is your answer.
HootFeed is a new HootSuite feature that displays audience Tweets on the big screen. Organizers choose keywords or hashtags and HootFeed 'auto-magically' streams Tweets that include them. These Tweets can also be displayed on small screens throughout the conference, creating an interactive and lively atmosphere where everyone can see each other's Tweets and make connections.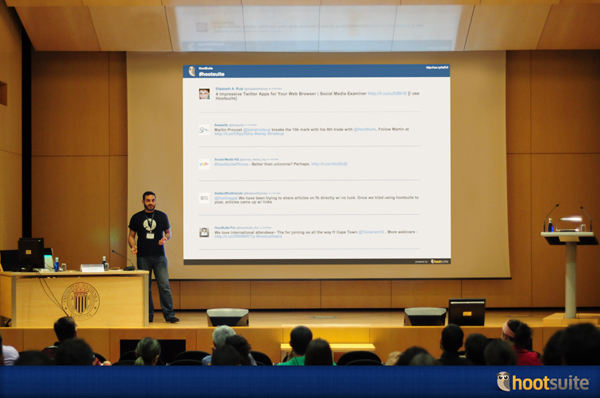 HootSuite in Your Hands
Have you tried our mobile apps? HootSuite mobile apps are available to download for iPhone and iPad (iOS), Android and Blackberry.

It doesn't end there. We have many more resources to put your conference on the map. Check out these helpful links and get the most out of your HootSuite mobile app:
HootGuide:
Geolocation for iPhone
HootTips:
Bump to follow
Geotag and Checkins