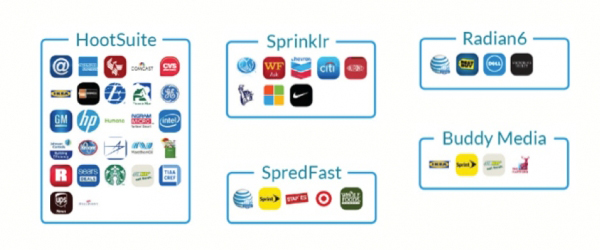 The Most Used Social Media Tools Among Fortune 100 Companies
Fortune 100 companies have different challenges than other kinds of businesses, and that extends to their use of social media. When companies like American Express, HP, GM and Kraft build enterprise-wide social media strategies, they need security, data, and education systems that work at their scale. Which is why we are so proud that, among this exclusive group, we are the social relationship platform of choice for almost four out of every five.
But with 70% of Fortune 500 CEOs admitting last summer that they don't personally use Social Media, it's clear that many of the big guys still have a long way to go. There's a gap between those that have succeeded in scaling social across the enterprise and those that, well, haven't. And it's a gap they can scarcely afford to ignore. In their annual prediction report, Gartner estimated that 25% of businesses stood to lose market position due to social business incompetence.
Given this gap, it's not enough to compare all of the top companies and the tools they're using; it's more instructive to know what those that are most effective are using. Recently, LeadSift surveyed the most socially active firms to find out how they are managing their social presence online. Their research found that HootSuite is the most used social relationship platform.
You can read their full report here.
LeadSift is a lead identification platform that brings brands closer to customers. Their technology sifts through social data to help companies identify customers and engage with them effectively.
Ready to see how HootSuite can help you scale social across your organization? Request a demo here.