New User Requested Feature: Clear Stream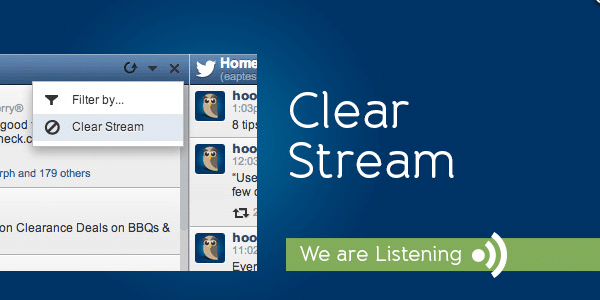 We're back again with the fourth most-request dashboard features. For those of you who missed it, HootSuite held it's first ever Hackathon. Fifteen teams had 48-hours to pitch ideas, build new products, and prepare a market-plan for their release. Team "Crowd Pleaser" came together to build out three of the most-requested dashboard features in HootSuite's User Feedback Forum.
Last week's user requested feature, the New Follower Stream, was a hit!  This week, we've got something to help you better manage your social communication.
Do you find yourself getting lost in a barrage of client communication? Wish you could differentiate between content you'd read and addressed and new posts in your stream? Introducing Clear Stream: clear read, addressed, or obsolete messages from your streams to make way for information that requires your attention.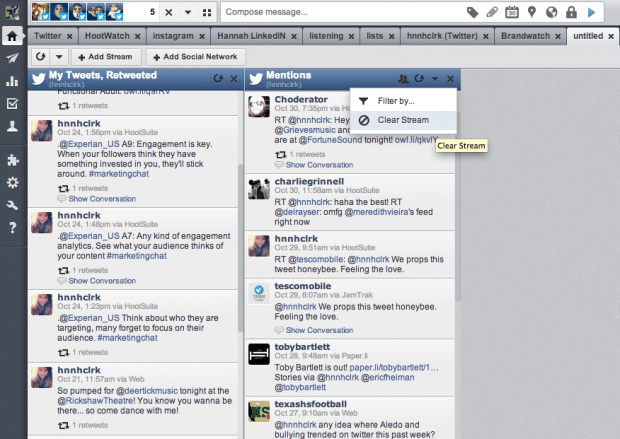 Ideal for Support Teams offering social assistance, news-outlet junkies who want to stay on top of it, and the supremely popular, Clear Stream keeps your dashboard fresh. Try it today!
We'll be releasing hack features over the course of two weeks and we want you to tell us what you think. To let us know what you think, tweet us with the hashtag #hoothackfeature. Got an idea for us? Write in or vote in our User Feedback Forum. We'd love your feedback.