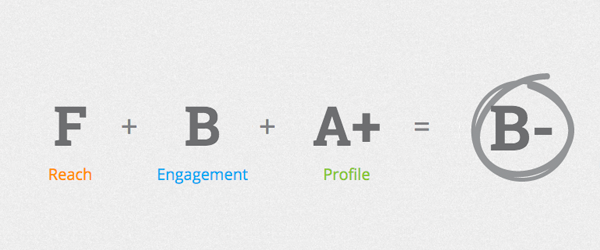 Pass or Fail? Test Your Twitter Marketing Strategy
The first thing on a new social media marketer's to-do list is often creating a social media marketing plan or performing a social media audit. Both are very important tasks, but sometimes the best thing to do is to just give your social media profiles a really good look, even maybe give it a grade. Taking the time to put yourself in the shoes of your audience will help you understand what you're missing, what you're doing really well, and what needs improvement.
To get started, grade your Twitter skills with Hootsuite's Social Grader Tool.

The 3 important parts of a Twitter marketing strategy
After receiving your Twitter grade, you'll be provided with a report that breaks down how well you're doing in terms of reach, engagement, and profile set-up. These three parts are crucial to your Twitter strategy, but they also apply to your other social media profiles.
Your Twitter strategy has many different components, but when you drill down, you'll notice that there is a common theme. Below, we break down the three important parts of your Twitter marketing strategy and what you can do to improve each section.
Reach

How big is your audience? How many people are retweeting you? In this section, it's important to assess where you stand when it comes to how many followers you currently have and how many of your Tweets are getting retweeted. The more followers you have and the more people retweet you, the larger your reach becomes. More followers could also mean more future customers, brand ambassadors, and business growth opportunities.
3 tips on how to increase your reach:
Promote your Twitter account on your website, other social profiles, and emails, to grow your following
Share engaging and relevant content so people will be intrigued to share your content to their audience
Use relevant and popular hashtags
Engagement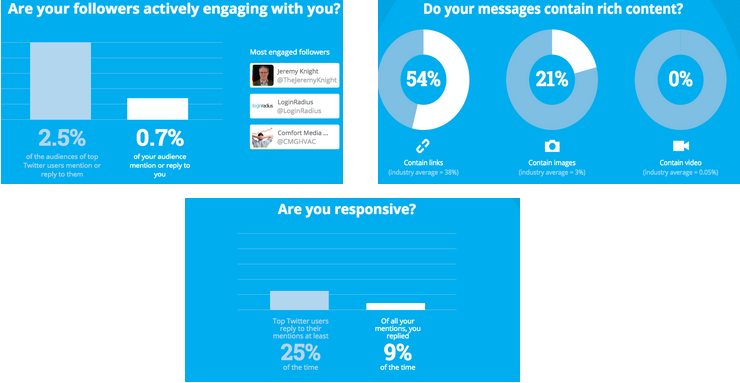 Are your followers engaging with you? Are you responding to your followers? And are you sharing engaging content? Highly engaged followers are your biggest asset on social media. It's important to maintain the conversation and relationship with your audience by actively engaging with them by responding to their Tweets. On top of that, it's also important to have them engaging with you, and sharing interesting content that appeals to them is a good way to ensure that.
3 tips on how to increase your Twitter engagement:
Inform and entertain your audience by including reach content in your messages: links, images, and video
Dialogue builds rapport with your followers, so be sure to respond to mentions.
Proactively engage with your followers by mentioning them in your tweets or retweeting them
Profile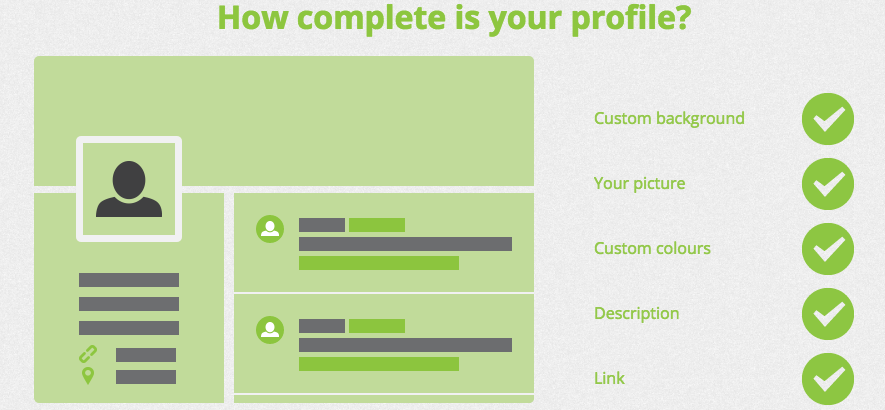 Do you have a profile picture? Have you filled out your description? Your Twitter profile is your first impression. Having a complete profile with high-quality images and a thorough description that includes external links will set you up for success. It also helps you better convey who you are, tells more about your products and services—which allows you to build credibility online.
3 tips on how to improve your profile:
Have a relevant and high-definition profile image and cover photo
Fill out your description and include hashtags
Include a link to your website
Improve your Twitter marketing strategy today by testing your skills with Hootsuite's Social Grader!