It's been more than a decade since social media became a common fixture in our lives. But the way we use social media in late 2016 looks very little like it did in late 2006.
As our mobile devices have become ever-more powerful, social has increasingly become an "in-the-moment" activity, and social networks—and users—are embracing live video.
If you're not yet using Periscope for business, it's time to get onboard with this live video platform.
What is Periscope?
Before digging into why—and how—to use Periscope for business, let's take a look at what exactly this video platform is all about.
Periscope is a live video streaming service owned by Twitter, and it launched in March of 2015. In that short time, it's become an important way for people to share and watch live video, with users watching a whopping 110 years worth of video every day.
Put simply, Periscope allows users to broadcast live video directly from a smartphone, GoPro, or even—as of just last week—a professional camera. Viewers can interact directly with the live video through comments and Periscope hearts (the Periscope version of Likes).
But it's not only about being in the moment. Once you broadcast a live video, you can decide to keep it available indefinitely if you choose. Users can then view the video as a Periscope replay by clicking on the original broadcast link, or catch up on key elements of broadcasts they've missed through Replay Highlights.
Watch key broadcast moments you've missed with Replay Highlights – now available on iOS and Android! ???????? pic.twitter.com/GMKUbU1aw2

— Periscope (@PeriscopeCo) July 21, 2016
Since Twitter owns Periscope, the two services are very well integrated. You can Tweet a link to your live broadcast with just one tap from within the Periscope app. Or, you can start a broadcast on Periscope with one tap from Twitter.
Ready to go live? Now everyone can tap a new button on iOS & Android to easily broadcast on #Periscope from Twitter! pic.twitter.com/tedpUN1QMA

— Twitter (@Twitter) June 15, 2016
Why should you use Periscope for business?
Think live-streaming social video is all about cats and duck face? Your competitors don't. A survey from the Web Marketing Video Council conducted in early 2016 found that 61 percent of businesses are using video for online marketing, and 72 percent of businesses who use video say it has led to increased website conversion.
More importantly, a recent survey from Trusted Media Brands found that 65 percent of marketers think social networks are more important than other platforms (like YouTube or Hulu) for their video campaigns, and that 89 percent of marketers are at least thinking about using live-streaming video in the next year. Think about that for a moment: Almost all of the marketers surveyed are thinking about live-streaming video as a component of their marketing campaigns. If you're not thinking about live video, you've setting yourself up to be left behind.
Why Periscope specifically? Quite simply, Periscope's integration with Twitter makes it a big player in the live-streaming game. The platform has 10 million users and 2 million daily active users. There were 200 million Periscope broadcasts within one year of the platform's launch.
How to use Periscope
Now that you know why you should be using Periscope for business, let's get into the down-and-dirty details of setting up an account and creating your first broadcast with some step-by-step Periscope tips.
How to set up a Periscope account
In order to use Periscope, you'll need to have a Twitter account, so for this Periscope tutorial we'll assume you've already got that taken care of.
Download the Periscope app from the iTunes App Store or Google Play Store
Open the app and sign in using the Twitter account you want to use to broadcast your Periscope videos
Periscope automatically imports your information from Twitter. If you like, you can edit your profile photo, Periscope handle, and bio: Just click the people icon on the bottom right, then the profile icon on the top left. Your Periscope handle doesn't have to be the same as your Twitter handle, but it will make it easier for users to find you if it is.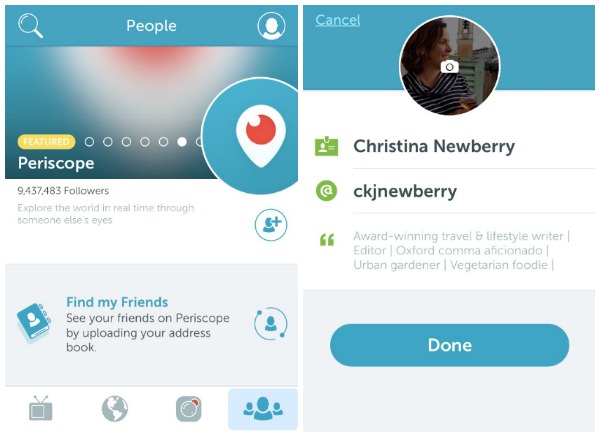 And that's it! The Periscope-Twitter integration makes setting up an account extremely straightforward.
How to create your first Periscope broadcast
How to start a broadcast from Periscope
1. Open the app and tap the camera icon to open the Broadcast Tab. The first time you do this, you'll need to give Periscope access to your camera, microphone, and location. (You don't have to include your location in your broadcasts, but you do have to let the app know where you are.)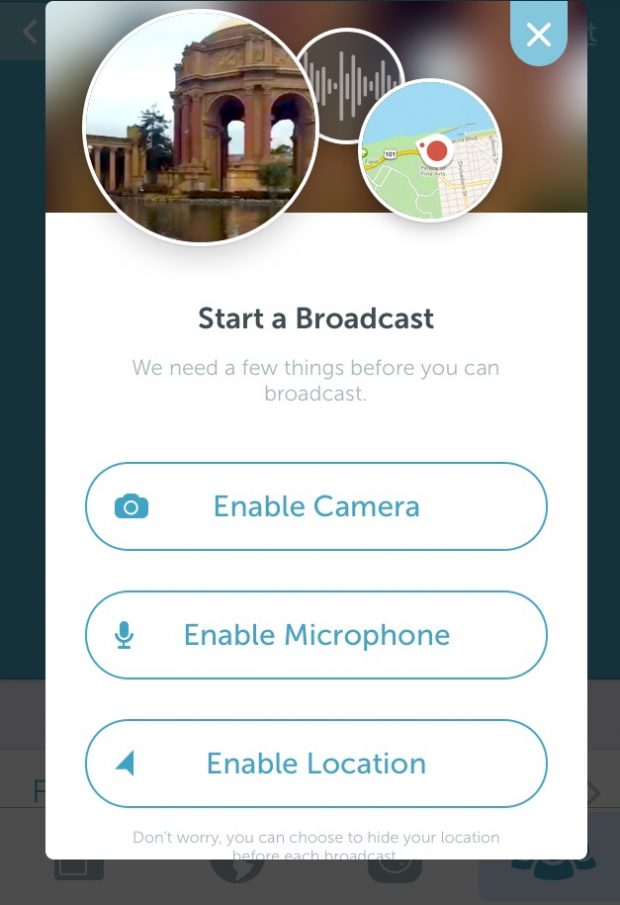 2. Enter a title for your broadcast
3. Change settings like privacy, location settings, chat limits, and whether you want to Tweet your broadcast, then click Start Broadcast.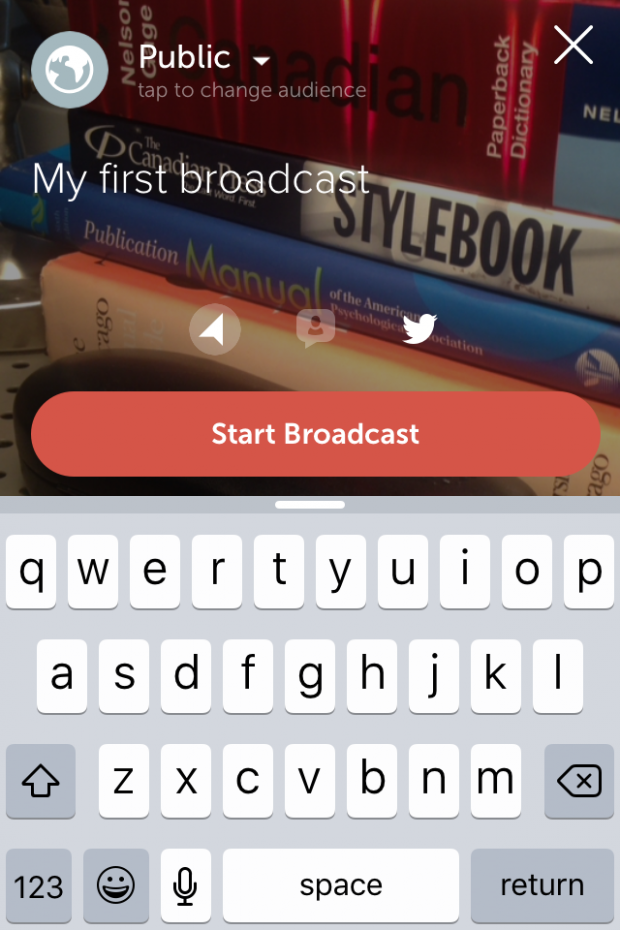 4. Swipe right during a broadcast to switch between the front- and rear-facing cameras
How to start a broadcast from Twitter
Open the Twitter app on your mobile device
Click the Tweet compose icon to start a new Tweet
Click the live video icon to start a Periscope broadcast.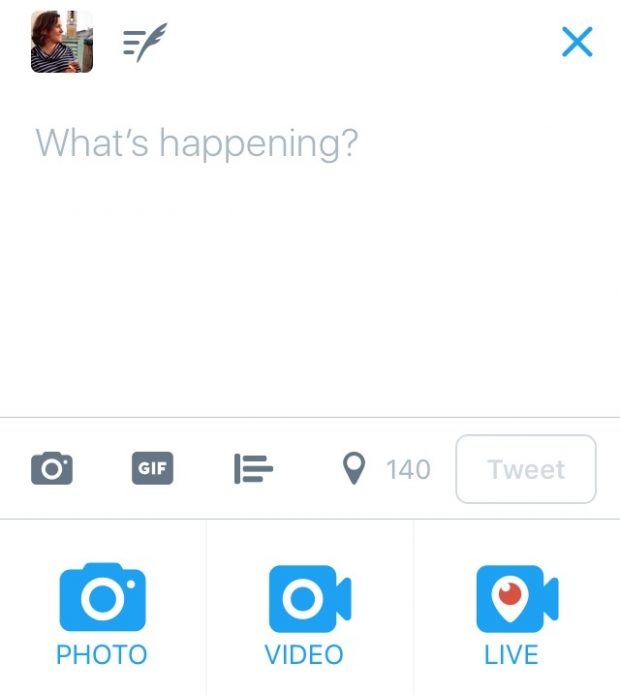 How to start a broadcast from GoPro Hero4
Note that you can  broadcast from a GoPro using an iPhone 5S or newer with iOS 8.2 or above.
Install the GoPro app
Follow the instructions to pair your GoPro and your phone
Connect to your GoPro's Wi-Fi signal through your Wi-Fi settings
Put your GoPro in video mode
Open the Periscope app
Enter a title for your broadcast
Change settings like privacy, location settings, chat limits, and whether you want to Tweet your broadcast, then click Start Broadcast
Swipe right during a broadcast to switch between your GoPro and the front- and rear-facing cameras on your iPhone
Don't close the Periscope app, as this will end your Periscope GoPro broadcast. You can lock the screen on your iPhone by tapping the lock icon in the top corner of your screen.
How to start a broadcast from a professional camera
In October 2016, Periscope introduced Periscope Producer, which allows brands and media companies to broadcast from professional cameras, hardware encoders, and more. For now, brands have to apply for access.
Introducing Periscope Producer, a new way to broadcast live video ✨ https://t.co/MaXK99Ulo7

— Periscope (@PeriscopeCo) October 13, 2016
How to save your broadcast
Once you're creating great broadcasts, you'll want to make sure to save that content so you can repurpose it on other channels. Fortunately, you can set Periscope to automatically save all broadcasts to your device. Click the people icon, then the profile icon. Scroll down and click on Settings, then turn on Auto-Save to Camera Roll.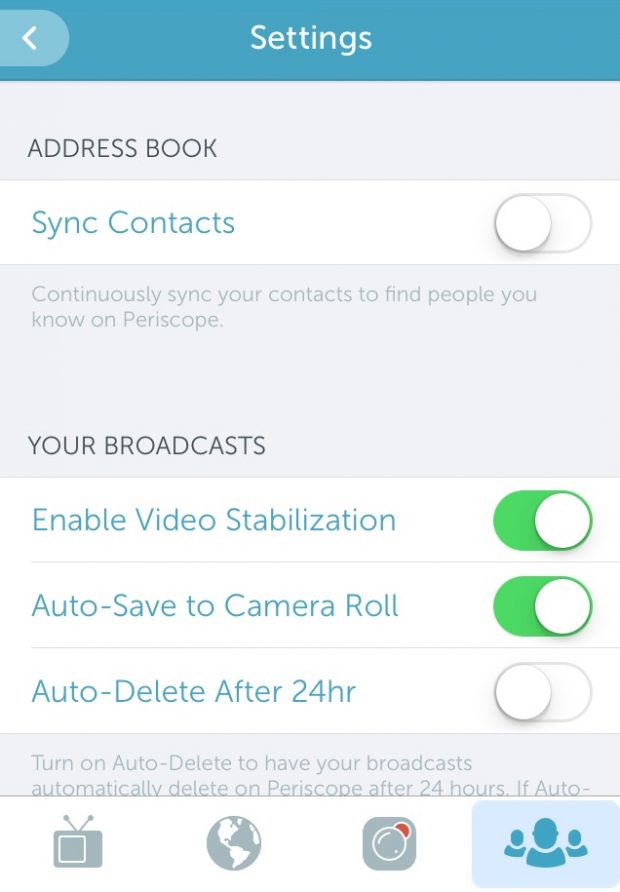 How to use Periscope for marketing
Now that you know why and how to create a Periscope account and send a broadcast, let's look at some types of content you can provide to create a compelling broadcast, based on examples of brands that are already doing Periscope marketing right.
Behind-the-scenes video
MetroPCS, the official wireless sponsor of the Ultimate Fighting Championship (UFC) used Periscope to show behind-the-scenes footage of UFC star Ronda Rousey in the week leading up to a fight in Australia.
#WalkoutWithRonda to the Octagon during #UFC193 on 11/14. Get a special invite from #TeamMetro fighter @RondaRousey. https://t.co/kCgZujRyDp

— MetroPCS (@MetroPCS) November 9, 2015
More than 37,000 Periscope viewers tuned into the broadcasts over the course of the week, and MetroPCS gained more than 12,000 new Periscope followers.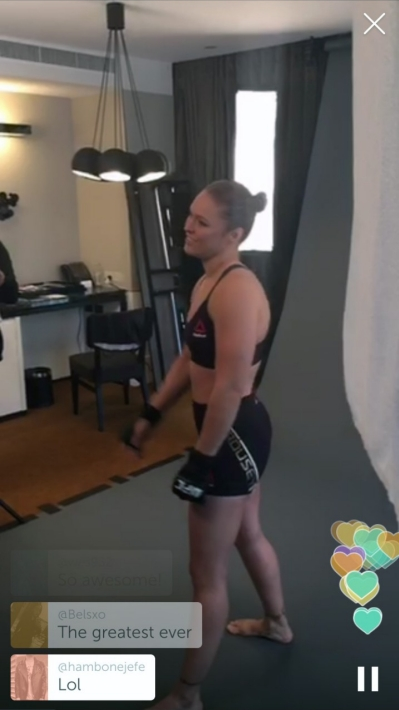 Q&As or webinars
The immediacy and interactivity of Periscope make it great for live interactions where viewers can ask questions on the spot. Walt Disney's Periscope Q&A with the stars of Queen of Katwe was seen by more than 66,000 viewers.
Watch a LIVE Q&A with the cast of #QueenOfKatwe featuring @Lupita_Nyongo, David Oyelowo, and Director Mira Nair! https://t.co/XatEZZIkCV

— Walt Disney Studios (@DisneyStudios) September 20, 2016
You can also use the Q&A format to provide customer service by hosting a regular Periscope session at the same time each week (or even every day) where customers can get their questions answered directly, or by sending new customers links to replays of previous customer service broadcasts.
Check out the lessons we learned from our own Periscope Q&A.
Live event video
When you hear "live event," you might think of a conference or a webinar. But Turkish Airlines got a little more creative with the live event concept. To showcase its high-tech planes, the airline Periscoped a flight from Istanbul to New York (following all the required safety and security guidelines, of course). While they were at it, crew members took questions from Periscope viewers and answered them live.
The broadcast reached more than 10,300 users during the broadcast plus another 14,967 who watched it as a replay. Even better, it was such a unique idea that media picked up on the broadcast, exposing the project to a total audience of 4.5 million, and the project was recently recognized as the best "Online Event and Live Communication" at the Digital Communications Awards 2016.
This Wednesday, we'll be taking you through an exclusive @TurkishAirlines journey live on Periscope! pic.twitter.com/D6xztoAhyL

— Turkish Airlines (@TurkishAirlines) June 8, 2015
Demonstrations, how-tos, and tutorials
Sometimes showing is much easier than telling, and live video provides a great tool to show customers or potential customers how your product works—especially if it's something that's not found in stores. Caterpillar Inc. used a series of Periscope videos to demonstrate its products and technology from its headquarters and learning center in Peoria, Washington.
Watch LIVE on #Periscope Oct. 8 to see equipment & tech demos, behind-the-scene tours & Q&As w/experts. pic.twitter.com/iV7hWr3Thj

— Caterpillar Inc. (@CaterpillarInc) October 3, 2015
Announcements
Let's face it: press releases can be boring. Live video is a much more engaging way to share announcements with your audience, like MTV did when they announced the nominees for their Video Music Awards.
LIVE on #Periscope: We just announced the #Vma nominees! https://t.co/kE27qszCQQ

— MTV (@MTV) July 26, 2016
Now that you're bursting with ideas for how to use Periscope for business, take a quick breath and check out these important lessons to keep in mind when preparing for a live broadcast. Remember: Anything can happen when you broadcast live. Plan, prepare, and make sure your broadcasts serve your overall content strategy, then get to it and start broadcasting.
Promote your Periscope broadcasts—and your other Twitter videos—using Hootsuite. Save time scheduling posts, engaging with followers, and monitoring the success of your efforts. Try it free today.