Preparing for Autumn ~ HootSuite UK News Roundup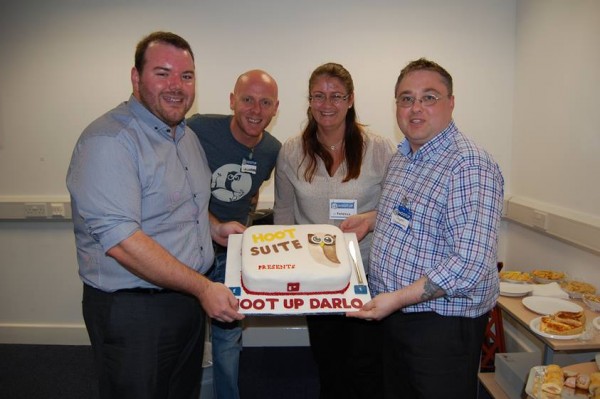 This August the growing nest of Owls are hard at work keeping things rolling! Taking a chance to rest and recuperate, the HootSuite UK team are preparing to ramp things up for a busy Autumn.
HootSuite Community Captain Shain, UK Ambassador Allan and the dedicated Diplomats have been busy drawing together plans for exciting activities, projects and partnerships throughout the UK for the coming months.
Here is a peek of what we've been up to and events that you can get involved in:
HootUps Announcements
With a jam packed summer almost behind us, we've been preparing for winter hibernation by organizing lots of cosy HootUps all over the UK. Thanks to Diplomat Rob Glover who will be joined by Allan to bring HootSuite to the South West at this week's #ExeterHootUp.
With almost 50 tickets gone and only a few more places left, act fast if you want to join in for social media chatter and networking, Register here!
HootSuite UK loves all types of festivals! Managing social media as a festival organizer is one of the more challenging tasks, given you'll often be coordinating talent, location, logistics and other matters as well.
Lucky for you, there is a solution. We've teamed up with the UK Festival Awards for a one-stop briefing on 'social media organization and the modern festival', chaired by Allan and Shain, along with UK Festival Awards organizer James Drury.
We promise an intense, exciting and worthwhile few hours of social media awareness and knowledge. For those who run festivals, want to run them or just love going to them, you can register here.
Social Media Week — A Host of HootUps!
We're pleased to announce three confirmed HootUps to celebrate Social Media Week, with even more in the pipeline! Here's what is going on:
HootSuite is returning to the creative and friendly 29 Studios for a second Glasgow HootUp. Following the previous success, HootSuite will host a relaxed evening on community engagement, audience mapping and social media education — all with a focus on the creative industries.
Our team of Scottish Diplomats are flying solo and will be on hand to run through the ins and outs of advanced social media integration, in order to help you save time and best manage your social platforms.
To join us on the 24th September, register here!
Rugby? Tom Jones? A pint from Brains brewery? Yes… we love Wales. We loved it so much infact that we have decided to head on down to Cardiff for another Welsh HootUp!
On September 24 we'll be at the exclusive Cardiff Cameo Club. Join Allan and Welsh Diplomat Jay Perkins for Social Media chat, tips and of course, a pint or two!
If you are keen for a free knees up and some social media chatter, register here.
We are back with our good friends at Club Workspace to celebrate Social Media Week in London. To do so, Allan and a number of UK Diplomats will show you how you can save time, develop an audience, work smarter and socialize better through social media management.
We'll explore scheduling tweets, audience mapping, analytics, advanced searching techniques and other tricks of the trade so you can hone in on what matters to you most.
Hoo's Hooting: Back to School Edition
If you're off to University then check out the following for student advice, offers and all your must needs:
@UCAS_Online — helping you get your place
@UCASEvents — a wide range of student events
@StudentBeans — competitions, freebies and fun stuff
@NUSextra – over 160 student discounts
@FromPaperchase — all the fancy stationery you need
@Oed — don't forget to spell check those essays!
@Filofax — keep track of all those freshers parties
@ArtiFolk — arts and crafts supplies for creative evenings
@Kleenex_UK — to help you get through the freshers flu
@Dairylea — for your lunchbox favourites