How Do You Use Twitter Lists? Question of the Week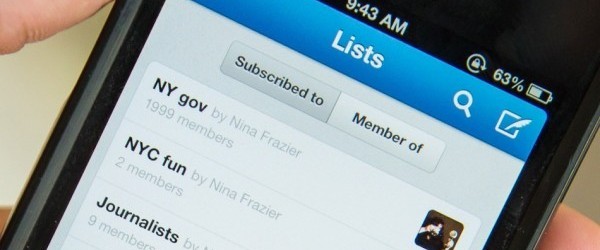 Conversation is a two way street and here at HootSuite, we love to hear from our communities.
To get things started, we're asking one question every week via the HootSuite Twitter, Facebook and Google + pages. We will feature the top responses on the HootSource blog.
This week we asked "How Do You Use Twitter Lists?"
This Week's Top Three
Tip: Try organizing multiple, niche streams under a more general tab for the topic.

For example:
Instead of a single stream for news sources, make an entire tab titled "News"
Add various streams within the tab, like 'Worldwide', 'Fashion' and 'Politics'
Enjoy reading what you want, when you want!
New to the dashboard? Read HootSuite's Quick Start Guide to learn more about tab and stream features.
Tip: Use Twitter lists to organize resources relevant to your profession/industry.

For example:
Create a tab for your industry

Make various streams including lists of relevant news, professionals and competitors
Monitor this tab to keep ahead of trends
A list of professionals/ competitors is a great source for networking
Tip: Use Twitter lists to find key influencers in your professional community.
@hootsuite in the case of: https://t.co/TrmIFZ6bPF … it tracks the most influential PR people who RT if you ask them to… nicely!

— Robert Kim, Investor (@journik) July 29, 2013
For example:
Create a stream that filters users by Klout score
Monitor people with the biggest social reach
Connect with these individuals by replying or retweeting
More?
Take a look below to see the various ways people are using Twitter Lists to manage their social media outreach.
Google +


Facebook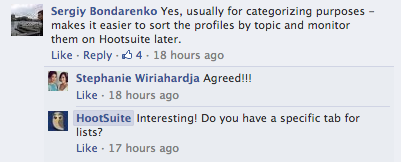 Twitter
As you can see, our friends are tight-lipped about their social strategy.
@hootsuite That's top secret info. #WeWishWeCouldTellYou

— TELUS (@TELUS) July 29, 2013
How do you use Twitter lists? Let us know if there is anything we missed.
Thanks to everyone who participated. Tune in every Monday afternoon for the HootSuite question of the week!