It's not often that brands show customers first-hand that they're run by real people. On September 22, 2015, Flight Centre Canada changed all that with their We Love London Ticket Race.
In celebration of their 20th anniversary, Flight Centre Canada held an "Amazing Race"-style contest in the city of Toronto to give away 20 free flights to London. Every hour a new clue popped up on Twitter hinting at the location of the next check-in location. Dedicated fans ran the city-wide social media scavenger hunt in the hopes of winning the big ticket. This was the second of many events that Flight Centre has planned to thank their customers for 20 successful years in Canada; the first was an online giveaway of a $10,000 dream trip in July.
"We wanted to celebrate our anniversary by doing a big contest as a thank you to our customers," said Carre Le Page, vice president of marketing at Flight Centre Canada. "Beyond that, we wanted to showcase our expertise around our top-selling city, London, while building stronger communities on social media and humanizing our brand by meeting people face-to-face."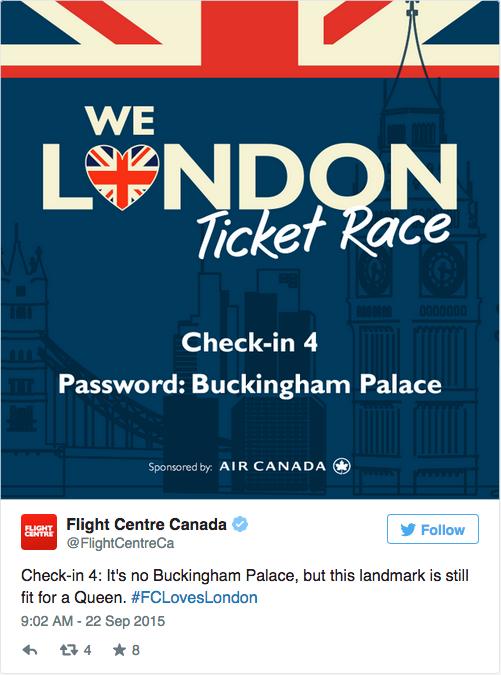 The importance of humanizing the brand
Before diving into the strategy and planning, let's talk about what makes this contest so important. When most brands celebrate a big anniversary, they launch a huge ad campaign—often with new branding or packaging—that celebrates their achievements and innovation throughout the years.
We asked Aaron Stubbings, retail marketing leader, why Flight Centre Canada didn't do the same for their 20th anniversary, and instead chose to celebrate their customers.
"Flight Centre Canada has been around for 20 years thanks to the support of our loyal customers—and this is our way of giving back," he said. "Customer appreciation is a win-win for everyone. Our customers get to have some fun while competing to win two of 20 free tickets to London. Meanwhile, we get to humanize our brand. Competition in the online travel space today is acute, so the chance to combine in-person and online interactions with our customers during a campaign is so important. We had so much brand love that day, both from supportive racers to our online community. One customer even said that this reminds them of why they book trips with us over our competitors—because we're real people, having real fun over a shared interest in travel."
Brands are increasingly realizing the importance of adding personality and emotion to earn people's loyalty and trust. In a competitive market, that's often the only thing differentiating one sale from another.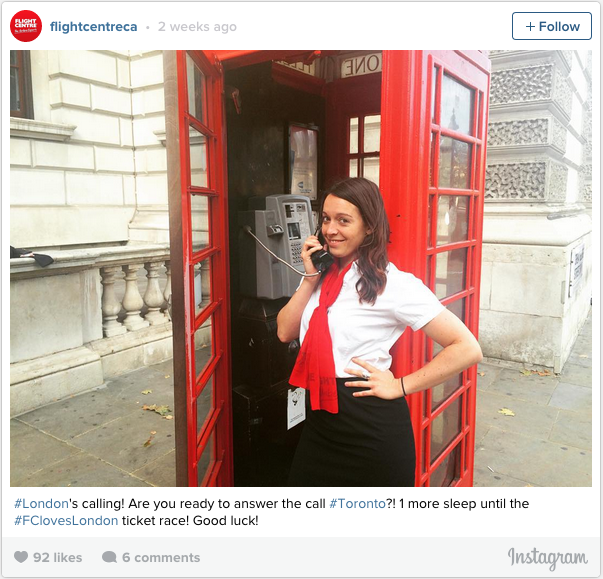 The marketing strategy behind Flight Centre Canada's social contest
Mixing paid social ads, organic social, and offline or traditional marketing efforts should be a part of every campaign strategy.
"We worked with Jive Communications for influencer and media outreach in Toronto," explained Robin Rowley, digital marketing leader. "About two weeks before the big day, we did a soft launch by sending media kits (think tea and crumpets) to local bloggers and major travel influencers. That's when we started directing people to our event landing page, FlightCentre.ca/ticketrace."
"We spent a majority of our marketing budget on Facebook Ads, and some on Twitter. We promoted our promo video that featured our own staff member in London hotspots and our event landing page. We'd target people's Facebook newsfeeds in the Greater Toronto Area, usually while they were commuting to work—because the contest was taking place on a weekday.
"All 60 of our downtown Toronto shops had window panels promoting the 20 free flights as well. By mixing our paid ad spend with our organic social and traditional marketing, we had lots of interaction pre-event with people tagging their friends and sharing, viewing, and commenting on the video—all of this, of course, driving traffic back to our event landing page."
The day before the big event: Setting up a real-time contest
Because the contest mixed hourly social media updates and an in-person scavenger hunt throughout Toronto, it took a lot of planning and organizing to make sure the day was a success.
Alicia Taggio, content marketing manager explains, "We had a Google document to organize everyone's jobs, duties, collateral, and a breakdown of the venues. Three of us created a secret social media content strategy document where we came up with the clues and content for each check-in location.
"The day before the actual event, we did a dry run with the two teams of Flight Centre staff who would be involved on the day. We double-checked all of our location points with the social media clues and made sure our messaging was under 140 characters (including the clue images). The night before, we scheduled all of our social messages into Hootsuite to go out every hour on the hour and then every ten minutes with subsequent clues."
The results: A successful social media contest
On the day-of, two teams rotated between greeting the racers on-location and monitoring social media.
"Hootsuite mobile and desktop were lifesavers—while we drove to the next location, we engaged with people, answered questions, and shared photos of the event and winners on social," said Taggio.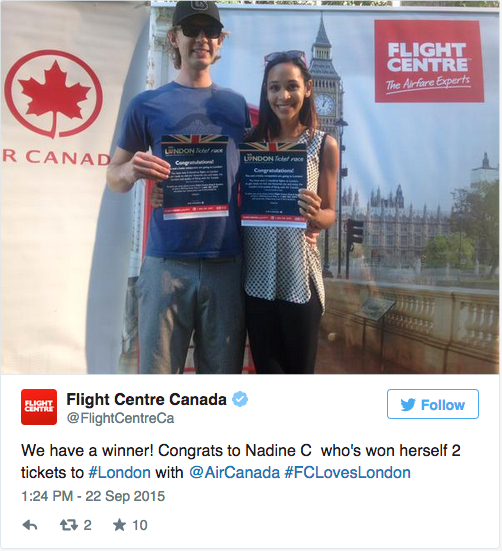 Over the span of three weeks, Flight Centre Canada saw significant organic growth on their social media communities. Facebook Page followers in the Toronto market grew by 2,353 and Twitter by 750. The campaign also drove increased engagement levels across all social networks. For example, @FlightCentreCa trended on Twitter across Canada and in Toronto—even over a huge Blue Jays baseball game that same day.
"We had so much positive user-generated content to work with afterwards," she said. "Our fans shared their experience with us on social media. Torontonians fell in love with our brand and company culture that day."
Total traffic from Facebook to the website landing page: 22,904 sessions (17,042 new users)
Total traffic from Twitter to the website landing page: 777 sessions (502 new users)
Top traffic source: mobile
Learn more about how other customers #WinwithSocial using Hootsuite.